Ongoing Trends in the Housing Economy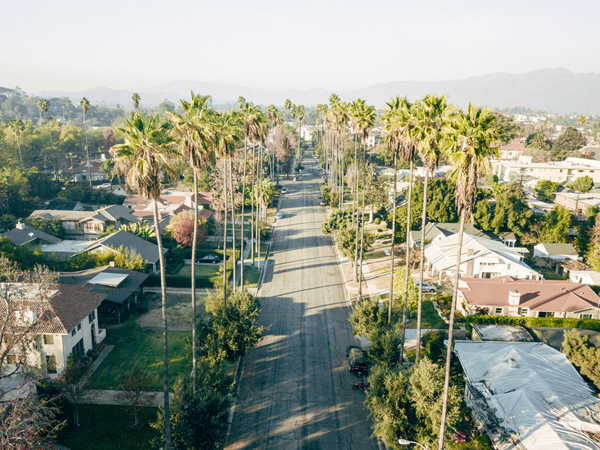 A panelist discussed how in especially hot real estate markets, such as Los Angeles, California (shown), and Washington, DC, higher-income households are increasingly buying older homes, adding a wrinkle to the theory of filtering that predicts housing will become more affordable as units age.
One major influence on housing affordability is the state of the overall economy, and economic forecasting can help steer policy to best respond to the real-world economic conditions that Americans will face. On January 21, 2020, the National Housing Conference hosted "Outlook for the 2020 Housing Economy," a webinar featuring Lawrence Yun, chief economist and senior vice president at the National Association of REALTORS®; Sam Khater, vice president and chief economist at Freddie Mac; and Mike Fratantoni, senior vice president and chief economist at the Mortgage Bankers Association, to present their views on the near-term future of the U.S. housing market. The panelists identified the impact that current economic conditions will have on housing and affordability while generally predicting a continuation of current trends in the near term.
Low Inventory
Khater painted a generally balanced picture of the economic landscape in early 2020, showing that although weak global growth and declining investment is a drag on the nation's economic growth, a strong domestic job market continues to support high levels of consumer confidence and, therefore, consumer spending. In the housing sector, however, the past decade of economic recovery has been characterized by relatively low levels of new housing production. Khater and Yun noted that a low volume of housing production is what would be expected in a recessionary economy rather than under recent growth conditions. Yun reiterated the historically low levels of housing inventory, citing statistics that point to November 2019 as the lowest November inventory on record for single-family properties since tracking began. This number, Yun said, is in absolute terms and therefore does not take into consideration the impact of population growth in the intervening decades.
The combination of housing underproduction and higher consumer demand, particularly among millennial first-time homebuyers who delayed household formation as a result of the recession, is contributing to rising housing costs. The panelists indicated that these conditions can be expected to continue into 2020.
Effects of High Housing Costs
The underproduction of housing can affect people in several ways. Delayed household formation, with young people living at home, is an ongoing legacy of the recession that persists despite the present long expansion. Even for many Americans who are now finding themselves ready to purchase their first home, Khater showed how the cost of entry-level homes has risen much more sharply than overall home prices or the prices of luxury homes.
In especially hot real estate markets such as Los Angeles, California, and Washington, DC, a mechanism for producing naturally occurring affordable housing is being undermined by low inventory. Older homes in hot markets, Khater found, increasingly are being bought by higher-income households, adding a wrinkle to the theory of filtering, which predicts that housing tends to become more affordable as units age.
High housing costs can affect employment as well. Yun identified Boise, Idaho, as an example of a place where robust job creation has led to decreasing housing affordability, which in turn can curtail future employment growth. Khater pointed out that even when first-time buyers can purchase a new home, they increasingly are buying further from city centers. This trend can impact the amount of time people spend commuting and influence regional infrastructure needs.
Renters and Owners
Fratantoni pointed out that the story of the housing market is never monolithic and that the experiences of people can vary depending on whether they rent or own and by their household income levels. For example, although the number of both renters and owners who are housing cost burdened (paying more than 30 percent of their income toward housing costs) increased as a result of the Great Recession, the number of cost-burdened owners has receded to pre-crisis levels, whereas the number of cost-burdened renters remains close to peak levels. Furthermore, those experiencing moderate or severe housing cost burdens remain predominantly renter households earning less than $30,000 per year. Even among homeowners earning more than $75,000 per year, the high cost of entry-level homes is leaving millions with high housing cost burdens. Taken together, these trends point to an urgent need for new housing construction across the board, argued Fratantoni, including single-family, multifamily, and manufactured housing units.
The picture of housing affordability drawn by the panelists reflects an expectation that overall trends in the U.S. housing market will continue. The consequences of the Great Recession continue to be felt, especially for millennial first-time buyers who delayed household formation. Impacts from the housing market continue to influence where people are choosing to live, affecting future job creation and location. Finally, despite the pickup in some measures of housing market dynamism, challenges remain, particularly in the areas of new housing creation and housing affordability for lower-income renter and owner households.