Local and State Strategies for Responding to the COVID-19 Housing Crisis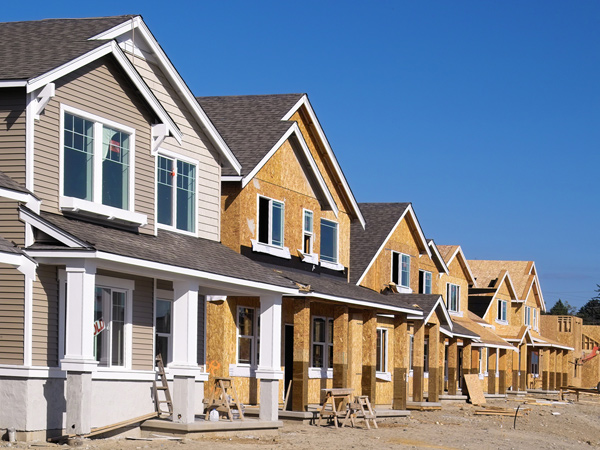 To mitigate potential long-term impacts the COVID-19 pandemic has on housing production and supply, webinar panelist and expert David Garcia suggested that local governments extend permitting and entitlement timelines for residential construction projects.
When the novel coronavirus (COVID-19) pandemic reached the United States in early 2020, much of the country was already facing acute shortages of affordable housing. By May 2020, COVID-19 had caused levels of unemployment rivaling those at the height of the Great Recession of 2008, leaving millions of newly jobless households scrambling to retain their housing. These economic impacts have continued, resulting in more individuals and families facing the prospect of losing their housing at a time when the ability to shelter in place is essential to curbing the spread of COVID-19. In July 2020, the philanthropic initiative What Works Cities, in partnership with the public health law nonprofit ChangeLab Solutions, held two webinars to discuss COVID-19's impact on housing and the steps that state and local governments can take to improve outcomes for communities affected by the virus.
Housing Challenges Before the Emergence of COVID-19
In the partnership's first webinar on July 1, "Housing Stability & Health in COVID-19 Response & Recovery," Clarence Wardell III of What Works Cities and Gregory Miao of ChangeLab Solutions outlined the country's existing housing challenges. Three panelists, Monique King-Viehland, director of state and local housing policy at the Urban Institute; Alieza Durana, a journalist working with Princeton University's Eviction Lab; and Nestor Davidson, professor at Fordham University's School of Law, presented on national housing conditions as they were before 2020, the expected impact of COVID-19, and early interventions cities have adopted to encourage people to stay in their homes and out of harm's way.
King-Viehland discussed the state of the nation's housing when COVID-19 first emerged. "We've been underproducing by hundreds of thousands of units," she said, pointing out that housing demand has outpaced supply since 2009. Low-income households experience this deficit especially keenly, with King-Viehland citing an affordable housing shortfall of between 7.2 and 12 million units. Although up to six million very low-income households pay more than 50 percent of their monthly income toward rent, King-Viehland explained that high rent burdens are not restricted only to very poor households: "Rent burdens exceeding 30 percent [of income touch] every income band." Durana elaborated on the consequences of the low availability and high costs of housing, explaining that as of 2016, 3.7 million eviction cases were filed annually in America — a rate of approximately one eviction every seven minutes.
Recognizing that eviction increases poor health and social outcomes even under normal circumstances, many states and localities adopted temporary eviction moratoria in the early months of the pandemic. The Eviction Lab was able to track the adoption of these measures in real time using its Eviction Tracking System. Durana explained that, although the number of evictions was slightly higher than usual in January and February, it fell precipitously in the following months, dwindling to "very low" rates in April. By June, however, many of those moratoria had been lifted, and the number of evictions surged to well above average as landlords sought to remove tenants who had become unable to pay their rent — a trend that is expected to continue through the end of the summer. "We're expecting 28 million evictions across the country," said Durana, who noted that African American and Latino households would be disproportionately affected.
The convergence of the existing housing shortage, the new pressures COVID-19 has induced, and the conclusion of the first wave of government interventions paints a concerning picture for the remainder of 2020. Governments, however, do have tools that they can employ. For example, Davidson said, some localities have mandated grace periods for payment of rent, whereas others have adopted moratoria on utility shutoffs due to nonpayment and still others have frozen rent increases. Cities and towns can use these tools to help keep their residents housed and healthy.
The Impacts of COVID and Solutions for the "New Normal"
The second webinar, "Moving Forward: Ensuring Housing Stability and Promoting Equity in COVID-19 Response and Recovery," was held on July 29 and focused on COVID-19's effects on renters, landlords, and homeowners and the strategies that state and local governments can employ to lessen these impacts not only in the short-term but in the medium- and long-terms as well.
Kerri McGowan Lowrey, deputy director of the Network for Public Health Law's Eastern Region office, described the near-term impact of COVID-19 on her home state. "Forty percent of renters in the state of Maryland alone are at risk of losing their homes," she said. The primary immediate impact of COVID-19 remains the risk of eviction. To address this immediate crisis, McGowan Lowrey suggested extending eviction moratoria for the duration of a state of emergency declaration, prohibiting late fees and penalties for nonpayment of rent, implementing legal helplines and tenant right-to-counsel legislation for eviction courts, adopting rent relief programs, and improving coordination among existing programs that may help households remain in their housing. McGowan Lowrey predicted a "tsunami of evictions" once the remaining moratoria expire and emphasized that further interventions can still be employed in cases that enter eviction courts. Specifically, she suggests expanding landlord-tenant mediation services and adopting measures to limit public access to failure-to-pay cases to curtail any future negative impacts an eviction may have on an evictee. According to McGowan Lowrey, Maryland legislators have recommended creating a special housing court staffed by experts in housing law.
Although evictions are among the most immediate consequences of COVID-19's impact on housing, the pandemic may also inflict longer-term damage. Matt Kreis, general counsel at the Center for Community Progress, spoke on the medium-term problems of blight, vacancy, and abandonment likely to arise in neighborhoods heavily impacted by COVID-19. Kreis predicted that residential and commercial evictions, foreclosures, and deferred maintenance by owners and landlords would combine to cause a decline in neighborhood quality over the next six months to several years. To address these potentially widespread problems, Kreis recommended a program of strategic code enforcement that avoids levying fines and fees and instead ensures that property owners have access to the tools they need to ensure compliance. In addition, Kreis suggested that local governments adopt vacant property registration ordinances to keep an inventory of vacant sites and create local land banks to put these properties back into service.
David Garcia, policy director for the Terner Center for Housing Innovation at the University of California Berkley, predicted that new home construction would decline in the long term because builders and lenders would remain uncertain about whether a given project would still be in demand when completed. "We saw this in the last economic downturn," Garcia said. "There was a slowdown of homebuilding, and by the time the economy recovered, there were housing shortages which contributed to many challenges we still face today." To alleviate this slowdown, Garcia recommended strategies to maintain the existing momentum, such as extending permit and entitlement timelines to help existing projects finish or enhancing local capacity to inspect, review, and approve projects. Garcia's predictions were not entirely negative, however; he also stated that the next several years will present opportunities for cities and towns to acquire naturally occurring affordable housing, provided that they prepare for this eventuality by placing obsolete parcels in land banks and adopting new zoning and land use rules for retail and commercial areas.
A New Landscape
The impact of COVID-19 on America's housing sector is likely to be significant and long lasting. Local and state governments, however, have access to tools that can mitigate negative outcomes. In the near term, governments can adopt measures such as rent assistance programs and eviction moratoria to shield tenants from eviction, ensure that those experiencing eviction have access to legal resources, and lessen the impact of a previous eviction on a family's future. As the mid-term consequences manifest, governments can preserve neighborhood quality by employing strategic code enforcement and providing property owners with the tools needed to prevent blight and abandonment. Finally, by developing or strengthening local land banks and improving the permitting and approval processes for new construction, governments can help stave off future housing supply problems induced by the pandemic.