Program Assists Landlord Entrepreneurs in Connecticut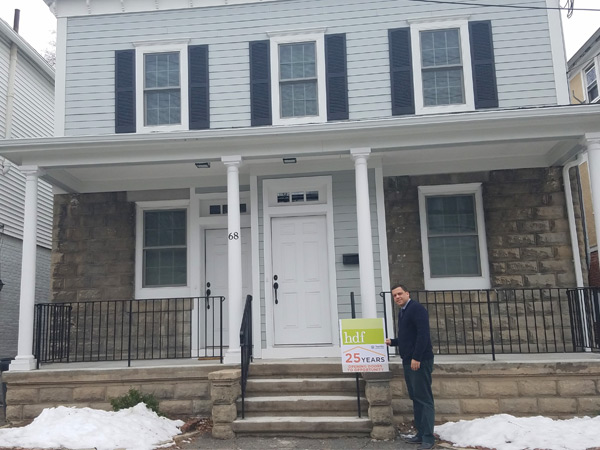 The Housing Development Fund's LEAP program provides affordable homeownership and an income stream for the buyer while also providing affordable rental housing to other low- and moderate-income households. Credit: Housing Development Fund
The Landlord Entrepreneurship Affordability Program (LEAP), developed by Connecticut's Housing Development Fund (HDF), addresses two key housing issues: multifamily rental properties in poor condition that threaten neighborhood viability and a persistent demand for affordable housing. Launched in November 2014, LEAP provides downpayment assistance, funds for upgrades and energy-efficient rehabilitation, and mortgages to people making no more than 80 percent of the area median income (AMI) to buy, rehabilitate, and live in 2- to 4-family buildings, renting out the other units for additional income. By focusing on small multifamily buildings, the program seeks to bring one of the region's most common but underutilized housing types to productive use. In addition, by focusing on ownership of rental properties, the program promotes entrepreneurship and financial independence for low-income households.
Program Origins and Structure
LEAP grew from HDF's experience using Neighborhood Stabilization Program 1 (NSP 1) funds to purchase and rehabilitate single-family properties in Bridgeport, the largest city in Connecticut. In doing this work, says Joan Carty, president and chief executive officer of HDF, the team noticed many small multifamily properties that were poorly maintained by absentee landlords and that threatened to undermine the organization's efforts to stabilize neighborhoods. NSP 1 funds could not be used to correct these problems because program guidelines prohibited using the funds for multifamily structures, although later versions of the program changed this stipulation. These conditions, along with borrower interest in purchasing these two- and four- family buildings, prompted HDF to create the LEAP program.
These small-scale multifamily properties are quite common in Connecticut and throughout New England, accounting for 40 percent of the residential stock in Bridgeport and 20 percent of the rental stock nationally. Many of these properties date from the 1930s and 1940s, are not energy efficient, and require upgrades to kitchens and bathrooms. "Our approach has been to look at this existing stock as a solution [to create affordable housing] and not just as an obstacle," says Carty. A small grant from the Housing Partnership Network in 2011 allowed HDF to devise and plan LEAP.
LEAP offers downpayment assistance and mortgages to people making approximately 80 percent of AMI. As of late fall 2016, the program had closed mortgages on four buildings, and two more were in progress. LEAP participants, who choose the 2-, 3-, or 4-unit properties they wish to buy and put down 1 to 3 percent of the cost of the building, must live in one of the units and rent out the other units to people making no more than 80 percent of AMI. By also setting an income target of 80 percent of AMI for renters of the other units in the building, LEAP addresses a pressing issue that affects workforce households that either own or rent. According to a Center for Housing Policy report, 20.7 percent of working households in Connecticut in 2014 were severely housing cost burdened, spending at least half their income on housing. And although the program is designed to provide the new landlords with additional income from rents, Carty is careful to point out that the mortgages are structured so that the homeowner's payments do not overly depend on rental income.
Neighborhood Housing Services of New Haven provides classes on the rights and responsibilities of landlords and tenants as well as on basic home repairs. The classes cover such topics as Connecticut's fair housing laws, screening prospective tenants, and landlords' financial and basic maintenance obligations.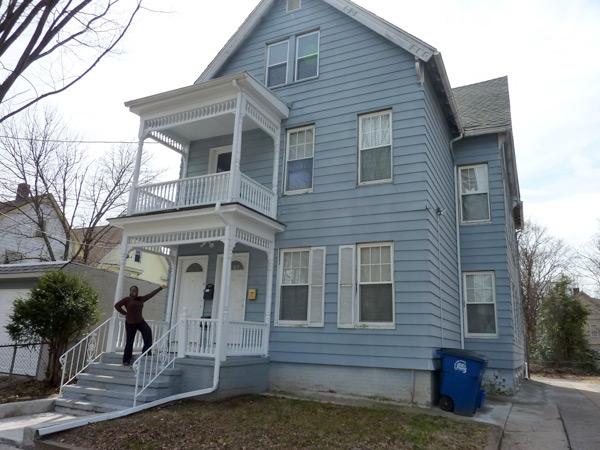 The owner-occupant's purchase of this three-unit building through the Housing Development Fund's downpayment and closing-cost assistance programs inspired the organization to create the LEAP program. Credit: Housing Development Fund
LEAP Funding
HDF has identified four distinct pools of funding for the LEAP program. For downpayment assistance, NeighborWorks America has provided two grants to HDF, and the Connecticut Housing Finance Authority (CHFA) has provided loans. The second pool of funding comes from the Wells Fargo Foundation, which has provided $3.2 million to run HomeLIFT. This program provides a $15,000 forgivable loan toward closing costs and downpayment assistance to first-time buyers purchasing homes in New Haven, East Haven, and West Haven.
Another pool, a $1.6 million grant from the Community Development Financial Institutions Fund, is used to originate first mortgages and to capitalize the program. HDF, which has been designated a participating lender by CHFA, is able to issue mortgages at low interest rates to qualified buyers and sell its mortgages to CHFA to replenish HDF's mortgage fund. Currently, CHFA has not limited the number of HDF mortgages it will purchase.
Funds for rehabilitating and weatherizing the homes come from a $1 million state grant. This money is expected to fund about $20,000 per unit to rehabilitate kitchens and bathrooms in 12 to 25 buildings, although Carty adds that HDF may identify additional sources for rehabilitation funding.
Anticipated Effects
LEAP is helping low- and moderate-income households find affordable ownership and rental housing opportunities. The program's focus on rehabilitating small multifamily properties and providing mortgage and downpayment assistance to owner-landlords will transform blighted buildings into assets. In addition, HDF expects that its scattered-site approach will improve the neighborhoods where LEAP investments are made. To measure neighborhood effects, HDF has started a longitudinal study of residents' satisfaction with their community in a Bridgeport neighborhood where two- to four-family buildings are concentrated.
Source:
Interview with Joan Carty, president and chief operating officer, Housing Development Fund, 29 October 2014; Correspondence from Joan Carty, 17 November 2014 and 26 February 2016.
×
Source:
Correspondence from Joan Carty, 14 November 2014; Interview with Joan Carty, 29 October 2014.
×
Source:
Correspondence from Bridgette Russell, managing director, Neighborhood Housing Services of New Haven, HomeOwnership Center, 11 November 2014; Correspondence from Joan Carty, 14 November 2014.
×
Source:
Correspondence from Joan Carty, 14 November 2014.
×