Sylvia Odom's Place Is the Next Step Toward Independent Living for Formerly Homeless Individuals in Seattle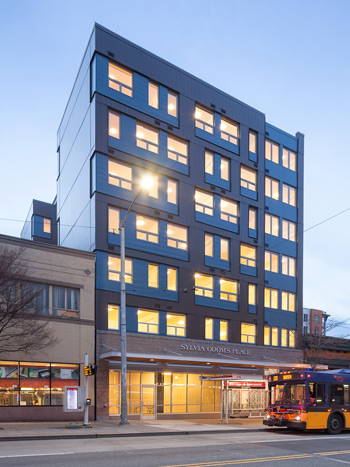 Opened in January 2016, Sylvia Odom's Place provides 63 furnished studio apartments for participants in nonprofit Plymouth Housing Group's Housing Options Program. Credit: William Wright
In January 2016, nonprofit housing provider Plymouth Housing Group (Plymouth) opened its 13th permanent supportive housing development in Seattle, Washington. Sylvia Odom's Place, a 63-unit apartment building, is the only development in Plymouth's portfolio that provides housing solely to participants in the nonprofit's Housing Options Program (HOP). Described as a "moving-on program" by Plymouth chief program officer Kelli Larsen, HOP allows formerly homeless residents who have had success in one of Plymouth's more supportive developments to elect to move into an environment that affords them more independence. And each tenant who elects to move to Sylvia Odom's Place frees up space and staffing resources for individuals beginning their journey out of homelessness.
The Housing Options Program
More than 1,000 people live in buildings owned and operated by Plymouth, and most of Plymouth's tenants are formerly homeless, many having experienced chronic homelessness. To help residents recover from the traumatic experience of homelessness, Plymouth's case managers, behavioral health specialists, and building managers create a unique care plan for each resident and work with community social service and healthcare partners to provide wraparound care.
Before 2006, one of the only independent, low-income housing options for residents desiring a more independent living situation was to self-refer to the Seattle Housing Authority or other housing partners. In 2006, Plymouth launched HOP and reserved approximately 50 units in another of its buildings for participants. Plymouth began planning the first all-HOP building in 2011 and broke ground for Sylvia Odom's Place in 2014.
Plymouth's properties provide permanent housing, so residents may remain indefinitely, but those who have been successful in that environment for at least 18 months may apply for the program. "It's very important that tenants themselves initiate the application process," emphasizes Michael Quinn, director of social services. "We don't want people to feel like they're being displaced before they're ready."
Applicants begin HOP's three-part process by initiating an application with their case manager. The application allows residents to self-assess their suitability for a more independent environment. The second step is a review of the application by the HOP Committee, which consists of Plymouth staff who work in buildings with HOP-designated units. If approved by the committee, applicants then participate in two discussion groups led by Plymouth staff. The first discusses the general experience of living in an environment with less intensive case management, and the second discusses the responsibilities necessary for living in a building such as Sylvia Odom's Place. For example, because some participants will be moving out of traditional single-room occupancy buildings with shared kitchens and bathrooms, the group discusses the maintenance requirements of private bathrooms and kitchen spaces. HOP participants who successfully navigate this process "graduate."
HOP at Sylvia's Place
Sylvia Odom's Place is located in Seattle's Belltown neighborhood. Sylvia Odom's Place employs a building manager, a front desk building assistant, and a part-time janitor. The building manager lives on site. Residents continue to see one case manager, who is full time with an office on site and has a caseload of all Sylvia Odom's Place tenants. This arrangement is called "lighter touch" case management. Residents can receive medical care at a nearby clinic operated by one of Plymouth's clinical service partners, NeighborCare Health, but Plymouth does not provide onsite clinical support.
Sylvia's Place has two green spaces, a contemplative second-floor terrace and a green roof deck where residents can participate in gardening and enjoy views of Seattle. Credit: William Wright.
Designed by SMR Architects, Sylvia Odom's Place consists of six residential floors above a first-floor commercial space occupied by an Indian grocery store facing the street and Plymouth offices and resident community space behind it. Amenities include a first-floor community room with a large skylight, workout room, computer room, and common laundry area. The building has two outdoor spaces, a green terrace with benches on the second floor and a green roof deck where residents can enjoy city views and participate in gardening.
The 63 studio apartment units include private kitchen and bathroom spaces and come fully furnished. One unit is occupied by the building manager. All community spaces in Sylvia Odom's Place are accessible to people with mobility impairments, and all bathrooms are adaptable. A total of 10 units are fully accessible, and 11 feature roll-in showers to accommodate wheelchair users.
About $13.3 million of the building's $20.4 million cost was derived from the sale of tax credits through the Low-Income Housing Tax Credit program. The city of Seattle provided $4.4 million, $750,000 came from the state's Housing Trust Fund, and $500,000 from King County. Plymouth itself loaned the project $500,000 to pay for the commercial components that could not be funded with federal money. Because each residential unit is subsidized by a Section 8 project-based housing choice voucher issued by the Seattle Housing Authority, eligible tenants must earn no more than 30 percent of the area median income. Plymouth policy requires tenants to pay 30 percent of their income in rent. Sylvia's Place derives most of its operating budget from Section 8 rents. "The Seattle Housing Authority has been an amazing partner," says Plymouth executive director Paul Lambros. "The housing choice vouchers help it all work."
Plans for the Future
As of May 2018, Sylvia Odom's Place is fully occupied, and 13 people are on the waitlist for HOP units. Plymouth's plans for the program consist primarily of adding another development reserved solely for participants. Plymouth has a robust development pipeline, with a new development expected to break ground in summer 2018. Two more projects, including one for formerly homeless seniors, are anticipated to have their funding finalized by fall 2018. In total, Plymouth has five upcoming developments, and the fourth in line for development will be the next HOP site, representing the expansion of the program.
Source:
Correspondence from Michael Quinn, 8 May 2018; Interview with Paul Lambros, Michael Quinn, and Kelli Larsen, 24 April 2018.
×
Source:
Correspondence from Michael Quinn, 8 May 2018; Interview with Paul Lambros, Michael Quinn, and Kelli Larsen, 24 April 2018.
×
Source:
Plymouth Housing Group. 2016. "Celebrating 63 New Homes!" press release, 26 January. Accessed 6 April 2018; Interview with Paul Lambros, Michael Quinn, and Kelli Larsen, 24 April 2018.
×
Source:
SMR Architects. n.d. "Sylvia Odom's Place." Accessed 6 April 2018; Interview with Paul Lambros, Michael Quinn, and Kelli Larsen, 24 April 2018
×
Source:
Interview with Paul Lambros, Michael Quinn, and Kelli Larsen, 24 April 2018
×
Source:
Interview with Paul Lambros, Michael Quinn, and Kelli Larsen, 24 April 2018
×
Source:
Correspondence from Michael Quinn, 8 May 2018; Interview with Paul Lambros, Michael Quinn, and Kelli Larsen, 24 April 2018
×