Combining Affordable Housing With Medical Care and Education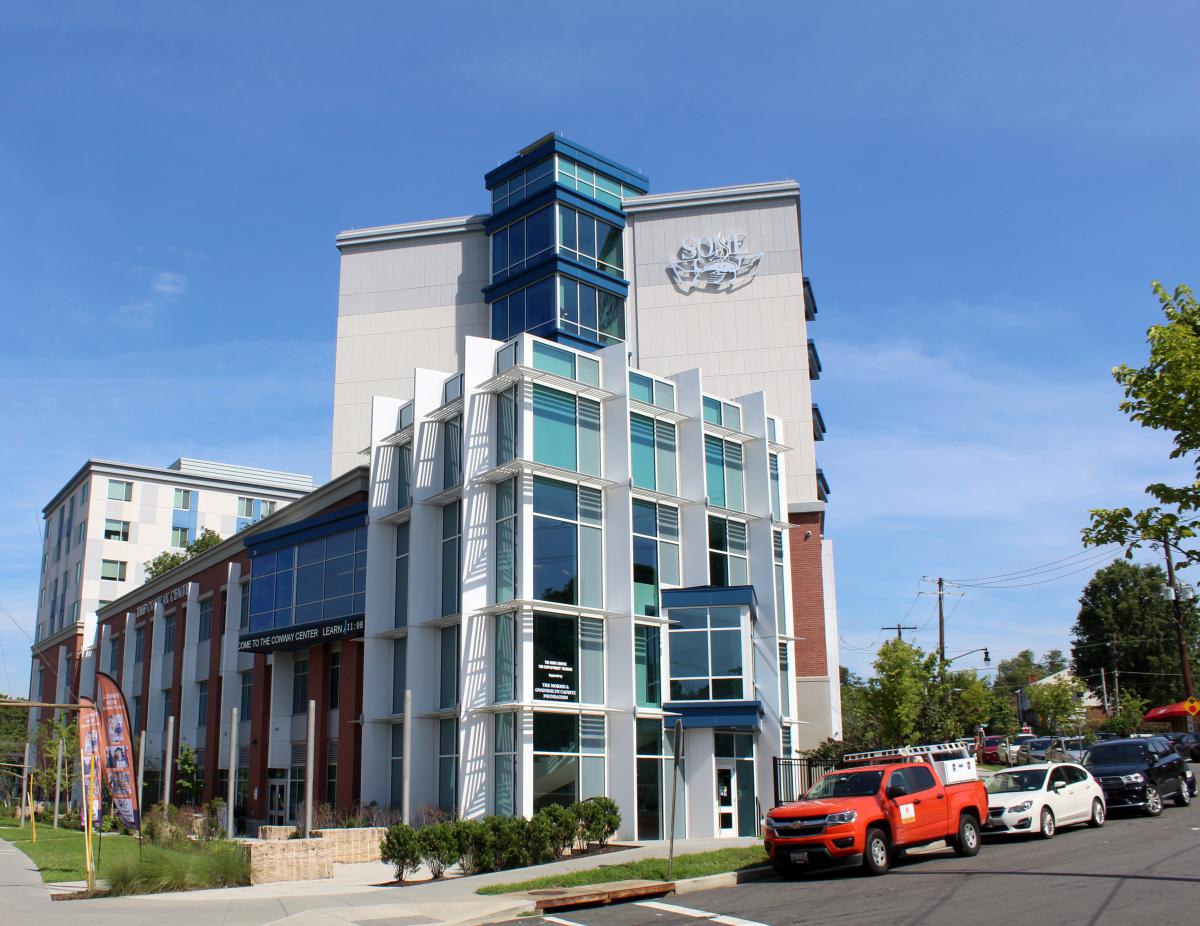 The Conway Center, built by the Washington, DC, nonprofit So Others Might Eat (SOME), adds over 200 affordable rental apartments for families and single adults to the city's Ward 7 neighborhood.
Despite the economic success that characterizes many parts of the city, residents of Washington, DC's 7th Ward continue to experience poverty, homelessness, and inadequate access to medical care at disproportionate rates. The interfaith, community-based service organization So Others Might Eat (SOME) has been addressing the community's needs since the 1970s, and since 1989 it has been providing affordable housing to area residents. Conway Center, completed in 2018, continues this legacy while demonstrating the benefits of colocating services on a single site. Combining affordable housing with medical care, job training, and homeless services, SOME hopes, will yield better outcomes than if those same services were dispersed. Although SOME provides many of its services, the organization has also partnered with Unity Health Care — which sees more than 100,000 patients annually at 29 sites throughout the District of Columbia — to provide primary care to underserved residents in dedicated medical space at Conway Center.
Housing for Diverse Needs
Within the 320,000-square-foot Conway Center are the medical center, space for adult educational and career services, and the project's affordable housing. The mix of units reflects the demographic range that SOME can house and includes 30 two- to four-bedroom rental apartments for families. In addition, Conway Center has 172 units for single adults, with 16 reserved for seniors and the remainder roughly split between efficiency units and single-room occupancy (SRO) units. The family units share designated community space, a computer lab, a teen room, and outdoor space, and the SRO units and efficiency units have a separate community room, computer lab, and private outdoor area. Rental subsidies for individuals and families earning up to 30 percent of the area median income ensure that Conway Center residents pay no more than 30 percent of their income toward rent. The vouchers are provided by the District of Columbia Housing Authority's Local Rent Supplement Program. SOME requires applicants with a history of substance use to demonstrate six months of sobriety before moving into Conway Center. To maintain eligibility for residence, each lease includes a clause stipulating that residents must respect the drug- and alcohol-free ethos of Conway Center. Finally, individuals cannot have had any violent crime charges within the past year.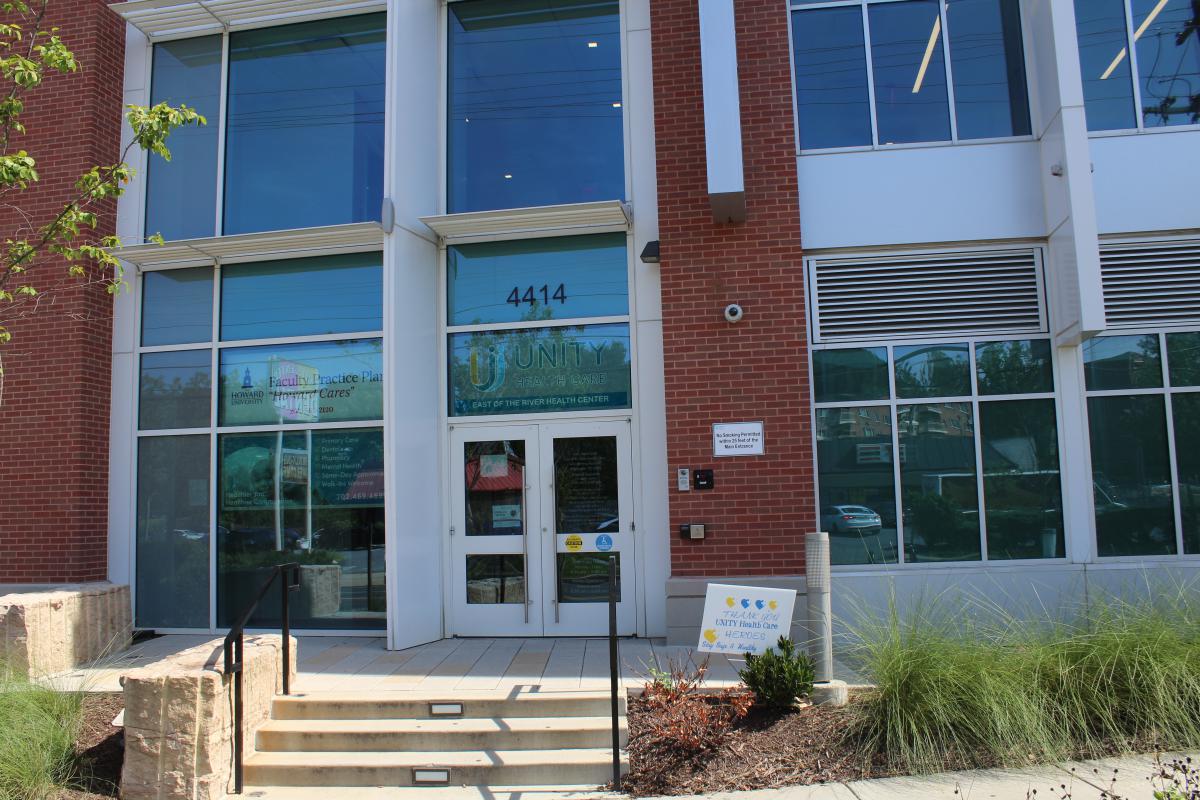 The Conway Center includes an on-site health clinic, operated by Unity Health Care. SOME hopes that co-locating housing and health services improves health outcomes for residents.
A number of funding sources supported the development of this $90 million project. Tax credit equity provided the largest share of the funding, including $20.1 million generated from the sale of low-income housing tax credits and $6 million from the sale of New Markets Tax Credits. The District of Columbia Department of Housing and Community Development used its Housing Production Trust Fund to contribute a loan of $17.9 million, a loan from the Federal Housing Administration secured another $8.3 million, and a Healthy Futures Fund loan added $13.5 million. Finally, philanthropy played a significant role in developing the Conway Center, including a $10 million gift from William Conway, Jr., for whom the project was named, and another $10 million in additional gifts and pledges.
A Suite of Onsite Services
SOME believes in the importance of wraparound services and provides caseworkers to help match residents' needs with available services. Next to housing, Conway Center's most-used service is its medical facility. Unity Health Care, a partner from the beginning of the project, leases 37,000 square feet of space from SOME to provide primary medical care to area residents. The Conway Center is well suited to meet Unity's physical needs. The rented space includes exam rooms, a walk-in clinic, a lab, wellness space, and dental offices. Founded in 1985 as the Health Care for the Homeless Project, which provided care for individuals and families living in local shelters or living unsheltered, Unity now provides primary care to the general population. Tailoring its services to the needs of the community, Unity is providing additional care in high-risk maternal and fetal medicine, oncology, and behavioral health. In addition, SOME offers inpatient and outpatient substance abuse treatment at Conway Center.
SOME supports employment training for Conway Center residents through its Center for Employment Training (CET). CET provides 6- or 9-month vocational programs offering between 80 and 100 hours of hands-on experience to train residents as medical administration assistants; electronic health record specialists; heating, ventilation, and air conditioning technicians; and building maintenance technicians. After completing a training program, participants receive ongoing case management to support employment retention and career planning. In 2016, the job placement rate for graduates of SOME's vocational program was 81 percent. Program participants receive $80 monthly in transportation support through the Washington Metropolitan Area Transit Authority's SmartBenefits program to address transportation-related employment barriers.
Results and Future Directions
SOME is hoping that Conway Center's colocation model will show measurable success in improving resident outcomes in health, employment and housing stability. The organization plans to survey residents about their engagement with the clinic and employment services, and anonymized healthcare data — including statistics on hypertension, diabetes, colorectal screenings, and smoking cessation — can reveal the effects of having health care available onsite. For assessing housing stability, SOME can compare outcomes for Conway Center with outcomes for residents in their overall portfolio of more than 800 affordable housing units, for whom, the Urban Institute reports, the average length of tenancy is 4 years, with more than 90 percent of individual clients maintaining their housing for 1 year or moving to more independent living. SOME also tracks the employment outcomes of its training and education programs, recording both the learning achieved while in the program and the monthly employment status of program graduates for a year following program completion. The addition of new affordable housing in Ward 7 is meeting an essential need for an area of the city cut off from its overall economic growth. SOME intends to keep building, with a goal of eventually operating 1,000 units of affordable housing.