Building an Affordable Community in Louisville, Colorado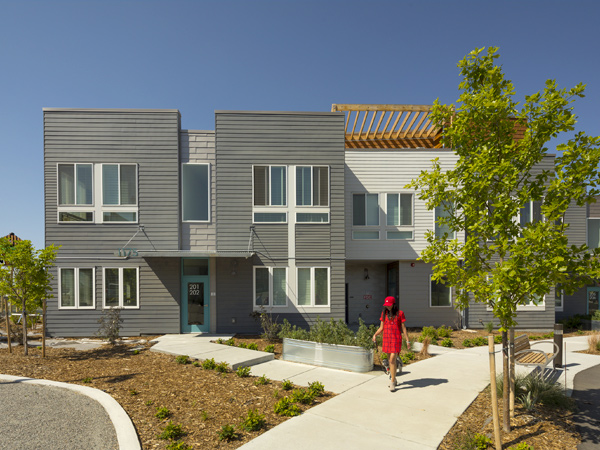 The Kestrel apartment complex in Louisville, Colorado, consists of 200 units of affordable housing for seniors and families, built on an undeveloped 13-acre parcel near Louisville's downtown amenities. Photo credit: Paul Brokering
Over the past two decades, the small city of Louisville in Boulder County, Colorado, has struggled to maintain housing affordability for low- and middle-income households as the area's growth in home prices has outpaced its growth in wages. As a result, more than 30,000 homes in Boulder County that were once affordable to middle- and low-income earners are now out of reach, and the thriving area economy, while driving overall job growth, has failed to provide housing at prices that many families can comfortably afford. In the decade following the Great Recession, Louisville home prices increased by 70 percent.
Adding to this financial pressure, the region experienced significant flooding in 2013 that further constrained the available supply and displaced more than 1,000 households. Kestrel, a new master-planned community in Louisville, is part of a larger effort to address the region's affordable housing shortage. Built by the Boulder County Housing Authority (BCHA), this multigenerational project sits on what was one of the last large vacant lots near Louisville's amenity-rich downtown.
Project Details
Kestrel was built on an undeveloped 13-acre parcel. The project's 18 residential buildings were constructed over 5 phases between 2016 and 2018 and consist of 129 townhouse units for families and 71 units for seniors, with 20 units set aside as permanent supportive housing for households that have experienced homelessness or include a member living with a disability. Senior units are scattered throughout Kestrel to promote intergenerational contact. Slightly more than half of the units have one bedroom, and the remainder have two or three bedrooms. To be eligible for a unit, residents must earn no more than 60 percent of the area median income (AMI), and people displaced by the 2013 floods receive priority consideration. These requirements address a gap in housing options for seniors, because most of the affordable senior units in the area had been available only to those earning less than 50 percent of AMI. Often, those with incomes just above that threshold would be unable to afford market-rate rental units.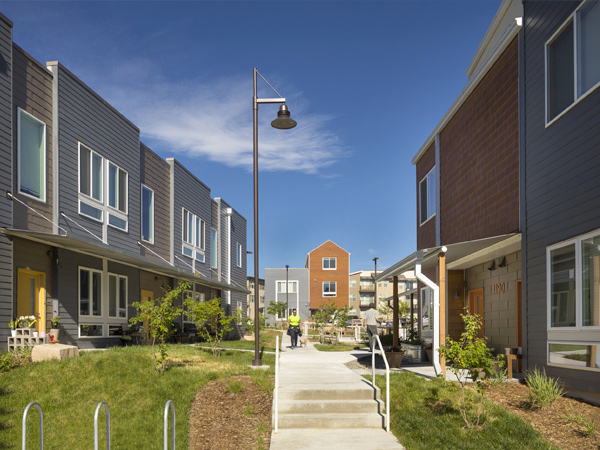 The many walking paths and connections to regional trails help residents maintain active lifestyles and reflect the importance of the natural environment in the development's design. Photo credit: Paul Brokering
Because demand is high in the Boulder County housing market, affordable housing faces competition from market-rate developers for labor and other resources, driving up the cost of affordable housing production and creating a dynamic in which the larger the problem of affordability becomes, the more expensive it becomes to address. At Kestrel, the relatively high per-unit cost of $334,444 translates to $78 million in total development costs. Funding sources include 4 percent low-income housing tax credits; state affordable housing tax credits; $1.35 million from Worthy Cause, a county voter-approved sales tax to generate funds for nonprofit social service agencies to use for capital projects; and Community Development Block Grant Disaster Recovery funding that was made available following the 2013 flood.
Addressing Long-Term Affordability and Healthy Living
Hoping to stem the tide of decreasing affordability, the BCHA entered into an agreement with the Louisville Housing Authority in 2012 promising to increase the number of affordable housing units in the city within five years. BCHA had not built a new affordable housing project in Louisville since 2000. Thanks to its size, Kestrel represents a 33 percent increase in affordable housing units for low-income families and seniors in Louisville, but the development is also part of an effort to increase housing countywide, because the tight housing market transcends municipal boundaries. Formalized in 2017, the Boulder County regional housing plan anticipates the creation of 300 units of affordable housing annually through 2035. If successful, 12 percent of the county's housing stock would be affordable for low-, moderate-, and middle-income households.
Kestrel represents long-term thinking in other ways, especially in its environmental impact. The project exceeds local sustainability standards by 50 percent and is solar ready. Kestrel is heated and cooled geothermally and features high-efficiency water heaters. Outdoor amenities at Kestrel, including community gardens; a quarter-mile "complete street" circulation loop allowing for walking, biking, and roller skating; a centrally located community center; a large central park with natural play features; seven smaller pocket parks; and links to local and regional trails, connect residents with the environment. One of the parks is an orchard featuring fruit-bearing trees and vines, a community greenhouse, and a picnic area. Although all residents can enjoy these amenities, seniors especially benefit from a community design that encourages physical and social activity, improving their prospects for healthy aging in place.
Kestrel is an important step toward the goal of making Boulder County affordable to low- and middle-income households and securing an equitable future for its residents. The county's regional housing plan outlines a shared vision and articulates a toolbox of strategies while recognizing that each constituent municipality will apply the approaches best suited to their resources and needs. Likewise, Kestrel reflects the values of inclusive and sustainable growth in a thriving area in Colorado.
Source:
Boulder County Housing Authority. n.d. "Kestrel Housing." Accessed 24 September 2020; Colorado Housing and Finance Authority. 2015. "PAB LIHTC Application Narrative." Accessed 24 September 2020; Affordable Housing Online. n.d. "Kestrel." Accessed 24 September 2020; S.B. Clark Companies. n.d. "Case Studies." Accessed 24 September 2020.
×