The United States and South Korea Partner To Research Urban Revitalization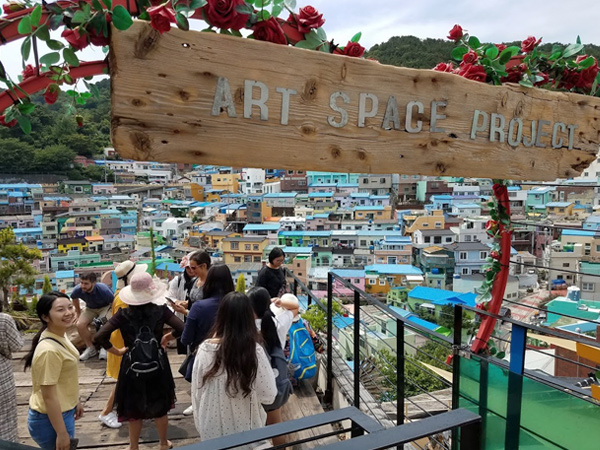 Gamcheon Culture Village, Busan, South Korea. Author's photo.
In this column, Paul Joice, social science analyst with PD&R, discusses his trip with other researchers to Busan, South Korea to present case studies of urban revitalization projects.
For the past few years, government officials and researchers from the United States and the Republic of Korea have collaborated to share research and best practices related to urban revitalization. This joint research effort was inspired by the common challenges the two countries face. Both the United States and South Korea have experienced significant economic transitions in recent decades — in particular, the decline of the manufacturing industry. The two countries are also experiencing similar demographic trends, with growing elderly populations and low natural population growth rates (excluding migration). In some areas, job losses and stagnant population growth, combined with the deterioration of the housing stock, create a particularly significant challenge. South Korea faced a persistent shortage of adequate housing, particularly in the decades following the Korean War, and units built 40 years ago now require significant reinvestment. The United States is experiencing a similar challenge related to the aging of its public housing stock.
In April 2019, representatives of South Korea's Housing and Urban Guarantee Corporation (HUG) visited the United States, and in June 2019, I joined a group of U.S. researchers on a visit to Busan, South Korea. Researchers from each country presented case studies of urban revitalization projects and considered lessons that we could learn from the different approaches.
I shared a case study describing how HUD's Choice Neighborhoods program has supported the revitalization of the Woodlawn neighborhood in Chicago. Choice Neighborhoods provides grants of up to $30 million to support comprehensive redevelopment that improves assisted housing, increases opportunity for residents, and catalyzes broader neighborhood improvement. In Woodlawn, the Choice Neighborhoods grantee has produced 640 new or renovated housing units and helped attract important amenities such as a new full-service grocery store.
Other U.S. case studies, presented by researchers from the Woodrow Wilson Center, University of Pennsylvania, and George Washington University, focused on topics such as community benefits agreements, public-private partnerships, and university-led revitalization.
The Korean case studies, presented by HUG staff, also focused on public-private partnerships. HUG's primary role is providing loan guarantees, so partnerships with the private sector and other government agencies are essential in any revitalization project. HUG also focuses on strategies to involve community residents in revitalization plans and minimize negative consequences such as displacement and gentrification.
Although most South Korean revitalization projects involve large-scale reconstruction, we also experienced one example of revitalization that took a different approach. In Busan's Gamcheon Culture Village, the neighborhood was preserved and transformed into a tourist destination thanks to a strategy that emphasized public art and embraced the neighborhood's historic charm.
Although the United States and South Korea share many objectives and strategies, their differences are equally interesting. South Korea has a much higher population density than the United States does. The U.S. state with the highest population density is New Jersey, at 1,218 people per square mile. At 1,313 people per square mile, the entire country of South Korea is more densely populated than New Jersey and more than twice the geographic area. South Koreans generally are more accepting than Americans are of redevelopment that adds new housing at higher densities.
Perhaps because of South Koreans' tolerance of higher-density housing, the Korean housing market seems to be more flexible than the U.S. housing market, particularly when it comes to adding supply in areas that are already developed. In the wake of the Korean war, South Korea faced a significant shortage of adequate housing. Between 1970 and 2014, the number of housing units in South Korea increased from 4.4 million to 16 million, and the number of housing units per 1,000 people increased from 141 to 383. Housing prices, meanwhile, have increased at roughly the rate of inflation. The number of housing units in the United States increased much more slowly, from 76 million in 1973 to 118 million in 2015. U.S. housing prices have increased much faster than inflation, and many areas of the country are now experiencing significant housing affordability challenges.
The partnership between the United States and South Korea has proven to be an excellent opportunity to share best practices and learn about the different contextual factors that affect urban revitalization strategies. Exchanges such as this one help both countries think creatively about different ways to tackle the common challenges facing our cities.