COVID-19 and Water Sanitation Issues in Kibera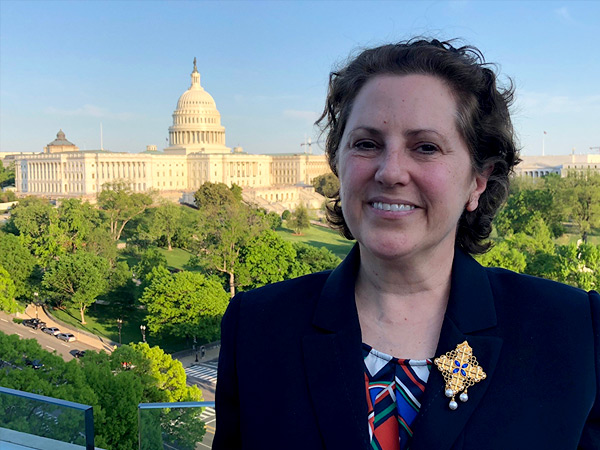 Cynthia Campbell, Director of PD&R's International and Philanthropic Affairs Division.
We all know how critically important it is to wash our hands. But what do you do if you don't have access to running potable water? In the United States, we take for granted our easy access to potable water and bathroom facilities to adequately wash our hands. The global COVID-19 pandemic has emphasized the need to wash our hands with soap and water for a minimum of 20 seconds.
UN-Habitat, headquartered in Nairobi, Kenya, is the urban response arm of the United Nations. Its mission is to build inclusive, safe, resilient, and sustainable cities and communities. The organization works in more than 90 countries to help solve urban issues, especially in informal settlements and slums throughout the world. Recently, UN-Habitat has requested additional funding from the United Nations and member nations to support increased outreach due to the pandemic. UN-Habitat has outlined these efforts in a recently released UN-Habitat COVID-19 Response Plan. This plan includes "facilitating collaboration between local governments, utility providers and community groups to ensure affordable access to water and sanitation for all." UN-Habitat also addresses several other critical areas of support, including assisting public health officials with testing and contact tracing, which is even more difficult within informal settlements. UN-Habitat will also help support urban data collection and mapping. This work includes addressing water sanitation issues in the settlement of Kibera in Nairobi.
The 2009 Kenyan census reported 170,070 residents in Kibera, although getting an accurate count is difficult; other sources estimate the population at between 500,000 and more than 1 million. Kibera is the largest informal settlement in Africa and one of the largest in the world. The Kenyan government owns most of the land; only about 10 percent of the population has any tenant ownership. Living conditions in Kibera are abysmal: most shacks house up to eight family members with few comforts. Electricity hookups are available to only about 20 percent of the population, but for most, the cost is prohibitive. Water, until recently, had to be carried by hand from the nearby Nairobi dam and was not safe, leading to outbreaks of cholera. Installing ground water piping was not an option. Kibera is densely populated, and homes are accessed by foot path or makeshift roads, which do not allow for adequate space to install underground piping.
Thanks to the efforts of Kenyan nonprofit Shining Hope for Communities, an innovative aerial water network held up with wooden poles was installed. The aerial water pipes bring water to kiosks throughout the slum. Although this system does not bring running tap water to each informal housing unit in Kibera, it does bring clean, potable water within a much shorter walking distance; residents no longer need to walk to the dam. Access to clean water was finally available in Kibera, and the timing could not have been more critical. For this project, the Hilton Foundation awarded Shining Hope for Communities the 2018 Conrad N. Hilton Humanitarian Prize, which, at $2 million, is the world's largest monetary humanitarian prize.
Unfortunately, the sewage system in Kibera has not been improved. Kibera has no permanently installed toilets. Residents use latrines, each of which is shared by up to 50 families. When the latrines are full, they are painstakingly emptied by hand or by sewage collection trucks, which dump the refuse in the nearby river. Residents also resort to what they call "flying toilets" — plastic bags used as toilets and thrown into the river or other waterways.
In response to the pandemic, Shining Hope for Communities set up handwashing stations throughout Kibera and brought in water trucks to help bring additional water to the community. These new measures are an effort to slow the transmission of COVID-19. There is great concern that COVID-19 could spread rapidly in dense informal settlements, not only in Africa but throughout the world.
The critical work of UN-Habitat, along with nonprofit partners such as Shining Hope for Communities, is an example of how the world is addressing COVID-19. Simple tasks such as handwashing are not so simple for those living in informal settlements — or for our homeless in the United States.