Affordable LGBTQ+-Friendly Senior Housing Development Opens in Cincinnati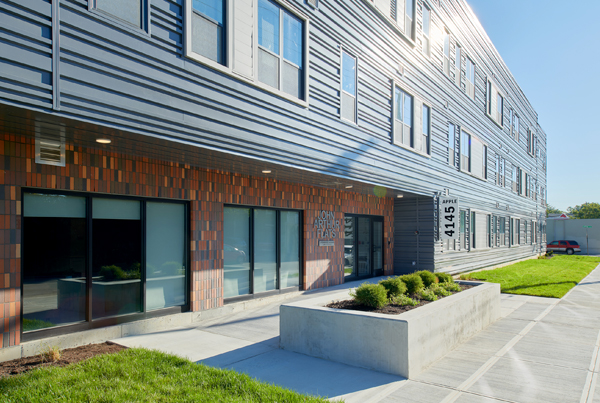 Located in Cincinnati's Northside, John Arthur Flats provides LGBTQ+ friendly affordable housing to area seniors. Photo credit: Chris Von Holle
John Arthur Flats, an affordable senior housing development geared for members of the LGBTQ+ community, opened in 2022 in Cincinnati's Northside neighborhood. The development, one of the first of its kind in the state and one of only a few in the country, features 57 apartments that are reserved for households earning no more than 60 percent of the area median income (AMI). All residents have access to multiple amenities and support services. John Arthur Flats is named after the late Cincinnati native whose husband, James Obergefell, was the lead plaintiff in the 2015 Supreme Court case that legalized gay marriage throughout the United States.
Development Process
In 2017, Northsiders Engaged in Sustainable Transformation (NEST), a community development corporation dedicated to preserving and enhancing the neighborhood's built environment, acquired a blighted piece of land using city-administered Community Development Block Grant program funds. The parcel was formerly the site of the community's last grocery store and NEST hoped to bring a community-owned grocery store back to this site. After failing to secure funding for a grocery store, the organization decided to repurpose the site for affordable housing, as it had for some of its other properties. NEST saw a specific need to address the marginalization of LGBTQ+ seniors in the housing market over the past several decades. Northside, which was the birthplace of the Cincinnati Pride Parade, is still known as an LGBTQ+-affirming community. NEST released a request for proposals in 2019 and selected Pennrose, which specializes in affordable housing, as its codeveloper. After a 3-year process, John Arthur Flats opened in October 2022.
The Apartments
Most of the three-story building's 57 apartments are one-bedroom units, but the development also includes studios and two-bedroom apartments. Forty-five units are reserved for households earning less than 60 percent of AMI, 3 are reserved for those earning less than 50 percent of AMI, and 9 are reserved for those earning below 30 percent of AMI. Although these residences are targeted to LGBTQ+ seniors, all income-eligible individuals over the age of 55 can reside here. The building offers multiple amenities, including a wellness lounge, fitness center, outdoor terrace, and picnic area.
Two of NEST's partner organizations, Caracole and Equitas Health, provide HIV and AIDS testing along with prevention services for residents. Equitas also provides health and wellness screenings. These and other providers can meet with residents in community rooms or dedicated private meeting spaces onsite. Equitas also has a mobile testing van that frequently stops near the building. An onsite supportive services coordinator connects residents to providers and arranges transportation when needed. The coordinator can also connect residents with government benefits or the Meals on Wheels program.
John Arthur Flats is in the heart of Cincinnati's eclectic Northside neighborhood. Approximately 5 miles north of downtown, Northside has several restaurants, bakeries, stores, banks, and pharmacies in a pedestrian-friendly environment. The city-owned McKie Recreation Center is across the street and features a fitness center, gymnasium, and computer lab as well as programs for seniors. The apartments are served by multiple bus lines that offer frequent service to downtown and beyond.
Funding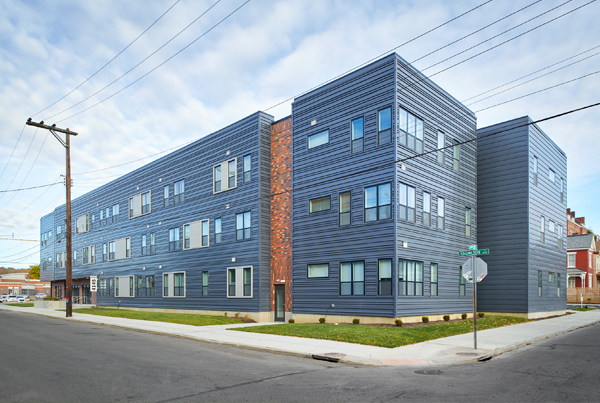 The 57-unit building has a fitness center, wellness lounge, outdoor terrace, and meeting rooms where residents can meet with service providers. Photo credit: Chris Von Holle
Most of the $13.2 million in funding for the project came from low-income housing tax credit (LIHTC) equity through the Ohio Housing Finance Agency. The development also received HOME Investment Partnerships funds from the city of Cincinnati and the Federal Home Loan Bank of Cincinnati. Fifth Third Bank underwrote the debt and equity for the project. The city council also voted to award the project the maximum property tax exemption under the Community Reinvestment Area (CRA) program, which is an abatement on 67 percent of the value of improvements for 15 years. The exemption will save the development more than $1 million in property taxes.
Inspiring Others
According to William Basil, a developer for Penrose, other communities are beginning to support LGBTQ+-friendly affordable senior housing. "The more we share the word about these LGBTQ projects that we've had the chance to work on, the more communities are saying 'we would love to have one of those here,'" Basil said. Building on the success of developments such as John Arthur Flats, the city of Cincinnati is actively pursuing affordable housing policies that could help make future affordable housing developments possible. In February 2022, less than a year after the city council awarded a property tax exemption, the city adopted an ordinance granting the maximum CRA property tax abatement to all LIHTC projects without requiring further approval from council.