Affordable Housing Serving Those Who Served in Arlington, Virginia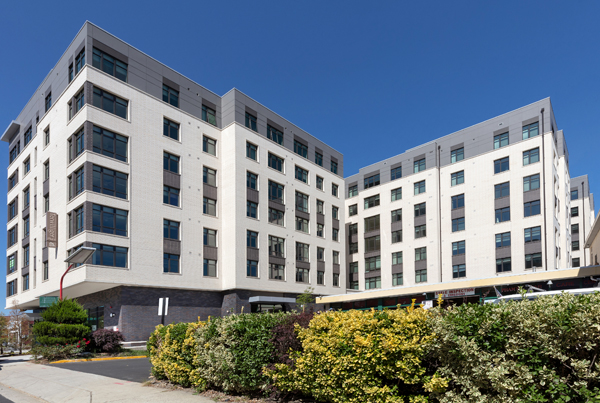 Terwilliger Place, in Arlington Virginia, is providing needed affordable housing to Northern Virginia veterans and their families. The project also provides new meeting space for American Legion Post 139, which partnered with Arlington Partnership for Affordable Housing to redevelop the underutilized site of its aging facility and further their mission to serve and provide community to American veterans. Photo credit: James Oesch
By 2016, American Legion Post 139 in Arlington, Virginia, was grappling with declining membership and a 50-year-old facility that made fulfilling the organization's mission — to serve and provide community to American veterans — increasingly challenging. These concerns prompted Post 139 members to consider how their 1.4-acre site might best meet the needs of younger veterans in the area and the broader community. Post 139 eventually connected with the Arlington Partnership for Affordable Housing (APAH) to develop Lucille & Bruce Terwilliger Place, which consists of 160 units of affordable, transit-oriented housing — half of which have a preference for veterans — along with a new meeting space for Post 139. With the project's close proximity to the Virginia Square–GMU stop on the metropolitan area's Metrorail system, transit access and walkability are greatly enhanced for residents of Terwilliger Place and all other neighborhood residents. APAH director of resource development and communications Garrett Jackson and APAH policy and project manager Brian Goggin say that strong support from local officials was crucial for bringing this project to fruition.
Housing and Amenities for Veterans and Their Families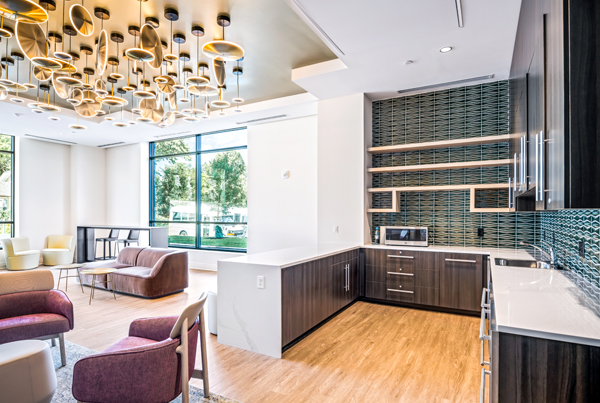 The community room at Terwilliger Place. Building community among veterans is one of the core functions of the American Legion. Photo credit: Stephen Cherry
Approximately 236,000 veterans live in the Washington, D.C. metropolitan area, and 20 to 34 percent of them are estimated to be housing cost burdened, meaning that they pay more than 30 percent of their annual income toward housing costs. Virginia veterans are younger, on average, than those in other states, and younger veterans often face more significant housing challenges. Additionally, young veterans are more likely than the overall population of veterans to have a service-related disability (33% and 14%, respectively), and the unemployment rate among veterans who served since 2001 is higher than that of the overall veteran population (10% and 6.9%, respectively).
The design of Terwilliger Place reflects the relative youth of the state's veterans. The project includes 25 three-bedroom units and 87 two-bedroom units, which provide affordable housing opportunities for families. The remaining 48 units are one-bedroom apartments. Eighteen units are reserved for households earning no more than 80 percent of the area median income (AMI); 72 units are limited to households earning up to 60 percent of AMI, 52 units are reserved for households earning 50 percent of AMI, and the remaining 18 units are reserved for tenants earning no more than 30 percent of AMI. Fifteen units are attached to HUD-Veterans Affairs Supportive Housing vouchers, which helps provide onsite services to veterans exiting homelessness in combination with housing at Terwilliger Place.
Amenities in the seven-story building include bike storage, shared laundry facilities, a community room, a fitness center, a business center, meeting rooms, and both podium and below-grade parking. The development features a 6,000-square-foot hall for Post 139, the design of which derived from input generated by working with Joint Base Myer–Henderson Hall, the Virginia Department of Veterans Services, and other service organizations to identify veterans' most important needs. The veteran-led design team incorporated banqueting facilities into the hall, including a commercial kitchen; a club room; areas for counseling services; and an outdoor space with grills and tables.
Funding for Terwilliger Place
Funding sources for Terwilliger Place include $34 million in equity from the sale of low-income housing tax credits; $15 million from Virginia's Sponsoring Partnerships and Revitalizing Communities multifamily housing program, which provides below-market-rate loans for affordable multifamily housing and which, in turn, is funded through the Resources Enabling Affordable Community Housing in Virginia initiative, a state program funded through the Virginia Housing Development Authority (VHDA); $14 million from the Arlington County Affordable Housing Investment Fund and HOME Investment Partnerships funds; $4.5 million in taxable bonds from VHDA; and $4 million raised from a capital campaign. The Terwilliger Family Foundation made a $1.5 million lead gift to the campaign, which led to naming Terwilliger Place after the parents of area developer Ron Terwilliger. More than 50 other donors contributed to the capital campaign, including Amazon, which donated $1 million through the Arlington Community Foundation.
Leveraging Local Partners and Expertise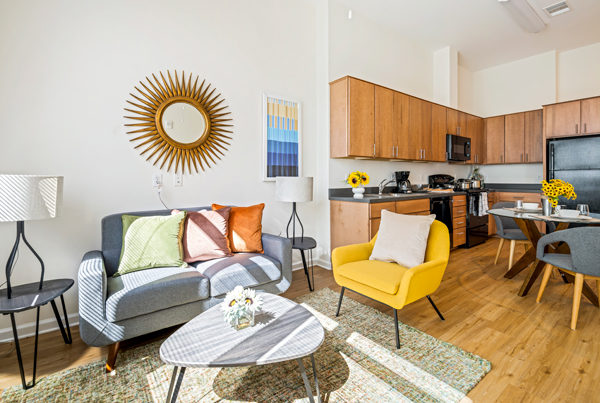 One of the bright and inviting units at Terwilliger Place. The relative youth of veterans in Virginia (compared to nationally) means that a large number have families. This is reflected in the large proportion of units with two or three bedrooms. Photo credit: Stephen Cherry
The property management team worked with the American Legion and other Arlington area partners to identify and connect with veterans, especially those experiencing the greatest housing or other basic needs insecurity. Onsite services help to meet residents' needs and create enriching programming and engagement opportunities, including workforce development initiatives, food distribution events, and other efforts to ensure that residents are not food insecure. In addition, a partnership with George Mason University is helping veterans access needed legal services.
APAH's history and experience in Arlington and its familiarity with the city's land use process helped facilitate the necessary rezoning to allow the construction of a dense residential building on the site. The extensive predevelopment process, which began in 2016, incorporated an amendment that bundled together three neighboring properties, including a YMCA facility and market-rate apartments, and helped set the future direction of growth in the immediate area. Jackson and Goggin are particularly grateful to Arlington for its adoption of zoning that is adaptive and encourages growth, which they say has allowed organizations such as theirs to create needed housing resources for the community.
Arlington Partnership for Affordable Housing. n.d. "Lucille & Bruce Terwilliger Place." Accessed 29 March 2023; Arlington Partnership for Affordable Housing. 2022. "Terwilliger Place." Accessed 29 March 2023; Joint interview with Garrett Jackson, director of resource development and communications, Arlington Partnership for Affordable Housing and Brian Goggin, policy and project manager, Arlington Partnership for Affordable Housing, 9 March 2023; Arlington Partnership for Affordable Housing. n.d. "Terwilliger Place." Accessed 29 March 2023. ×
Arlington Partnership for Affordable Housing. 2022. "Terwilliger Place." Accessed 29 March 2023. ×
Joint interview with Garrett Jackson and Brian Goggin, 9 March 2023. ×
Arlington Partnership for Affordable Housing. 2022. "Terwilliger Place." Accessed 29 March 2023; Joint interview with Garrett Jackson and Brian Goggin, 9 March 2023. ×