Global Cities and Affordable Housing: Nairobi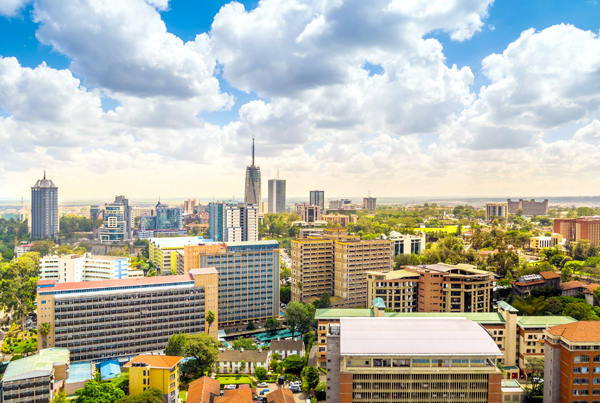 Kenya's Big Four Agenda focuses on reforming food security, manufacturing, affordable health care, and affordable housing. Photo credit: shutterstock.com/Sopotnicki
The next city in our Global Cities and Affordable Housing series is Nairobi, Kenya, located in East Africa. The Maasai tribe, local nomadic pastoralists, named the city Enkare Nairobi, or "cool water" in the Maa language, after a large watering hole. Nairobi was colonized as a railway city by the British East African Company in the 1890s. Swahili and English are the national languages.
Today, Nairobi is often referred to as the Green City in the Sun. Modern-day visitors enjoy day trips and excursions, including tours, hikes on Mount Kilimanjaro, visits to Lake Victoria and safaris in the Maasai Mara Reserve in Kenya or the Serengeti, just across the border in Tanzania. The city is a bucket list destination for many travelers. For locals, however, obtaining decent and affordable housing has been an issue for decades.
In 2017, Kenyan president Uhuru Kenyatta instituted the Big Four Agenda. Part of Kenya's Vision 2030 development blueprint, the agenda included reforms focusing on 4 sectors — food security, manufacturing, affordable health care, and affordable housing — to be achieved by 2030. (We define "affordable housing" as "housing which is deemed affordable to those with a household income at or below the median as rated by the national government or a local government by a recognized housing affordability index.") Nairobi set its housing target at delivering 1 million units by 2022, with 80 percent of these units being affordable housing. As time progressed, the government began to question whether this goal was realistic and lowered the target number of completed units to 500,000.
According to the Centre for Affordable Housing Finance, Kenya has a deficit of 2 million units and growing, mainly because of supply and demand pressures. Sixty-one percent of the urbanized population resides in informal settlements.
In 2020, the government also realized issues with funding sources and opened access to developers to permit the low-cost raising of capital. Household incomes were also an issue: 74 percent of Kenyans earn the median income of 37,000 to 656,000 Kenyan shillings per month, or roughly $320 to $5,400 in US dollars, an income range that makes these residents able to afford housing by the standard definition of affordable housing, assuming that the residents are spending a maximum of 30 percent of their income on housing.
Out of the many affordable housing projects underway in Nairobi, one project called on investors, donors, and government entities to fund a 62,000-unit housing project. These units are spread across the Eastlands area, which comprises many communities. Nairobi Metropolitan Services (NMS), an urban development initiative under the State Department for Housing and Urban Development, reached out to those expressing interest in the project, including banking, real estate, and joint venture partners. All partners were required to prove their technical and financial abilities to participate in the project and demonstrate their understanding that the project's goal was to improve the quality and socioeconomic life of city residents.
The project focused on old, dilapidated government estates that occupy large areas of land. The government selected 10 sites for demolition, and each site will be treated as a separate project. The sites with high-rise units will be completed in phases due to their size.
Bahati Estate, one of the multistory developments, will be composed of 12,000 one-, two-, and three-bedroom homes and will occupy between 6 and 16 floors on roughly 50 acres of land. Residents, however, demanded that the government build on undeveloped land before destroying the existing homes. The government is also planning to build 10,000 units in Lumumba Estate and 8,000 in Maringo Estate. NMS, in conjunction with Nairobi County, will provide the land for the units, and the selected investors will build them. Upon the projects' completion, profits from the sale of the units will be split among the county, NMS, and the investors. The builders are also expected to recover their construction costs.
Although the Big Four Agenda is slated to continue after President Uhuru Kenyatta's term concludes, the program has experienced both successes and failures.
Achievements include an increased budget from diverse sources along with homeowner and developer incentives such as affordable housing relief totaling 15 percent of gross emoluments (salary), tax exemptions on mortgage interest, stamp duty (tax) waivers, a reduction in the corporate tax rate from 30 to 15 percent, and the waiver of building approval fees. The program also saw the creation of the Kenya Mortgage Refinance Company, the establishment of the National Housing Development Fund, and the development of numerous affordable housing projects.
Although a rich variety of funding exists, hurdles include inadequate amounts of funding, unaffordable mortgages, an inadequate supply of developed land, excessive bureaucracy and red tape, and high construction costs. Kenya's housing principal secretary, Charles Hinga, put it succinctly: "You cannot have the most expensive land on the continent and affordable housing in the same statement."
To date, slightly less than 9,000 units have been delivered. This shortfall is due to the cost of land, which accounts for roughly 55 percent of the cost of the affordable unit, as well as other previously mentioned hindrances. Although the government uses government land for housing when possible, developing private land is cost prohibitive, meaning that some systemic problems require rectifying.
The country's lack of titling and digitization of records has also served as a barrier to reaching the country's affordable housing goals. As a result, Kenya's Ministry of Lands and Physical Planning developed Ardhisasa, a new information system for land records, in 2022. Digitization was brought online in Nairobi 3 years after the launch of the Big Four Agenda and will be implemented soon in the rest of the country.
Although delivering fewer than 9,000 out of 500,000 planned units in 5 years may seem to be a failure, Nairobi is steadfastly tackling each hurdle as it continues to develop affordable housing, pursuing its goal of improving the quality and socioeconomic life of its residents.