Large-Scale Affordable Housing Addresses Community Needs and Helps Spur Neighborhood Growth in Queens, New York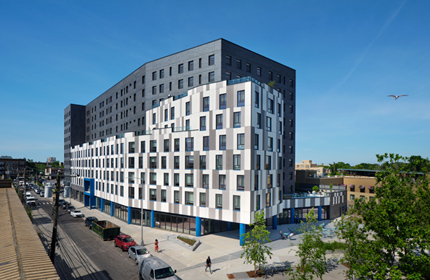 Located in the Far Rockaway neighborhood of Queens, New York City, Beach 21 provides 224 units of affordable housing and ground-level retail, helping to revitalize the neighborhood's downtown area. Photo credit: Chris Cooper
Over the past several years, the Far Rockaway neighborhood of Queens in New York City has been the focus of significant redevelopment activity. The neighborhood faces several challenges, including vulnerability to severe weather events and limited public transit options. New York City's growth plan for Far Rockaway's downtown area, adopted in 2016, assigns affordable housing a substantial role in seeding the mixed-use, mixed-income, and resilient transformation of the area. Beach 21st Street is a large-scale project that embodies these ambitions, built by developer The Community Builders (TCB) and completed in summer 2022. The $120 million mixed-use and affordable development consists of 224 apartments. Income limits at Beach 21st Street range from 40 to 80 percent of the area median income.
Advancing Neighborhood Development Goals
Community members wanted to ensure that Beach 21st Street would benefit existing neighborhood residents, including those not living in the new units. Beach 21st Street incorporated several design elements that made the proposed large-scale development attractive to community leaders and stakeholders, says Jesse Batus, TCB's vice president of development for New York and New Jersey. One such element is the inclusion of subgrade parking. Although New York City is generally known for its extensive public transit system, Far Rockaway's location near New York City's eastern edge makes the neighborhood more car dependent than other areas of the city. Much of the neighborhood, however, sits in a flood zone, a vulnerability that was dramatically demonstrated in 2012 during Hurricane Sandy.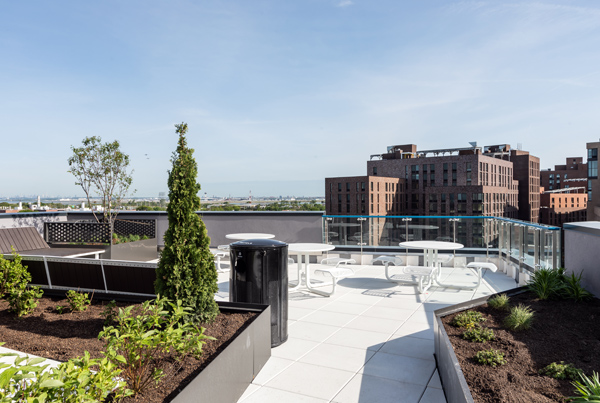 The rooftop at Beach 21 provides communal outdoor space for residents, including a walking track. Photo credit: Bernstein Associates
The Beach 21st Street site, however, is sufficiently elevated to permit below-grade parking, allowing a design that both activates the street with ground-floor retail and services while mitigating additional burdens placed on area roads. Project designers positioned the retail space, available for stores and restaurants, to take advantage of and energize an adjacent public plaza that the city is constructing. TCB was able to add underground parking to Beach 21st Street thanks to funding from the state's Brownfield Cleanup Program that TCB used to remediate the site, a former Metropolitan Transportation Authority parking lot. Because the cleanup required removing underground oil storage tanks, the funding effectively paid for the excavation of Beach 21st Street's parking area. Building affordable housing on city-owned land also reflects one of the strategies included in the city's 2016 redevelopment plan for downtown Far Rockaway. In addition to the commercial and restaurant space that will help spur the development of the local business improvement district, TCB heeded calls from local stakeholders to hire community residents whenever possible, reports Batus, and it partnered with a local nonprofit that provides job training.
One of the funding sources for Beach 21st Street is the city's Mix and Match program, which provides project financing and other state subsidies to mixed-income affordable housing developments. The Mix and Match program requires that funded developments qualify for Enterprise Green Communities certification. For Beach 21st Street, TCB installed high levels of insulation, highly efficient electric heating and cooling systems, and rooftop solar panels, among other features.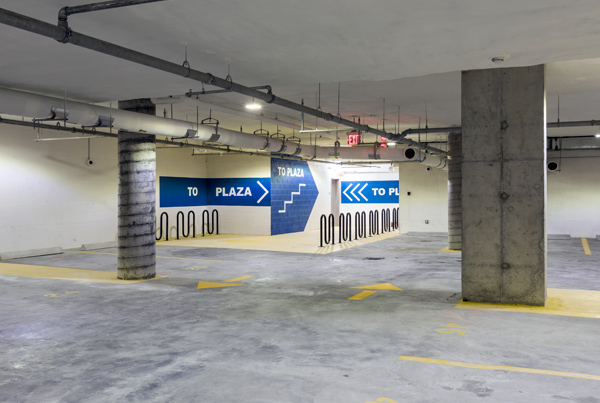 Funding from the state's Brownfield Cleanup Program helped indirectly fund excavation of Beach 21's subgrade parking, which helped generate community support for the project. Photo credit: Bernstein Associates
Incorporating Daycare as a Vital Resource
Beach 21st Street is serving project residents in other ways as well. The building's roof offers outdoor space and includes a walking track. Other building amenities include onsite laundry facilities and a fitness room. Twenty-three units are reserved for individuals experiencing homelessness; TCB partnered with New York City nonprofit service provider CAMBA to provide wraparound services for these residents. Since New York City adopted the 2016 plan, its Department of Housing Preservation and Development has financed approximately 2,000 units of affordable housing in the neighborhood, including the units at Beach 21st Street. Thanks to its responsive engagement with the Far Rockaway community in developing Beach 21st Street, Batus reports that area residents have welcomed the development and TCB.
Interview with Jesse Batus, 15 December 2022. ×
Interview with Jesse Batus, 15 December 2022. ×