Douglas Greene Apartments Provides Affordable Housing in Wildfire-Affected Kodak, Tennessee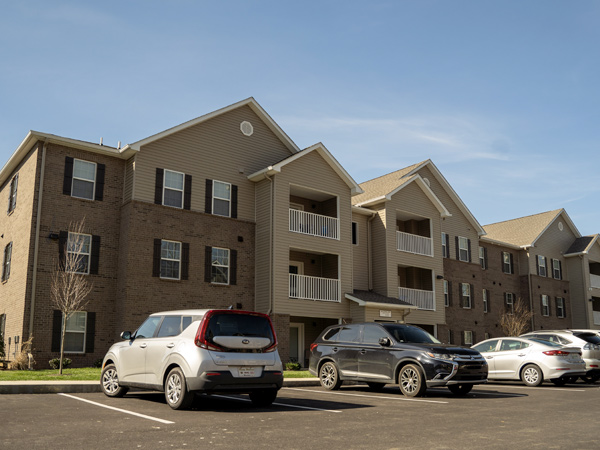 The Douglas Greene apartment complex in Kodak, Tennessee, is one of several new developments in the eastern Tennessee area built to replace housing destroyed by fires in 2016. Credit: Tennessee Housing Development Agency (THDA)
Douglas Greene Apartments is an affordable housing development in the town of Kodak in Sevier County, Tennessee, that opened in spring 2020. Located near Great Smoky Mountain National Park in eastern Tennessee, Sevier County relies heavily on tourism and has longstanding associated affordable housing challenges. These challenges were exacerbated in 2016, when wildfires damaged or destroyed 2,387 homes around the city of Gatlinburg. The Tennessee Housing Development Agency (THDA) calculated that approximately 2,000 new housing units would be needed to meet the area's demand for affordable housing. THDA moved quickly to respond to immediate needs through temporary shelter and to begin addressing the shortage in housing caused by the wildfires' damage, says Allen Newton, the executive director of the Sevier County Economic Development Council. Douglas Greene was the first of seven new complexes to open in the county since the fires.
Project Details
Douglas Greene has 4 residential buildings containing 16 two-bedroom and 64 three-bedroom apartments ranging from 977 to 1,138 square feet. Five of the units have been adapted to meet the needs of individuals with disabilities. A fifth building houses the community center, which features a management office, a gathering room with a kitchenette, a computer room, and a gym, and an outdoor playground is next door. The apartments have a modern, open design and feature high-quality finishes as well as ENERGY STAR® appliances and heating, ventilation, and air conditioning systems. Douglas Greene has been certified as an Enterprise Green Community by Enterprise Community Partners. The units have "all the amenities needed for safe, decent, and sanitary housing… [such as] fixtures, appliances, flooring, square footage, and cabinets," according to Tom Simons, Woda Cooper Companies' senior vice president of development. Prospective tenants for the development must earn no more than 50 or 60 percent of the area median income.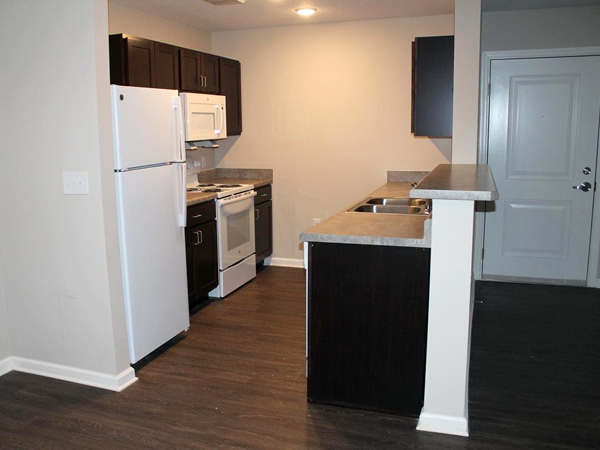 Douglas Greene Apartments offers 80 units, which have a modern, open layout. Applicants must earn no more than 50 or 60 percent of the area median income. Credit: Woda Cooper Companies
Financing
THDA was committed to helping the area rebuild the affordable housing that was lost in the wildfires, Newton says. After the Gatlinburg fires, THDA allocated more of the state's available low-income housing tax credits to eastern Tennessee area to help replace the lost housing units. According to a February 2017 THDA report, the fires destroyed nearly 2,400 homes. Since the fires, 3,000 units have been completed in the area.
THDA hired Woda Cooper to develop Douglas Greene, and RBC Capital Markets purchased the tax credits and provided equity financing to keep rents affordable for tenants. Woda Cooper also received financing from a permanent loan through the U.S. Department of Agriculture's Section 538 program backed by Bellwether Enterprise and a construction loan from Huntington National Bank. Local government entities such as Sevierville, Sevier County, and the Tennessee Department of Economic and Community Development assisted Woda Cooper in the PILOT (Payment in Lieu of Tax) reporting tax incentive program. The development costs for Douglas Greene totaled approximately $14.2 million.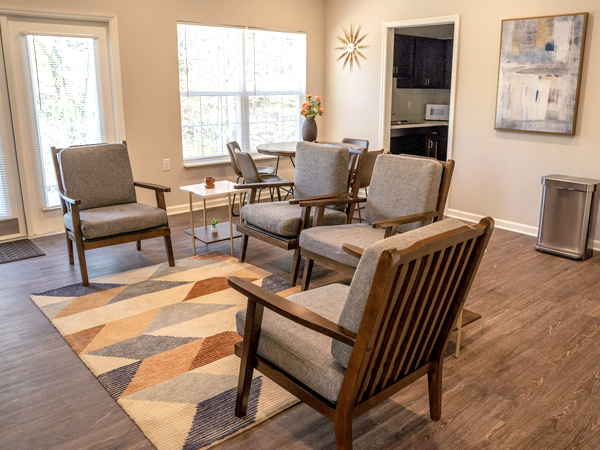 Douglas Greene residents have access to complex amenities such as a gathering room with a kitchenette, a computer room, a gym, and a playground. Credit: Tennessee Housing Development Agency (THDA)
Unexpected Challenges
Douglas Greene's grand opening took place during an active COVID-19 stay-at-home order. To advertise available units, Woda Cooper used social media and designed virtual walkthroughs of units for potential tenants to view. By the end of April 2020, the building was fully occupied.
Woda Cooper also acted to mitigate the pandemic's effects on renters moving into Douglas Greene during the spring shutdown. In March 2020, the company created a $250,000 fund to assist tenants of Woda Cooper properties who had been laid off because of the pandemic. The funding was matched by donors within the company and the company's business creditors. Woda Cooper also waived late fees on rent paid after April 1, 2020.
Sevier County's long-term planning is paying off, and THDA is helping ensure that affordable housing is part of the region's rebuilding effort.
Source:
Woda Cooper Companies. 2020. "Douglas Greene Brings New Affordable Housing to Sevier County, TN," press release, 14 May. Accessed 26 October 2020; Christine Serlin. 2020. "Woda Cooper Cos. Brings Affordable Housing to Tennessee's Sevier County," Affordable Housing Finance, 19 May. Accessed 26 October 2020; USA Today. 2016. "5 Things We Know About the Gatlinburg Wildfires," 30 November. Accessed 26 October 2020; Bettie Teasley, Joe Speer, and Ceagus Clark. 2017. "Housing Ideas for an Affordable Sevier County," Tennessee Housing Development Agency Issue Brief 1, Tennessee Housing Development Authority. ×
Source:
Interview with Allen Newton, 27 October 2020. ×
Source:
Interview with Allen Newton, 27 October 2020.
×