The New Rolland Curtis Gardens Preserves and Expands Transit-Adjacent Affordable Housing in Los Angeles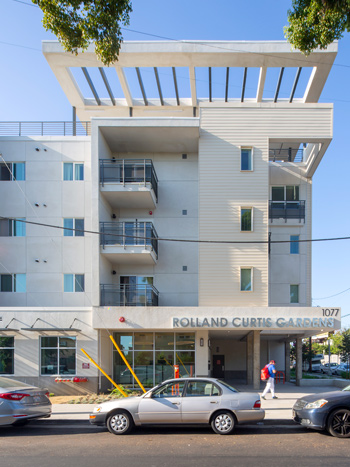 Rolland Curtis Gardens is a transit-oriented affordable housing development in the Exposition Park neighborhood of Los Angeles, California. Credit: Abode Communities
Rolland Curtis Gardens opened in the Spring of 2019 in the Exposition Park neighborhood of Los Angeles. The mixed-use development features 140 residential units and 8,000 square feet of commercial space that houses a community health clinic and a locally owned market and cafe. Abode Communities, an affordable housing developer, developed the project in collaboration with T.R.U.S.T. South Los Angeles, a community land trust. The complex is a transit-oriented development (TOD) conveniently located approximately 100 feet from the Expo/Vermont Los Angeles Metro station. Surrounding Rolland Curtis Gardens is the renowned Exposition Park, home of cultural and community institutions such as the California African American Museum and the Los Angeles Memorial Coliseum, a host site for the 1932 and 1984 Olympic Games.
Building Housing for Families and Community
Rolland Curtis Gardens was designed to meet the needs of multicultural, working-class households and small businesses. The development offers 138 affordable housing units consisting of 12 one-bedroom, 81 two-bedroom, and 45 three-bedroom apartments. Two additional units are reserved for onsite managers. The development is affordable for families earning between 30 percent and 60 percent of the area median income, with monthly rents ranging from $633 to $1,757. Building amenities include a playground, a community garden, a barbecue area, and a resident services center.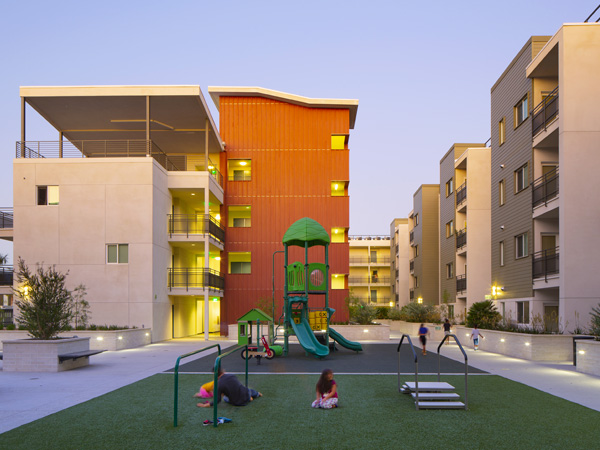 Rolland Curtis Gardens features onsite amenities such as an outdoor courtyard, playground, gardens, a barbecuing area, and a resident services center. Credit: Abode Communities
Abode Communities and T.R.U.S.T. South LA purchased Rolland Curtis Gardens in July 2012 for $8.33 million, removing the property from Los Angeles' competitive real estate market. They decided to renovate the property, relying on input from community members about what features and amenities they wanted in their neighborhood. In several charrette sessions, "participants identified a need to create training and wealth building opportunities in addition to economic opportunities for community members." Residents also indicated that health care was a top priority, so the developers responded by adding a Federally Qualified Health Center and a locally owned market with a café to Rolland Curtis Gardens.
In addition to owning and operating Rolland Curtis Gardens, Abode Communities offers their signature Beyond Home resident services program for residents of the development. Services include afterschool and summer youth enrichment programming; adult capacity programs such as employment readiness, financial literacy classes, and health and wellness workshops; community-based programming to link residents to neighborhood and publicly available services; and housing support services.
Neighborhood History and Background
Exposition Park was initially established in 1872 as Agricultural Park, with fairgrounds and racetracks to promote Southern California's abundant farmlands. In 1913, however, the area was renamed Exposition Park and was replanned with concepts from the City Beautiful Movement, reflecting a changing, more urban Los Angeles. The City Beautiful Movement sought to bring cultural and civic opportunities into urban parks, improving residents' quality of life. Cultural institutions that are part of Exposition Park include the Los Angeles Memorial Coliseum, the Exposition Rose Garden, the Natural History Museum of Los Angeles County, the California African American Museum, the California Science Center, and the Banc of California Stadium. In addition, the neighborhood offers sports fields, a smaller park with sculptures and a playground, a recreation center, an elementary school, and an amphitheater. The University of Southern California, a top-tier research university known for its engagement with the greater Los Angeles area, is located nearby.
Financial Assistance and Partners
To bypass state limits on subsides, Abode Communities separated the parcels into two simultaneously developed residential phases, East and West, and a third separately financed commercial parcel.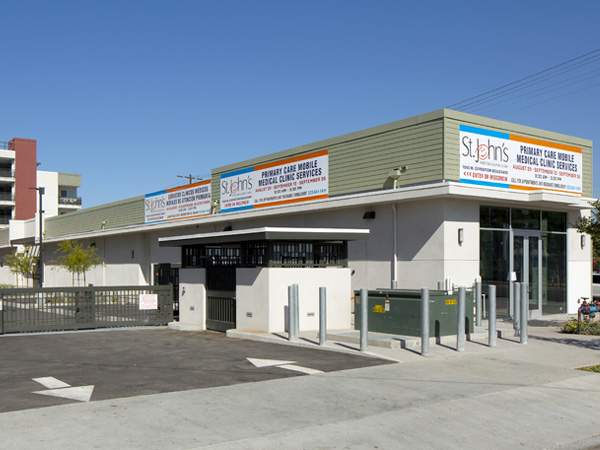 The St. John's Well Child and Family Center clinic at Rolland Curtis Gardens offers mental health and substance abuse therapy, a pharmacy, and health insurance enrollment services. Credit: Abode Communities
Financing for the project included both 9 percent and 4 percent low-income housing tax credits, construction and permanent loans in partnership with Wells Fargo, deferred developer fees, capital contributions, and funding from the California State Department of Housing and Community Development's Affordable Housing and Sustainable Communities program, the Infill Infrastructure Grant Program, and the Multifamily Housing Program. The commercial development was financed through a combination of private capital grants, a community development block grant issued by the City of Los Angeles Housing & Community Investment Department, and New Markets Tax Credits that Opportunity Fund awarded to investor U.S. Bank. In total, Rolland Curtis Gardens brought $81.6 million in local economic investment to Exposition Park.
Improving Quality of Life Through Transit-Oriented Design
Rolland Curtis Gardens aspires to improve residents' quality of life in real ways. As a TOD, Rolland Curtis Gardens seeks to create denser development, locating housing, businesses, employment centers, and community amenities close to public transportation hubs. Benefits of TOD developments include lower costs for owning and maintaining cars, reduced levels of greenhouse gas emissions and pollutants, improved air quality and public health, increased levels of physical activity among residents, better access to public transportation and local services, less time spent in automobiles, and a greater sense of community and place.
Rolland Curtis Gardens is close to the Expo/Vermont station, which is on Metro's E Line. Riders boarding at the station can travel to West Los Angeles neighborhoods such as Culver City and Westwood, eventually reaching beachside Santa Monica. The development also offers substantial long-term bicycle storage for residents and short-term bicycle parking for visitors and commercial patrons. T.R.U.S.T. South LA has worked with the South LA Mobility Advisory Council to make the neighborhood friendlier to pedestrians and bike riders.
Source:
Information provided by Abode Communities, 11 March 2021; Abode Communities. n.d. "Beyond Homes." Accessed 17 March 2021. ×