New Affordable Housing and New Opportunity in LaGrange, Georgia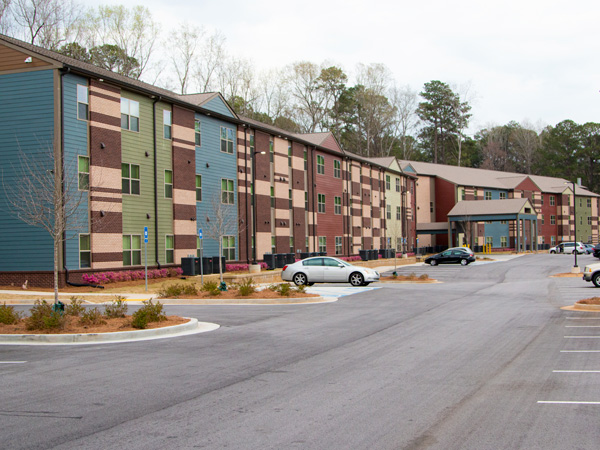 Phoenix Landing consists of 70 units of affordable housing, mainly serving seniors in the small city of LaGrange, Georgia. Photo credit: Chad Cooper
For the first time in nearly 50 years, the LaGrange Housing Authority (LHA), which serves the small city of LaGrange, Georgia, as well as the rest of Troup County and other nearby areas, completed a new affordable housing project. Phoenix Landing, which opened its doors in July 2020, is the first of a multiphase redevelopment to replace Benjamin Harvey Hill Homes, a 238-unit public housing development built in the 1950s. In addition to providing 70 units of needed affordable housing to local seniors, LHA hopes that Phoenix Landing will help catalyze redevelopment of the surrounding area. Health and educational services for Phoenix Landing residents are available at the adjacent HUD-designated LaGrange EnVision Center.
Project Details
Phoenix Landing is the first of three phases in the Rental Assistance Demonstration (RAD) conversion of the Benjamin Harvey Hill Homes, whose 55 constituent buildings are spread, barracks style, across an 18-acre site. The old buildings were becoming burdensome for LHA to maintain, costing more than $400,000 annually in upkeep for an increasingly out-of-date facility. Phoenix Landing was developed on an adjacent site, giving space onsite for the demolition and new construction work to take place. The new building consists of 21 one-bedroom, 40 two-bedroom, and 9 three-bedroom apartments and primarily serves people aged 55 and over. Prospective residents must earn no more than 60 percent of the area median income, and, under the terms of the RAD conversion, project-based rental assistance is available for all units. According to Zsa Zsa Heard, LHA's chief executive officer, and Rena Boykin, the agency's housing director, the inclusion of larger units in a development for seniors acknowledges the needs of families in which a grandparent is the primary caregiver of young children. Amenities include a community room, a pavilion equipped with barbeque grills, and an arts and crafts center. Phoenix Landing was built to the Southface Institute's EarthCraft certification standards, developed by the Greater Atlanta Home Builders Association in 1999 to promote green building that addresses the energy, water, and climate challenges posed by the climate of the American southeast. In particular, the EarthCraft certification standards help lower utility costs and promote better indoor air quality, which is important for residents living with asthma.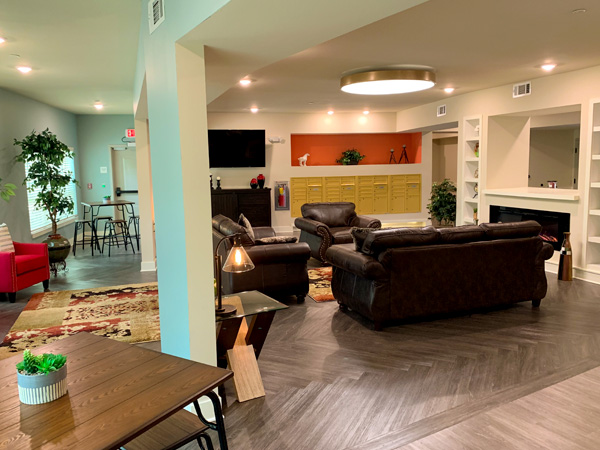 Common spaces and other amenities allow for social interaction among residents. Photo credit: Chad Cooper
The total cost for Phoenix Landing was nearly $12 million. Approximately half of this total was funded through equity raised from the sale of federal low-income housing tax credits, nearly $5 million came from the sale of state housing credits, and the remainder came from a mortgage and deferred developer fee, both from LHA.
Promoting Health and Rebuilding a Neighborhood
To help determine what services to provide at Phoenix Landing, LHA worked with the Troup County Health Department to survey and assess resident needs. That effort inspired onsite cooking classes in which residents can learn healthy cooking skills to manage conditions such as diabetes, high blood pressure, and high cholesterol. An onsite exam room staffed by a nurse or nurse practitioner gives residents easy access to care. Finally, one of the tasks performed at the LaGrange EnVision Center, located next door to Phoenix Landing, is to connect residents with healthcare services and coverage.
Heard and Boykin hope that Phoenix Landing and the phases that follow will help make affordable housing a central element of the transformation of a busy but blighted area of LaGrange. One goal is to eventually acquire the trailer park across the street from Phoenix Landing, where LHA hopes to construct a mixed-use project that will provide housing and commercial space for needed amenities, such as a drug store. To further enhance the area's walkability, LHA is improving sidewalks and lighting, which will help residents who do not drive or own cars. Even parts of the site of the old Benjamin Harvey Hill Homes will be repurposed in this transformation effort when a planned linear park is completed. The second phase of the Benjamin Harvey Hill RAD conversion is underway, with completion expected in early 2022.
Source:
Interview with Zsa Zsa Heard and Rena Boykin, 9 February 2021. ×
Source:
Interview with Zsa Zsa Heard and Rena Boykin, 9 February 2021; Georgia Department of Community Affairs. 2017. "Project Narrative: Phoenix Landing." Accessed 15 March 2021. ×