Affordable Housing and Affordable Transit at Aspen Place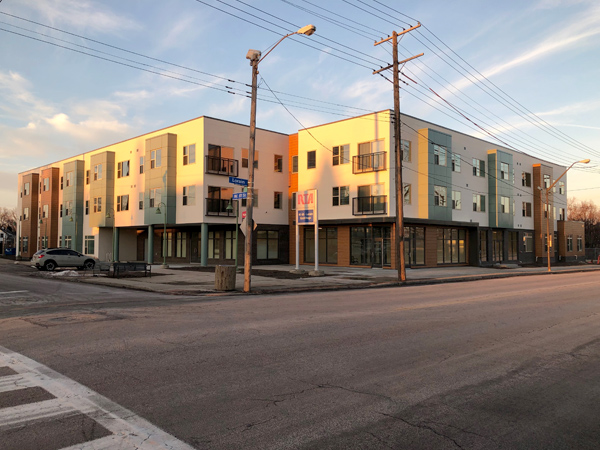 Aspen Place is a 40-unit affordable apartment building in the Detroit Shoreway neighborhood of Cleveland, Ohio. Photo credit: Northwest Neighborhoods CDC
Opened in 2019 on land once owned by the Greater Cleveland Regional Transit Authority (RTA), Aspen Place is a 40-unit affordable development in the EcoVillage, a compact area in Cleveland, Ohio's Detroit Shoreway neighborhood that is dedicated to environmental sustainability. The three-story apartment building is adjacent to a rapid transit rail station, a bus stop, and a public recreation area with an extensive network of bicycle trails. Centered around car-free living, Aspen Place has just 10 parking spaces for cars but 25 storage spaces for bicycles. To enhance residents' mobility throughout the city, developer Northwest Neighborhoods CDC purchases RTA transit passes in bulk each month and distributes them free to tenants.
Aspen Place in the EcoVillage
The EcoVillage is not a formal development; rather, it is an approximately half-square-mile area in the west Cleveland neighborhood of Detroit Shoreway, bounded by Lorain Avenue, West 65th and 54th Streets, and Bridge Avenue, where people and organizations dedicated to the principles of environmental stewardship enact their ideals on the built environment. The EcoVillage was launched in 1998 by Northwest Neighborhoods CDC — then known as the Detroit Shoreway Community Development Organization, until a merger in 2021 — other nonprofits, the city of Cleveland, and RTA. In 2004, the West 65th-Lorain Rapid Station was remodeled and now is also known as the West 65th-Eco Village Station in honor of the project.
Over time, the burgeoning EcoVillage attracted unaffiliated individuals and organizations dedicated to the ideals of environmental sustainability and stewardship. The area now boasts amenities such as community gardens and other green space as well as a variety of sustainable housing — conventional and experimental as well as market rate and affordable. In 1982, the Cuyahoga Metropolitan Housing Authority constructed a 12-unit, scattered-site townhome development in the area that would become the village. Cleveland's first residence to receive LEED Platinum certification was built in the EcoVillage in 2008, and the Citizens Tiny House Experiment was completed there in 2017. The final residential project of the EcoVillage, however, is Aspen Place.
Aspen Place sits on Lorain Avenue, immediately adjacent to the West 65th-Lorain Rapid Station, on a small, triangular piece of land that Northwest Neighborhoods CDC purchased from RTA. Northwest Neighborhoods CDC is not only the developer of Aspen Place but also its owner and manager.
The building has 20 one-bedroom, 18 two-bedroom, and 2 four-bedroom apartments. Six units are set aside for tenants who earn no more than 30 percent of the area median income (AMI), 10 units are reserved for those who earn no more than 50 percent of AMI, and the remaining 24 units are available to tenants with incomes no higher than 60 percent of AMI. Brittany Senger, multi-family project manager for Northwest Neighborhoods CDC, notes that Aspen Place received many applications from people with mobility impairments, possibly because the building has elevator access — a relative rarity among affordable buildings in the area. Because of this, the developer installed a push-button operated door after construction to facilitate entry into the building.
The building includes shared laundry facilities, a community room with a kitchen that can be reserved for parties or meetings, and a large lobby with social seating areas. Aspen Place has a commercial tenant in its ground-floor storefront, a barbershop called Urban Kutz, which is expected to open by May 2022.
Behind the building, a fenced area of green space provides privacy and protects residents from the steep drop-off that separates the property from the nearby train tracks. Northwest Neighborhoods CDC initially planned to install vegetable garden beds for residents' use in this private area, but the onset of the coronavirus pandemic in 2019 delayed these plans. Senger reports that installation of the gardens may resume in spring 2022.
Incorporating Transit for True Affordability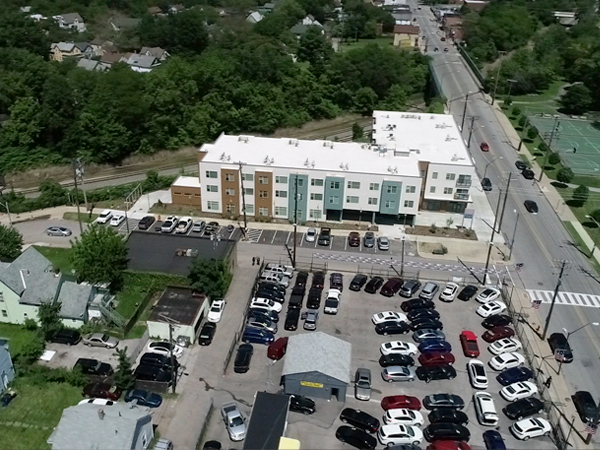 A transit-oriented development, Aspen Place is immediately adjacent to an RTA rapid transit station, served by a bus line, and across the street from the Michael Zone Recreation Area with its network of bicycle trails. Photo credit: Marous Brothers Construction
Planning for Aspen Place began in 2012, when Northwest Neighborhoods CDC, with grant funding provided by Enterprise Community Partners, held a contest to generate a unique design for an affordable, transit-oriented development on a small, strangely shaped site backing to a cliff. That site was the 1-acre RTA property, which had been vacant for decades. The developer purchased the site for $120,000, its fair market value at the time. In 2017, construction began — a process complicated by the small, awkward site, which made moving construction equipment difficult, as well as the discovery of debris from a badly performed past demolition. Construction was further slowed by the need to remediate the soil. Despite these challenges, Northwest Neighborhoods CDC and general contractor Marous Brothers Construction completed Aspen Place in January 2019, and the development was fully leased by that spring.
Built with water-saving fixtures; energy-efficient lighting, heating, cooling, and ventilation systems; materials containing low or no volatile organic compounds; and other features to limit negative impacts to the environment and resident health, Aspen Place attained certification in the Enterprise Green Communities program.
The project had a total development cost of $10.8 million. Most of this total, $8.9 million, was equity from low-income housing tax credits. The remainder came primarily from HOME Investment Partnerships funds from the city of Cleveland, Cuyahoga County, and the Ohio Housing Finance Agency.
The finished building includes 25 bicycle storage spaces to allow residents to take advantage of the area's bike-friendly roads and large network of trails accessible via the Michael Zone Recreation Center Park across Lorain Avenue. Because Aspen Place is a transit-oriented development, it has only 10 required parking spots. Those parking spaces, which are first come, first served, are not owned by Aspen Place but instead are leased from an adjacent 20-space surface lot owned by RTA.
The plethora of car alternatives — bicycle, rail, and bus — is part of the Northwest Neighborhoods CDC's strategy to ensure affordability for residents. "We did a lot of research on what factors in people's lives affect what affordability means to them," said Senger. "If we want to provide affordable housing, we also need to make sure their utilities are affordable, and we need to make sure that their transportation is affordable." Senger also recalled researching local employment conditions during the development of Aspen Place and discovering that high transportation costs and long commute times were factors that prevented people from keeping their jobs in the long term. To facilitate the mass transit options available at Aspen Place, Northwest Neighborhoods CDC arranged with RTA to purchase bulk transit passes for all residents every month, and it will continue to distribute these passes for the duration of Aspen Place's affordability period.
Source:
Northwest Neighborhoods CDC. n.d. "Cleveland EcoVillage." Accessed 14 March 2022; Northwest Neighborhoods CDC. n.d. "Northwest Neighborhoods." Accessed 21 March 2022; Detroit Shoreway Community Development Organization. n.d. "Cleveland EcoVillage Welcome Guide." Accessed 14 March 2022; Interview with Brittany Senger, multi-family project manager, Northwest Neighborhoods CDC, 16 March 2022. ×
Source:
Correspondence with Dorivette Nolan, director of policy, planning and housing mobility, Cuyahoga Metropolitan Housing Authority, 13 April 2022; Detroit Shoreway Community Development Organization. n.d. "Cleveland EcoVillage Welcome Guide." Accessed 14 March 2022. ×
Source:
Maria Walliser-Wejebe. 2020. "Aspen Place Transit-Oriented Development," Greater Ohio Policy Center, 24 March. Accessed 14 March 2022; Interview with Brittany Senger, multi-family project manager, Northwest Neighborhoods CDC, 16 March 2022; Correspondence with Brittany Senger, 14 April 2022. ×
Source:
Correspondence with Brittany Senger, 18 March 2022; Interview with Brittany Senger, 16 March 2022. ×
Source:
Interview with Brittany Senger, 16 March 2022. ×
Source:
Correspondence with Brittany Senger, 18 March 2022. ×
Source:
Interview with Brittany Senger, 16 March 2022. ×
Source:
Correspondence with Brittany Senger, 14 April 2022; Interview with Brittany Senger, 16 March 2022. ×