Vista Nueva Shows a New View to Youth and Families in North Natomas, California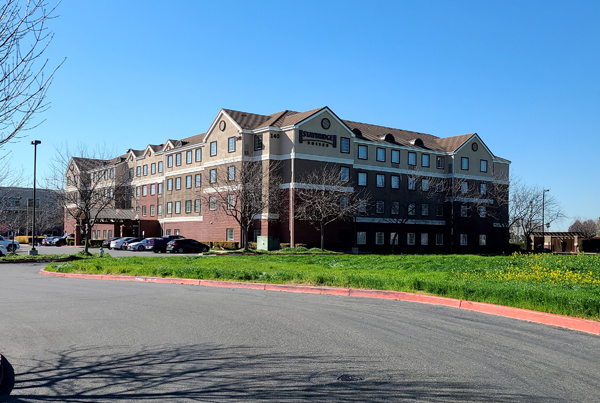 Once a Staybridge Suites hotel, partners Jamboree Housing Corporation and the Sacramento Housing and Redevelopment Agency reopened the four-story building in North Natomas, California, as the supportive housing development Vista Nueva in 2022. Photo credit: Jamboree Housing Corporation
North Natomas' Staybridge Suites is one of many hotels across California to undergo conversion into permanent supportive housing using funds from California's Homekey program. Partners Jamboree Housing Corporation (JHC) and the Sacramento Housing and Redevelopment Agency (SHRA) undertook an extensive renovation and retrofit of the former hotel and reopened as Vista Nueva, a permanent supportive housing development for low-income families and youth transitioning out of the foster care system. The $41 million renovation, which began in August 2022 involved converting each hotel room into a residential unit, adding communal spaces, and making building and site upgrades. Fifteen of Vista Nueva's 117 units are reserved for transition-aged youth and 10 units will serve as interim housing for the development's first 3 years.
A Top-Down Conversion
North Natomas, a suburb north of downtown Sacramento, has not been spared from the region's acute housing crisis. In 2022, the annual Point-in-Time count estimated that 9,278 people were homeless in Sacramento County — a startling 67 percent increase in the number of people experiencing homelessness in only 3 years. In April of that year, regional affordable housing developer JHC purchased a turnkey-ready Staybridge Suites business hotel for $30.6 million. Most of the acquisition funds came from a state Homekey 2.0 allocation, with partner SHRA furnishing the remaining $2.1 million. This four-story hotel on 2.29 acres was chosen for several reasons, explained JHC vice president Katherine McFadden. The building, originally constructed in 2007, was still in excellent condition and featured attractive amenities, including a shared laundry room and a pool.
Because Vista Nueva serves individuals and families exiting or at risk of homelessness, and because the local need for such housing is so urgent, JHC decided to move residents into the renovated units as they were completed. The renovation began on the hotel's fourth floor in August 2022 and progressed to the lower floors and onto the property's grounds. To transform Staybridge Suites into a residential project, the developer's in-house general construction company replaced the building's flooring, updated the windows and window coverings in each unit, upgraded the fire systems, painted the walls, and remodeled each unit's kitchenette to create a small kitchen. In October 2022, only 2 months into the renovation and with just 10 units completed, Vista Nueva opened. As the work continued, JHC added offices for its in-house service provider and family-focused amenities in the small outdoor spaces. JHC expects to complete the final elements of the renovation in June 2023.
Serving Three Populations
Vista Nueva is a 117-unit development with 63 studios along with 39 one-bedroom and 15 two-bedroom units. One two-bedroom unit is reserved for an onsite manager, and nine units meet the accessibility requirements of the Americans with Disabilities Act. Because the building is a converted hotel, the maximum occupancy of each unit is different from that of a traditional residential building. Studios can accommodate two people — usually a parent and child — and one-bedrooms can accommodate a maximum of three people. The layout of a two-person studio is similar to that of a hotel room, with a king- or queen-sized bed and a sleeper couch with the option of an additional twin bed. The one-bedroom units can be outfitted with two queen-sized beds in the bedroom as well as an optional twin bed or sleeper couch. "We will work with each family to meet their needs depending upon the age of the child or children," said McFadden.
Vista Nueva tenants must earn no more than 30 percent of the area median income, and 106 units are subsidized by project-based housing choice vouchers from SHRA. Ninety-one units are permanent supportive housing for families with children who are exiting homelessness or at risk of homelessness; 15 additional units are reserved for youth aged 18 to 24 who are transitioning out of the child welfare system and who are formerly homeless or at risk of homelessness. These 15 units receive funding through California's Mental Health Services Act. Finally, 10 units, which are funded through SHRA and Homekey's operating subsidy, serve as interim housing for families who are transitioning out of homelessness and waiting for a permanent unit. JHC will use these 10 interim units in this capacity for 3 years before converting them to permanent supportive units like the rest of the subsidized units at Vista Nueva.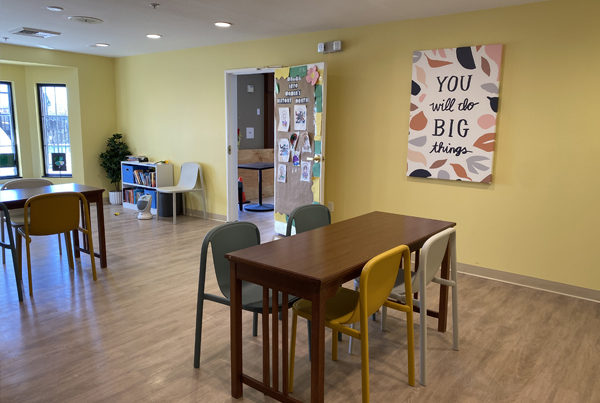 To accommodate the development's many children, Vista Nueva boasts family-friendly amenities including a pool, tetherball court, playground, and afterschool program space. Photo credit: Jamboree Housing Corporation
McFadden described the choice to designate some units as interim housing as "actually rather innovative," because when the project launched, the Homekey program did not yet offer a hybrid model as an option. The development team chose to use such an unconventional model because of the acute need for interim housing in the Sacramento area. "Essentially," McFadden elaborated, "this is bridge housing; there is no lease, there is no rent. Like many communities, there is not enough housing in Sacramento, and we wanted to add another opportunity for people to access safe, stable housing."
In addition to the residential units, Vista Nueva has communal space which includes a community room and kitchen, space for the development's afterschool program, and offices for the six full-time service staffers. "Services are the heart of the development," said McFadden. JHC provides tenants with supportive services that include case management, classes on life skills and budgeting, the afterschool program, and resident-suggested programming; transition-aged youth also receive services through another provider, Capital Star. Residents of the interim units have their own full-time case manager and housing navigator to help them find permanent housing. In addition, a case worker from the Natomas Unified School District is onsite at least once a week to help families navigate school-related issues such as transportation.
Because most of Vista Nueva's tenants are families — often single mothers and their children — the development team tailored the project's outdoor amenities toward the needs of youth. The renovation preserved the hotel's original swimming pool — an amenity, McFadden notes, that conversions often do not retain — and added a barbeque area, tetherball court, playground, and green space where children can run and play. The open space, McFadden says, came at the expense of several parking spaces, but the developers knew that they had to prioritize opportunities for children to be active in the parcel's limited outdoor space. The development was left with 88 on-grade parking spots as well as a dog park where residents can play with their pets.
More to Come
Vista Nueva is JHC's 10th project in the Sacramento area, and it will not be the last. The developer has planned two additional conversions in the coming years, both in partnership with SHRA. The first, Sunrise Pointe, is a 47-unit permanent supportive housing community in the Sacramento neighborhood of Citrus Heights, slated to open in June 2023. Saybrook, an 88-unit motel conversion intended to house people who formerly experienced homelessness, is expected to be completed in 2024. "Partnerships are the key to long-term success," said McFadden.
Documents provided by Jamboree Housing Corporation, 11 April 2023. ×
Correspondence with Katherine McFadden, 10 May 2023; Interview with Katherine McFadden, 11 April 2023; Jamboree Housing Corporation. n.d. "Vista Nueva." Accessed 24 March 2023. ×
Jamboree Housing Corporation. n.d. "Vista Nueva." Accessed 24 March 2023; Documents provided by Jamboree Housing Corporation, 11 April 2023; Interview with Katherine McFadden, 11 April 2023. ×
Interview with Katherine McFadden, 11 April 2023. ×
Jamboree Housing Corporation. n.d. "Vista Nueva." Accessed 24 March 2023; Documents provided by Jamboree Housing Corporation, 11 April 2023; Interview with Katherine McFadden, 11 April 2023. ×
Documents provided by Jamboree Housing Corporation, 11 April 2023; Interview with Katherine McFadden, 11 April 2023; Jamboree Housing Corporation. n.d. "Vista Nueva." Accessed 24 March 2023. ×