Affordable Urban Apartments in Albuquerque's International District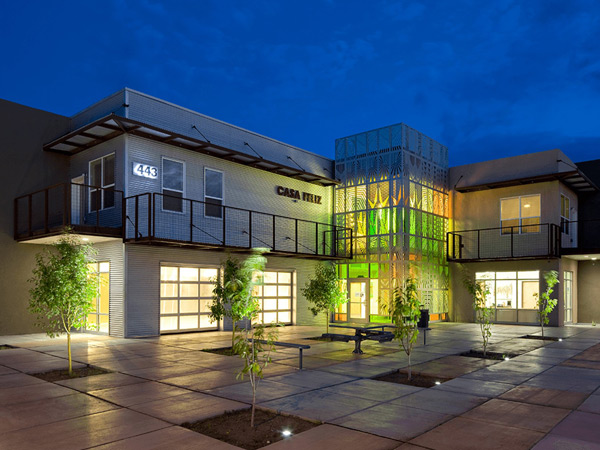 Opened in the summer of 2017 as the second part of a larger redevelopment effort, Casa Feliz is an 89-unit scattered-site affordable housing development in Albuquerque's Trumbull neighborhood. Credit: Greater Albuquerque Housing Partnership
Casa Feliz, a scattered-site affordable housing development with 89 units in the Trumbull neighborhood of Albuquerque, New Mexico, opened in summer 2017. The second phase of a larger redevelopment effort, the $16.8 million project was designed to complement Plaza Feliz, an adjacent affordable apartment complex also developed by the local nonprofit Greater Albuquerque Housing Partnership (GAHP). In addition to filling in the "missing teeth" of vacant and blighted lots around Plaza Feliz with new buildings and outdoor spaces, GAHP made infrastructure and accessibility improvements to the surrounding streetscape. A community building provides additional space for socializing and service delivery. Casa Feliz enhances the walkability, safety, and sense of community in the Trumbull neighborhood with "urban village"-style design.
Redevelopment in Trumbull
Trumbull, a culturally diverse and historically significant neighborhood, suffered from disinvestment and depopulation through much of the 20th century. The nonprofit GAHP has a long history in Trumbull, having developed the first of two single-family projects in the neighborhood in 2000, nearly a decade before the neighborhood was officially renamed the International District in honor of its role as a hub of refugee resettlement since the Vietnam War. When the housing market changed and demand for single-family homes fell, GAHP decided to remain in the area but shift its focus, and in 2012 the organization completed its first multifamily tax credit property, the 66-unit Plaza Feliz. Capitalizing on the success of this project, GAHP applied for and was granted development rights to eight city-owned lots around Plaza Feliz in 2014. After adding two additional lots from other sources, repaving three adjacent streets, and updating the neighborhood's aging water and sewer systems, GAHP began construction of Casa Feliz in 2016. The completed development consists of 12 two-story buildings in a modern Southwest vernacular style interspersed with 4 plazas.
The 12 buildings — one community center and 11 residential buildings containing between 6 and 22 units each — are arranged around Plaza Feliz on parallel streets, San Pablo and Espanola. The 89 units consist of 12 studios and 16 one-bedroom, 47 two-bedroom, and 14 three-bedroom units. One unit is reserved for an onsite property manager. Behind each residential building is a secure parking lot. Each ground floor unit has a front porch and an individual entryway facing the street, whereas second-story units have private street-facing patios. "The units were designed with crime prevention through environmental design in mind," explains GAHP executive director Felipe Rael. The abundant street-facing residential spaces enhance security by putting "eyes on the street." Entryways for multiple units are clustered close together to promote outdoor socialization and to further enhance safety. The front door of each unit is decorated with one of eight abstract patterns based on New Mexico's native plants and animals, adding to unit individuality and the neighborhood's "urban village" atmosphere.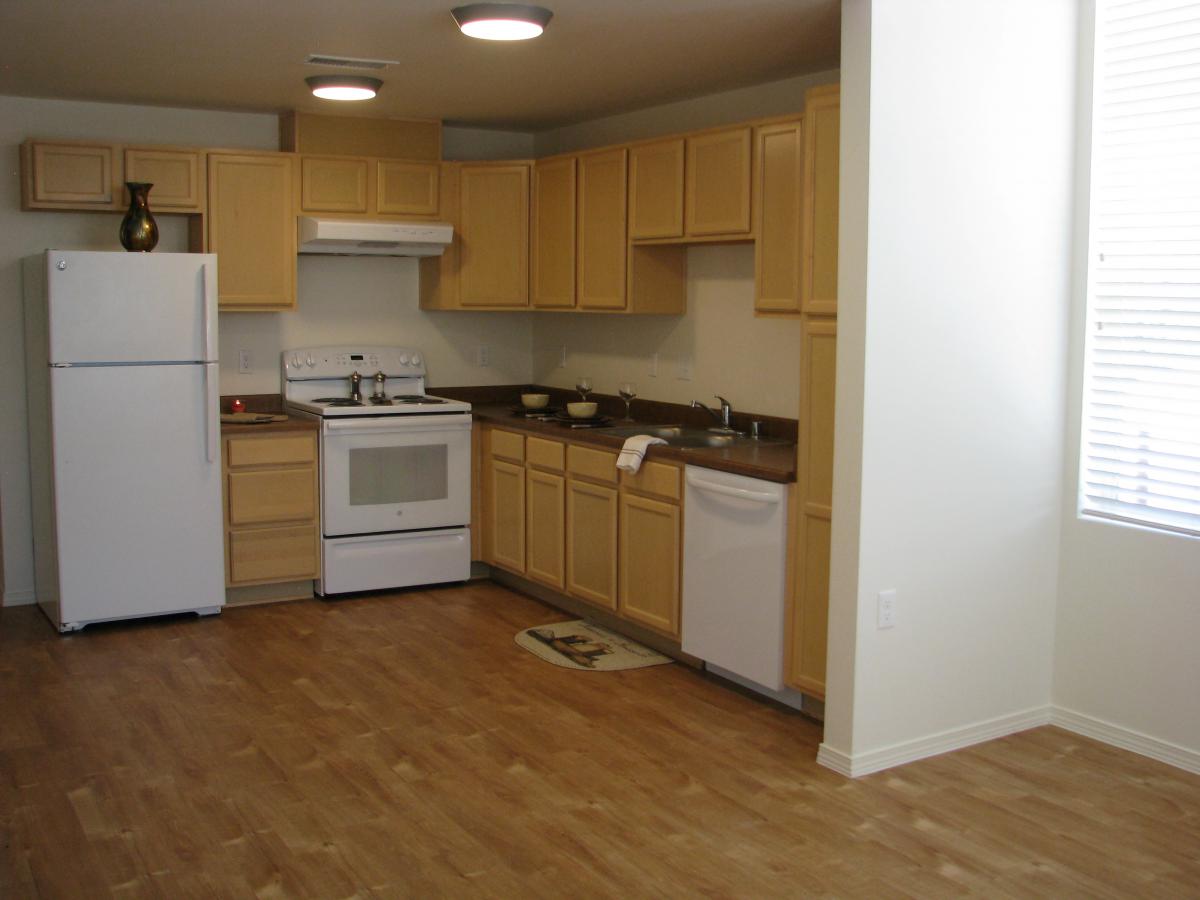 The units are constructed of durable materials and feature low-flow fixtures, energy-efficient lighting and appliances, and low or no VOC paints and adhesives. Credit: Greater Albuquerque Housing Partnership
Inside, the units are constructed of durable materials and designed with minimal hallways for flexible use of space. GAHP worked with Tofel Dent Construction to secure LEED Home Platinum certification for Casa Feliz. Each unit includes low-flow fixtures, energy-efficient appliances, paints and adhesives with no or low levels of volatile organic compounds, and energy-efficient lighting. Deciduous street trees, fixed overhangs and awnings, and tinted low-e glass shade the buildings' west-facing windows and patio doors and minimize solar heating during summer. Five units are fully accessible for wheelchair users, and all ground-floor units are visitable and adaptable with at least one "zero-step," wheelchair-accessible entrance.
Eligible tenants must have an annual income of no more than 60 percent of the area median income (AMI). Of the 89 units in the project, however, 54 have further income restrictions: 36 units are reserved for households with annual incomes at or below 50 percent of AMI, and 18 units are reserved for households earning no more than 30 percent of AMI. Twenty percent of the units, a total of 18, are reserved for households enrolled in a state program for New Mexico's special needs population, which includes the disabled, youth aging out of the foster care system, the previously homeless, and other vulnerable groups.
The development's $16.8 million total cost was furnished primarily through $12.53 million in equity from the sale of low-income housing tax credits to Raymond James Financial. The city of Albuquerque contributed $2.8 million in local redevelopment funds, the Bank of Oklahoma provided a $600,000 first mortgage, the New Mexico Housing Trust Fund provided a $500,000 loan, and GAHP deferred $400,000 of their developer's fee.
The Urban Village
The "urban village" ethos advanced by architect Hartman & Majewski Design Group does not end with the residential buildings. The outdoor environments of Casa Feliz were also designed for walkability, accessibility, and safety. During construction, GAHP replaced all adjacent and neighboring sidewalks to make them wheelchair accessible and performed other street improvements such as installing curb cuts to ensure that routes conforming to Americans with Disabilities Act requirements existed on the streets surrounding the development. According to Rael, the original sidewalks were so cracked that a neighborhood resident had to ride his motorized wheelchair in the middle of the street. In addition to permitting pedestrian access to Casa and Plaza Feliz, these improved paths promote resident use of nearby amenities such as Phil Chacon Park and Cesar Chavez Community Center, public transportation, and the development's outdoor spaces and community building.
Casa Feliz has four small plazas interspersed with the residential buildings: Plaza Campo, a sports field planted with native buffalo grass; Plaza Jugar, a children's playground with climbing equipment; Plaza Arbol, a space with seating shaded by trellises bearing grapevines and other edible plants; and Plaza Flor, a large, professionally maintained garden of native flowers, grasses, shrubs, and edibles. These outdoor spaces are located in front of residential buildings to enhance safety and encourage social connections. Rael explains that the plazas are located in such a way that "children can play in the plazas, and their parents can keep an eye on them from their unit." All the garden features are irrigated through a combination of greywater diversion and stormwater capture.
In addition to the outdoor spaces, Casa Feliz has a large community building in the modernist style at the northwest corner of Espanola Street and Bell Avenue, sandwiched between two of the development's residential buildings. The community building includes offices for the leasing manager and the social services manager, a computer room, a kitchen, and a multipurpose room. The 700-square-foot multipurpose room has two glass-fronted garage doors that can be opened to connect the room with the plaza immediately outdoors. The social services manager works with partners such as the First Nations Community HealthSource and Catholic Charities to bring services such as medical checkups, a 12-week General Equivalency Development class, and budgeting workshops to Casa Feliz' residents. Other services, such as résumé-building classes, are provided by GAHP. Residents of Casa Feliz are also able to take advantage of the city-run child development center operating out of Plaza Feliz, which offers daycare on an income-based sliding scale.
A Culturally Vibrant Neighborhood on the Ascent
As of August 2018, Casa Feliz is fully occupied. GAHP does not currently have any projects planned for the neighborhood, although Rael indicates that the nonprofit is open to doing more. "The investment of local and federal funding in underserved communities makes projects like Casa Feliz feasible," Rael explains. "We'd love to do additional projects." Other developers continue to work in the Trumbull neighborhood around the "showcase projects" of Casa and Plaza Feliz.
Source:
Greater Albuquerque Housing Partnership. n.d. "Who We Are." Accessed 10 July 2018; Greater Albuquerque Housing Partnership. n.d. "Developments." Accessed 10 July 2018; Hartman + Majewski Design Group. n.d. "Casa Feliz." Accessed 10 July 2018; Greater Albuquerque Housing Partnership. n.d. "Casa Feliz." Accessed 10 July 2018; Interview with Felipe Rael, executive director of the Greater Albuquerque Housing Partnership, 7 August 2018.
×
Source:
Interview with Felipe Rael, 7 August 2018; Greater Albuquerque Housing Partnership. n.d. "Casa Feliz." Accessed 10 July 2018.
×
Source:
Interview with Felipe Rael, 7 August 2018.
×
Source:
Interview with Felipe Rael, 7 August 2018.
×
Source:
Interview with Felipe Rael, 7 August 2018; Greater Albuquerque Housing Partnership. n.d. "Casa Feliz." Accessed 10 July 2018.
×
Source:
Interview with Felipe Rael, 8 August 2018.
×