The 2022 Innovative Housing Showcase: An After-Action Review of Events and a Reflection on Related HUD Research
Alaina Stern, Social Science Analyst, Office of Policy Development & Research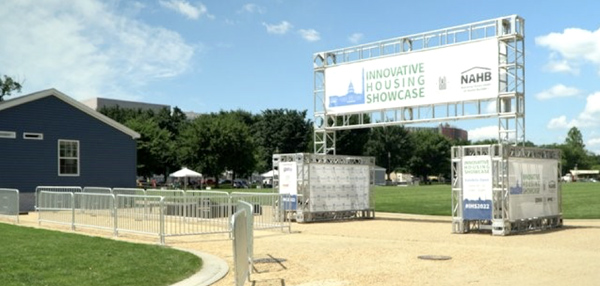 2022 Innovative Housing Showcase signage on National Mall.
Introduction
The 2022 Innovative Housing Showcase, a partnership between the U.S. Department of Housing and Urban Development and the National Association of Home Builders (NAHB), brought thousands of visitors to Washington, DC's National Mall from June 10 – 12. Admission to the event on all 3 days was free and open to the public, attracting current and prospective homeowners, entrepreneurs, real estate professionals, contractors, policymakers, and representatives from the housing industry and the media, among other visitors. The showcase featured several innovations in housing and building technology, including factory-built homes and manufactured housing, modular and volumetric builds, panelized wall systems, tiny homes and accessory dwelling units (ADUs), and alternatives to lumber and wood framing. The exhibits included numerous full-size prototypes of houses; building technology demonstrations; and housing solutions that address affordability, resilience, and the future of housing. In addition, the showcase fostered cross-collaboration through roundtables and panel discussions consisting of federal leaders, homebuilders, subject-matter experts, and industry professionals.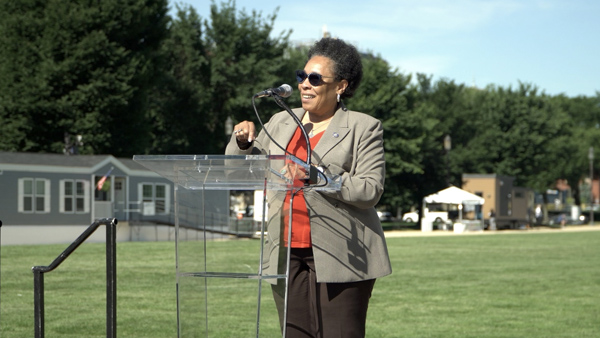 Secretary Fudge welcomed IHS attendees and gave remarks during the opening ceremony on the National Mall.
Innovative Technology
The U.S. affordable housing crisis is being exacerbated by developers' overreliance on conventional building materials and traditional construction practices. However, innovative building and construction technologies such as manufactured and modular housing, volumetric construction, 3D concrete printing (3DCP), insulated concrete forms (ICF), and panelized wall systems are addressing the lack of affordable housing through alternative materials and practices that reduce costs and construction time.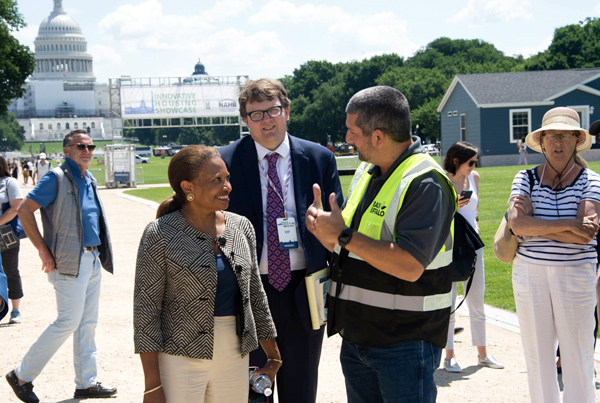 HUD Deputy Secretary Adrianne Todman pictured with Todd M. Richardson, General Deputy Assistant Secretary, Office of Policy Development and Research (PD&R) and CEO of Black Buffalo 3D, Michael Woods, touring the showcase exhibits on the National Mall.
Manufactured housing is one avenue HUD has long pursued to reduce the cost of housing. Prebuilt homes are made offsite in factories using streamlined processes that need less labor and construction time than onsite construction requires. At the showcase, the Manufactured Housing Institute displayed full-sized prototypes of manufactured housing from two different builders. One of these builders, Cavco, Inc., exhibited a popular model of a single-section, two-bedroom home. The second builder, Champion Home Builders, demonstrated CrossMod, a three-bedroom home built to HUD Code and CrossMod specifications. HUD's Office of Policy Development and Research (PD&R) has long funded research for the manufactured housing industry. PD&R funded ground anchor testing that led to the HUD Code installation standard, 24 CFR Part 3282. In addition, PD&R currently has a cooperative agreement studying the installation of air conditioning equipment in the factory. Air conditioning systems typically are installed in the field after the home is set on a foundation, but installing these systems in a factory can save homeowners money and improve the quality of the installation.
Modular construction allows homes to be built more quickly and less expensively than those built using traditional construction practices. These reduced construction costs give modular housing the potential to be an affordable avenue to homeownership. PD&R currently is studying the feasibility of factory installation of solar panels and battery backup systems, which offers three potential advantages: 1) improved worker safety, because the panels are installed on the ground before the roof is lifted into place; 2) cost savings from buying panels and batteries in bulk; and 3) improved quality of installation through repetition and continual improvement in construction methods. The showcase also featured a studio-style modular house built with volumetric construction technology by Tomu with a design reflecting Japanese and Scandinavian influences.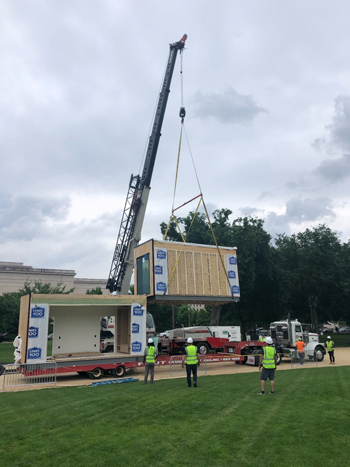 TOMU's Modular-volumetric housing components being delivered and lifted by crane off a semi-truck on the National Mall.
Building technologies such as panelized wall systems, roof truss assembly systems, and floor cassettes are among the most versatile and cost-efficient framing products available to builders today. PD&R has promoted the use of truss and joist systems for residential construction through research highlighted in the Residential Structural Design Guide (2000) and the Partnership for Advancing Technology in Housing program, which funded a series of studies examining the use of panelized wall systems and structural insulated panels. An exhibit from the Structural Building Components Association showcased a two-story prototype home, erected in less than nine hours, that was constructed with floor truss cassettes, wall panels, and a roof truss assembly. Another exhibit from Baya Build, a construction technology company, demonstrated how its panelized wall systems allow it to build homes five times faster than traditional construction methods.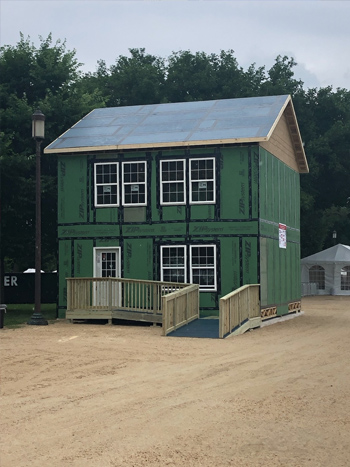 Full-sized, two-story housing demonstration by the Structural Building Components Association, taking less than nine hours to erect on the National Mall.
Tiny homes and ADUs offer innovative, spacious designs; multiuse availability, and an attractive build timeline. PD&R has researched and examined the zoning implications of tiny homes and ADUs for affordable, eco-friendly housing solutions that optimize land usage without compromising on design and lifestyle features. The showcase featured a 499-square-foot, one-bedroom ADU from Champion Homes and the Manufactured Housing Institute. The showcase also featured two tiny homes: a 278-square-foot, two-bedroom model from Timbercraft and the Tiny Home Association, and a model from Civic Works that showcased energy-saving features such as a tankless water heater and pedal generator. To build its tiny houses, Civic Works partners with the city of Baltimore's YouthBuild program, which helps local youth who have dropped out of high school gain construction skills while earning a GED.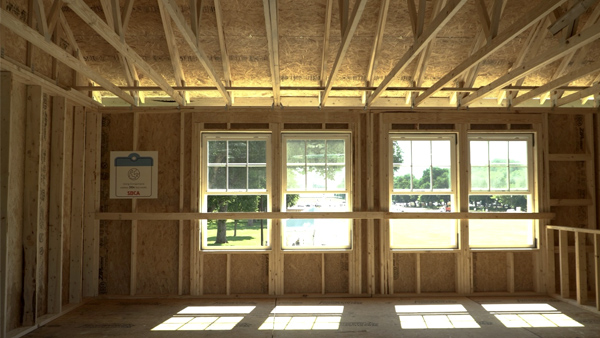 The interior of SBCA's two-story housing demonstration, showing construction built with panelized walls, roof truss, and floor assembly systems.
Concrete construction and alternatives to lumber, wood framing, and stick-built practices promise innovative solutions to increasing the nation's supply of affordable homes. Insulated concrete forms (ICFs) and 3DCP are two housing technology innovations that address many of the challenges that concrete construction poses and offer developers new design possibilities. ICFs are a type of formwork for constructing concrete walls using lightweight, interlocking units made of foam to hold wet cement as it dries and hardens. 3DCP is an automated construction process that builds a house in layers from computer-specified designs. HUD funded the collection of data on the effectiveness of ICFs, which resulted in this technology being included in the prescriptive method of the building code. Currently, PD&R is conducting a study on builders' use of ICFs. PD&R also has two cooperative agreements studying 3DCP. The first project is developing guidance for incorporating 3DCP walls in construction as well as tips for installing utilities, windows, doors, and roof assemblies. The second project involves evaluating the seismic performance of 3DCP walls. The showcase demonstrated cutting-edge 3DCP technology from Black Buffalo 3D: a modular, large-scale NEXCON 3D construction printer capable of printing three-story buildings. In addition, representatives from the National Ready Mixed Concrete Association and BuildBlock Building Systems, an ICF manufacturer, informed visitors about the development, insulation, and strength of ICFs.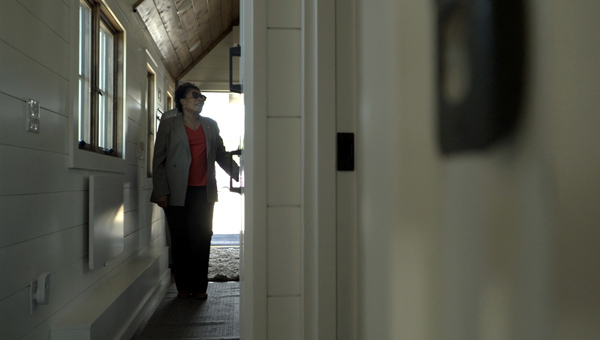 Secretary Fudge tours the inside of Timbercraft's Tiny home, featured by the Tiny Home Association.
Innovative Thought Leaders
In addition to hosting exhibits on the National Mall, the showcase also held roundtables and panel discussions focused on how innovative building technologies can reduce costs and how stakeholders can encourage the adoption of these technologies to make housing more innovative, resilient, and affordable. On June 9, HUD and NAHB invited federal leaders, homebuilders, subject-matter experts, and industry professionals to a discussion forum hosted at the National Building Museum. The forum featured remarks from HUD Secretary Marcia Fudge and NAHB chairman Jerry Konter on addressing housing supply shortages through innovative building technologies.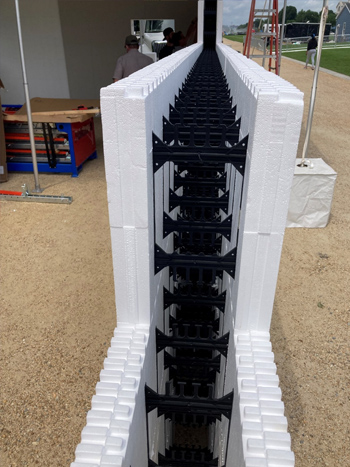 Close-up view of a partially constructed wall being built with Insulate Concrete Form construction technology.
On June 10, various housing industry leaders came together for a discussion, recorded live, of the impacts of innovation; current HUD research; and the past, present, and future of offsite construction. Specifically, the event reviewed PD&R's role in inspiring factory-built construction through the Operation Breakthrough demonstration program, which ran from 1969 to the early 1970s, and examined its impact over time. Speakers at the event included HUD Deputy Secretary Adrianne Todman; Stephen Ayers, chief executive officer of the National Institute of Building Sciences; representatives from MOD X, a global leader in the offsite construction industry; academic leaders; and housing experts.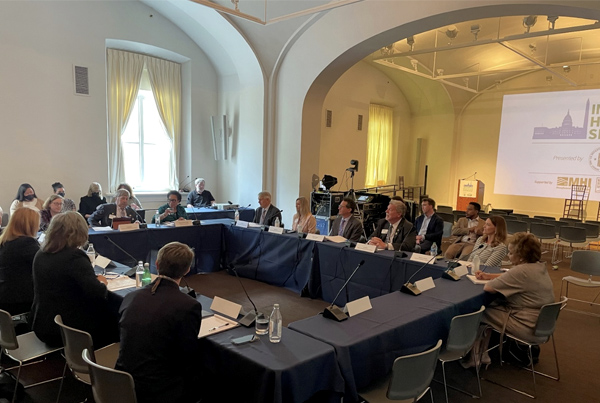 Showcase Roundtable discussion hosted at the National Building Museum on Thursday, June 9.
Acknowledgments
We would like to thank our amazing sponsors, volunteers, vendors, manufacturers, builders, and partners. Special thanks go to AGS Stainless; HUD's Office of Fair Housing and Equal Opportunity, Office of Field Policy and Management, Office of Public Affairs, and Policy Development and Research; and the Federal Emergency Management Agency's Building Science Branch and Earthquake and Wind Programs Branch.
Additional Resources
Contact
For questions, please email us at housingshowcase@hud.gov.