The following summaries of housing market conditions and activities have been prepared by economists in the U.S. Department of Housing and Urban Development's (HUD's) field offices. The reports provide overviews of economic and housing market trends. Each regional report also includes a profile of a selected housing market that provides a perspective of current economic conditions and their impact on the local housing market. The reports are based on information obtained by HUD economists from State and local governments, housing industry sources, and from their ongoing investigations of housing market conditions carried out in connection with the review of HUD program applications.
---

The New England economy added 124,000 jobs in the 12 months ending February 1997, a 2-percent increase over the previous 12 months. All six New England States reported employment gains. Massachusetts had the largest share, with more than 64,000 new jobs created, and Connecticut ranked second with more than 28,000 new jobs. New Hampshire also had a strong showing, with more than 17,800 jobs produced. The service-producing industries led the region with 63,600 jobs created from 1 year ago. Retail trade added 28,200 jobs, a substantial increase over the previous year. Employment in government increased by 10,200, and the construction industry showed a solid gain of 11,600 jobs. Manufacturing employment remained essentially unchanged in the region.
In February 1997 the unemployment rates for all New England States were below the national average. New Hampshire had the lowest rate of 3.4 percent. Massachusetts was second with a rate of 3.7 percent. Vermont ranked third in the region with a rate of 4.0 percent. Connecticut had the highest unemployment rate, at 5.1 percent, but this was down from 6.0 percent in 1996.
Single-family building activity, as measured by building permits, showed continued strength during the first quarter of 1997. During the first 3 months, permits were issued for 6,546 homes, a 12-percent increase over the same period in 1996. New Hampshire and Rhode Island reported the greatest percentage gains, 24 and 22 percent, respectively. Maine and Vermont were the only States in New England with declines in permit activity from 1 year ago.
First-quarter multifamily housing permits (1,452 units) were almost triple the first-quarter 1996 total. Boston area multifamily activity was up almost 400 percent, accounting for more than one-half of the region's activity. All States but Rhode Island had sizable increases attributed to a tight rental market and a mild Winter.
Office rents in Boston's financial district are on the rise. Class A office towers are asking for rents ranging from $40 to $45 per square foot. Vacancy rates declined to 7 percent in 1996 from 17 percent in the early 1990s. Investment and venture capital firms have been the leaders in leasing additional space in the financial district. In the Fall of 1996 a local developer broke ground on the first speculative office project in suburban Boston since 1989. Demand for hotel rooms is even stronger than for office space, prompting one developer to convert office space into a hotel in Boston's financial district.
The annual rate of existing home sales (84,500) as of the fourth quarter of 1996 was up 9 percent over the rate as of the fourth quarter of 1995. Connecticut had a small decline in sales during the fourth quarter of 1996 compared with the fourth quarter of 1995.
New England rental markets have tightened as the economy has expanded. The hottest markets are in eastern Massachusetts, southern New Hampshire, and southeastern Maine. Absorption of new rental housing in the Boston area has continued at a strong pace. Vacancy rates in the Route 128 area remain about 2 percent or lower. Steady economic growth coupled with modest apartment construction in the region have kept pressure on the existing rental stock.
---
Spotlight on Portland, Maine
The Portland metropolitan area has recovered from the 1990-91 recession, when the area lost 8,200 jobs. From 1992 through 1996, employment increased by 12,500. Almost all the growth has been in service-producing industries. Unemployment is currently very low, averaging 2.7 percent for the 12-month period ending February 1997.
Home sales have improved during the past 3 years. Low mortgage interest rates and the improved economy have stabilized the sales market and provided a base for increased future sales. From 1994 to 1996, the number of sales in the Portland metropolitan area increased 4.1 percent and the average sales price increased by 3.1 percent to $123,900.
Recent residential building permit activity has been very steady. Since bottoming out in 1991, it has averaged about 1,050 units annually. While building activity is below the levels of the 1970s and 1980s, it is providing a significant resource for moderate, steady growth in the real estate markets. Multifamily housing units have accounted for only 5 percent of the new construction activity in recent years, a legacy of the overbuilding during the middle to late 1980s.
The Portland rental market has improved significantly in the past 2 years. Vacancy rates have declined, and rents have increased. Apartment vacancy rates for the newer inventory are typically below 5 percent. Rates for the older inventory have declined from double-digit levels to the 5- to 7-percent range. Local planning boards, developers, and the financial community are beginning to discuss the need for additional rental housing for the first time in a number of years.
---

Nonagricultural employment in New York State increased by 57,500 jobs, or 0.7 percent, between February 1996 and February 1997. Employment in New Jersey increased by 63,400 jobs (1.7 percent) during the same period. New Jersey's employment level of 3,686,500 jobs in February 1997 was the highest since September 1989. New York State's unemployment rate was 6.9 percent in February 1997, the same as a year earlier. However, the unemployment rate for New Jersey declined to 6.0 percent in February 1997, down from 6.8 percent a year earlier, the lowest rate in more than 6 years.
Employment in New York City increased by 34,100 jobs (1.1 percent) between February 1996 and February 1997. The unemployment rate for the city was 9.8 percent in February 1997, up from 8.9 percent a year ago. The increase in the unemployment rate in large part reflects the increasing number of persons entering the job market due to heightened job expectations and renewed confidence in an economy that lost approximately 300,000 jobs from 1989 to 1992.
Revised employment figures indicate that in 1996 the growth in private-sector employment in the city was the largest in the 1990s. The city's job growth rate during the past year exceeded that of its surrounding suburbs, a reversal of a longstanding trend. Business and professional services benefitting from Wall Street's prosperity gained approximately 15,000 jobs. The securities and commodities sector increased by approximately 5,500 jobs. Other significant increases were in motion picture productions, the restaurant industry, and health and education services.
Single-family permit activity in New York State, at 3,258 units in the first quarter of 1997, was down a slight 2 percent from the first quarter of 1996. In New Jersey activity was up 27 percent over the first quarter of 1996 to 4,382 units. Multifamily activity in the New York/New Jersey region was up 61 percent in the first quarter to 4,188 units, due to continued strong market conditions in New York City and the Northern New Jersey markets.
According to the New York State Association of REALTORS®, the number of existing single-family homes sold statewide in 1996 was up 14.3 percent from 1995. The 1996 median sales price of $120,420 represented a 3.7-percent increase from the 1995 median price. The New Jersey Association of REALTORS® reported that home sales increased 6.9 percent in 1996 from the previous year, while the median sales price increased 3.9 percent to $153,800. Both sales and sales prices of single-family homes in the New York metropolitan area were higher in 1996 than the previous year. There was, however, notable weakness in the sales housing market in Upstate New York.
Manhattan's soaring rents and sales prices in cooperatives and condominiums have buoyed the housing markets of the outer boroughs. The Bronx, Brooklyn, and Queens housing markets have also benefitted from widespread immigration. An average of 112,600 immigrants have settled in the city each year during the 1990s.
The median single-family sales price in Queens rose 2.2 percent to $161,000 in 1997. The Queens market for cooperative housing, while not as vibrant as Manhattan's, exhibited some renewed strength in 1996. A total of 513 co-ops were sold at a median price of $46,000 compared with 383 transactions at a median sales price of $45,000 in 1995.
Brooklyn and Staten Island also experienced boroughwide sales price increases for single-family homes in 1996. This rise was in sharp contrast to the decline in sales prices in these two boroughs in 1995. Brooklyn sales prices increased approximately 2.5 percent, while Staten Island prices rose 2.2 percent. Sales prices in the Bronx were generally lower in 1996 after having increased in 1995, but there was a 15- to 20-percent increase in the number of homes sold.
Single-family home sales in Westchester County increased 14 percent in 1996, and the median sales price increased 1.8 percent to $289,850. Nassau County sales volume was up 8 percent in 1996, with the median sales price of $175,000 at year's end, up 4 percent from 1995. Home sales in Suffolk County increased 12 percent in 1996, and the median sales price of $137,000 was 2.2 percent higher than a year earlier.
---
Spotlight on Atlantic City, New Jersey
The Atlantic City metropolitan area had modest population gains of about 1.5 percent annually during the 1980s. Growth slowed to 0.7 percent annually from April 1990 to July 1996 when there were about 332,000 persons in the area. Tourism is a major force in the area's economy, with the gaming industry accounting for about 25 percent of employment. Employment is highly seasonal, varying by as much as 20 percent between Winter and Summer.
Wage and salary employment increased by 8,900 jobs (5.6 percent) from February 1995 to February 1997. Retail trade increased due to the influx of several national chains and the partial completion of a shopping center in Hamilton Township. Casino employment also rose with the opening of the Trump World's Fair Casino. Employment in the gaming/tourism industry is expected to continue to grow as the result of several developments. Bally's Park Place Casino will be completed in July and will employ 1,200 persons. A new 510,000-square-foot convention center will be completed in May 1997. Merv Griffin's Resorts Casino Hotel's expansion will be completed in 1999, adding more than 500 jobs.
Sales and rental housing markets in the Atlantic City area are balanced. Building permits averaged 1,415 units a year in the 1990s, just one-third the average of the 1980s. Egg Harbor Township, Galloway, and Hamilton account for about 50 percent of the construction of homes for year-round residents in Atlantic County. The most active areas for home construction in Cape May County are Lower and Middle Townships and Ocean City.
The large supply of condominium units built during the 1980s provide affordable housing. Sales units start in the mid-$40,000 range and rentals start at about $750 a month. The average sales price for a single-family home in the Atlantic City area is $130,000. In 1996, building permits were issued for 1,757 units, 90 percent of which were single-family homes. REALTORS® reported a major jump in sales activity in February 1997 based upon improved consumer optimism about an improving economy.
---

First-quarter employment gains in the Mid-Atlantic, at 2.5 percent, were slightly above the national rate of 2.2 percent for the first time in recent years. Growth was paced by rates of more than 3 percent in Virginia and Delaware and 2.5 percent in both Pennsylvania and Maryland over the first quarter of 1996. Growth slowed in West Virginia, however, where the first-quarter gain was 1.9 percent. The District of Columbia lost 11,000 jobs (a 1.8-percent decline) during the period.
Retail, office, and industrial vacancies are at the lowest level in 7 years in most of the Mid-Atlantic major markets. Office vacancies are at 7.4 percent in the Washington, D.C., area, with less than 1 year's supply under construction. Office vacancies are also below 10 percent in the Richmond and Hampton Roads markets, and industrial space is at a premium.
Less desirable office space in Center City, Philadelphia, is being converted to apartments. The historic Philadelphia Savings Fund Society building constructed in 1932 is being converted to a 600-room luxury hotel with federally backed city loans. This conversion is one of five hotels to be developed in the Center City area to aid in attracting more convention business. Office demand is strong in the Pittsburgh suburbs, particularly west of the city. Suburban demand will be met in part by the development of a 1,000-acre business and industrial park south of the airport, the largest in western Pennsylvania. Alcoa proposes to donate its 31-story headquarters building in downtown Pittsburgh to local economic development groups, thereby creating a one-stop regional development center.
Telemarketing is becoming increasingly important in several States. Bell Atlantic will add 850 jobs next year when its telemarketing center opens in a former department store in Hampton, Virginia. In West Virginia 13,000 persons are employed in telemarketing jobs added primarily in the past 3 years. TeleTech Holding will employ more than 1,000 people at its operations in Charlestown and Marshall County. TeleSpectrum will add 1,000 employees to its operations next year in Charlestown, Huntington, and Beckley. More than 3,000 telemarketing jobs were added last year in Hampton Roads, helping make 1996 one of the best growth years of this decade.
As outside retailers continue to target the large Mid-Atlantic population base, new distribution and warehouse facilities dot the Interstate 81 corridor. The Wisconsin-based Kohl's Department Store's 350,000-square-foot distribution center in Winchester, Virginia, will soon employ 600 persons.
While home prices remain essentially flat in the Baltimore area, existing home sales in 1996 were up 11 percent, with both Baltimore City and Baltimore County recording double-digit increases. Carroll County, one of the outlying counties of the Baltimore metropolitan area, recorded the largest increase for the year (16 percent).
In the Pittsburgh area, existing home sales rose by nearly 6 percent last year and similar gains were registered in the first 2 months of this year.
In the Washington, D.C., area the sales housing market has been weak in the past 2 years, but consumer surveys predict a strong Spring market in both the Maryland and Virginia suburbs. Buyer confidence levels seem to be returning for the move-up buyer, fueling demand for higher priced units. In Northern Virginia, where job growth continues at double that of the Maryland suburbs, existing home sales were up only slightly last year, by less than 3 percent. However, existing home sales doubled in the first 2 months of this year, and inventories are dropping.
In the Philadelphia market, existing home sales dropped 8 percent from 1994 to 1996; due largely to declines in the city of Philadelphia and on the New Jersey side. Suburban Pennsylvania counties noted 2-year gains, ranging from 6.5 percent in Bucks County to 20.5 percent in Montgomery County. The planned development of nearly 300 homes in the $45,000 to $50,000 range in Philadelphia's Empowerment Zone near Temple University is expected to rejuvenate a 12-block area and bolster city housing demand.
Mid-Atlantic rental markets continue to improve, but apartment construction volume remains at relatively low levels compared with the 1980s. High-rent units are being developed in planned communities in the Richmond suburbs, appealing to older professionals who want onsite amenities, business and personal services, and large units. The rent for the typical two-bedroom unit in one of these developments is about $1,200.
In Pittsburgh the old Armstrong cork plant in the Strip District is undergoing conversion into luxury riverfront apartments. The Strip District has become a popular restaurant, office, and retail center in Pittsburgh. In Philadelphia older offices are being converted to apartments using FHA insurance. Additional applications are expected if tax-abatement legislation is passed. In the Baltimore area, apartment developers are scouting sites in areas with employment gains.
---
Spotlight on Wilmington-Newark, Delaware-Maryland
The Wilmington metropolitan area (New Castle County, Delaware, and Cecil County, Maryland) had a 1996 population of 550,900 persons, a gain of 37,600 persons (7.3 percent) over the population in 1990. Since 1993 employment gains have averaged 6,600 jobs, a healthy 2.5-percent annual gain. Unemployment had dropped to 5.7 percent in February of this year.
The healthy overall growth belies a transition from an economy based largely on automobile and chemical manufacturing to one dominated by financial and business services. Manufacturing jobs are down by 14,000 (25 percent) since 1990 to a 1996 level of 42,300. Downsizing and organizational restructuring by DuPont and Hercules have reduced employment in chemical manufacturing to about half of its previous level. DuPont is still the largest private employer, with a work force of 14,000. However, the Maryland Bank North America (MBNA) Corporation, with 7,000 employees, is now the second-largest and fastest-growing employer in the Wilmington area. Both General Motors and Chrysler continue operations at local automobile assembly plants, retaining 4,500 jobs in the production of the new Chevrolet Malibu and a Dodge mid-sized sports utility vehicle.
With the expectation of future slowdowns in the banking and service sectors, statewide efforts are under way to diversify the local economy by promoting high-technology development and emphasizing the State's favorable business climate, competitive tax rates, and nearby engineering schools.
Wilmington, the largest city in Delaware with a population of about 73,000, is in the midst of reviving its central business district. The downtown area has experienced a renaissance in headquarters office development in the past 2 years with the construction of a new MBNA building and the Wilmington Trust office tower. Downtown office vacancies, still high at 17.7 percent, are at the lowest level since 1987.
Approximately 3,000 single-family homes are built each year in the Wilmington area. Production has been slightly lower than average in the past 2 years as demand has softened for homes priced above $250,000. Demand is strong for new single-family homes in the $140,000 to $200,000 range and for townhouses priced from $80,000 to $125,000. Townhouses account for about 25 percent of construction activity. New subdivision development in New Castle County is primarily south and southwest of the city of Wilmington. Production in the Route 13 corridor further south to the Middletown-Odessa-Townsend area has increased from 200 units to nearly 400 units a year.
The production of rental housing has slowed in the 1990s to fewer than 300 units a year, compared with 850 units a year in the 1980s and 1,300 units a year in the 1970s. By 1990 the rental vacancy rate was more than 7 percent and 3,000 new units had yet to enter the market. The market has returned to a more balanced condition during the past 2 years. Recent rents average $550 for a one-bedroom unit and $650 for a two-bedroom apartment.
---

Total employment in the 8 Southeastern States and Puerto Rico increased by 633,000 jobs (2.6 percent) from February 1996 to February 1997. Georgia, Florida, and Kentucky led the region with increases of 3.6, 3.3, and 2.7 percent, respectively, while Tennessee reported the smallest increase, at 1.4 percent. The unemployment rate was below the national rate in five of the eight States. North Carolina had the lowest rate, at 3.6 percent.
The services sector continues to provide the largest number of new jobs. There were 258,000 more services jobs in February 1997 than a year earlier. Employment in this sector increased by more than 5 percent in both Georgia and North Carolina. Growth in the construction and finance, insurance, and real estate sectors was also strong. In North Carolina construction employment increased by 10 percent.
Tourism has continued to expand in Florida. The number of visitors in January was up nearly 14 percent over last year. Relocations and expansions of financial and customer service companies are adding large numbers of backroom jobs in Jacksonville. Three firms, Bombardier, recision Response Corporation, and Prudential Insurance Company of America, have announced new processing centers that will employ more than 3,300 workers. There are still concerns in the State about labor shortages. In low-wage serv-ice sectors, the shortage is evidenced by excessive employee turnover. A survey by the National Center for Construction Education and Research, based in Gainesville, also found that 61 percent of Florida contractors polled faced a shortage of skilled labor.
According to sources at the University of Alabama, the State is not attracting enough workers to fill all the jobs being created, particularly in the fast-growing areas of Birmingham, Huntsville, and Tuscaloosa. The housing market in Huntsville should get a boost during the remainder of the year with the relocation of 2,500 U.S. Army employees from St. Louis.
The number of single-family permits issued during the first 3 months of 1997 (69,077 units) was down a slight 3 percent compared with the same period in 1996. Florida, North Carolina, and South Carolina reported modest increases. In Memphis unusually wet weather is being blamed for a 24-percent decline in the number of single-family permits.
Atlanta finished 1996 as the Nation's busiest housing market, with its biggest homebuilding year ever. The highest volume of new home sales is in the northern suburban counties of Cobb, Gwinnett, and north Fulton. The greatest rates of increase, however, have occurred in the exurban counties, particularly Henry, Forsyth, and Paulding Counties, all of which ranked among the Nation's 10 fastest-growing counties during the first half of the 1990s. New home sales have been especially strong in Forsyth County, stimulated by employment gains in new office parks in the Georgia 400 corridor in north Fulton County.
The Florida Association of REALTORS® reported that 8,505 existing homes were sold statewide in February, a 1-percent increase over February 1996. Of the State's major markets, Tampa-St. Petersburg had the largest increase (8 percent).
Puerto Rican housing industry sources expect residential building activity to remain steady during 1997, but at a slightly slower pace than in 1996. This trend is due to the repeal by Congress of Section 936 of the U.S. Internal Revenue Code, which provided tax incentives, the increase in the minimum wage, and the increased cost of building materials. The number of FHA-endorsed cases during the first quarter of 1997 increased by 14.5 percent to 3,595 homes compared with the first-quarter 1996 total.
Multifamily housing activity continues to show strength in the Southeast. In the first quarter of 1997, permits were issued for more than 22,100 multifamily units, a 22-percent increase over the first quarter of 1996. All States except Mississippi and South Carolina reported an increase. Florida and North Carolina had the largest number of permits, with 9,770 units and 3,037 units, respectively. Activity in Georgia was up only 3 percent, and there was a 25-percent decline in the Atlanta area. Concessions, including 1 month's free rent, have appeared in the Atlanta area, but so far overbuilding has been limited to a few submarkets, such as north Fulton County and the city of Atlanta. Since 1990 the apartment inventory in north Fulton County has almost doubled, with more than 2,500 units in initial lease-up at the end of 1996.
First-quarter multifamily permits in the Miami-Ft. Lauderdale (3,197 units) and Orlando (1,275 units) areas were more than double the first-quarter 1996 totals. Apartment occupancy rates in the Miami area remain healthy, but there are concerns about future market conditions in Broward County, where 5,400 multifamily units are under construction. The recent rental housing production in the Jacksonville area is also raising doubts about whether the market can absorb all of the new units in a reasonable time. According to one estimate, 2,350 units were completed in 1996, 1,000 units were under construction during the first quarter of 1997, and another 3,500 units will start construction during the remainder of 1997. The local planning department's fourth-quarter 1996 rental survey reports that vacancy rates climbed to 7 percent from 5 percent at the beginning of the year. A March survey by Charles Wayne Consulting, Inc., covering more than 96,000 multifamily rental units in the Orlando area showed a 94.7-percent occupancy rate compared with 92.3 percent in March 1996. Over the year, 3,100 new units were absorbed by the market and almost 6,000 units are under construction.
---
Spotlight on Charleston, South Carolina
The economy of the Charleston area is recovering from the closure of the Charleston Naval Base and Shipyard. For decades the Navy had been the dominant employer, but after the installation closed, the area lost 23,500 military and 12,000 civilian jobs. Despite these losses, total employment increased 4.1 percent between 1989 and 1996. The South Carolina Employment Security Commission is forecasting an employment gain in 1997 of more than 2 percent and an unemployment rate averaging 5 percent for the year. This optimistic forecast is attributed to the opening of several major new business concerns that will supplement job expansion among existing firms.
The tourist industry has long been a major factor in the area's economic stability and has helped Charleston overcome the base closure. According to the Charleston Metro Chamber of Commerce, tourism brings in more than $2.3 billion annually, as the Southeastern Wildlife Exposition, the Spoleto Festival, Ft. Sumter, and other attractions continue to draw large crowds. Hotel occupancy increased from 65.7 percent in 1995 to 68 percent in 1996.
The Charleston Metro Chamber of Commerce's Center for Business Research identified 186 new firms and 57 expansions that resulted in 4,973 new jobs and more than $600 million in capital investment for the area in 1996. The center reported a total of $205 million in nonresidential construction in 1996. Builders reported shortages of skilled construction workers during the year as Nucor Steel, Saks Fifth Avenue, and Bon Secours St. Francis Hospital pushed for completion.
According to the South Carolina State Ports Authority, Charleston is ranked as the sixth-largest container port in the United States and was one of the fastest-growing ports in the Nation in 1996. Total cargo tonnage exceeded 11.1 million in 1996, which represented a 6-percent increase over the previous year. The authority expects a 1997 total of 12.3 million tons of cargo, an increase of 11 percent over 1996.
The sales housing market is showing signs of recovery. The 2,274 single-family building permits issued in 1996 exceeded the 1995 figure by 22.6 percent. This was the first increase in permits since 1992. Home sales also improved in 1996, with 5,764 houses sold, representing a 3-percent increase over the previous year. The median sales price of $94,900 in 1996 was up slightly (less than 1 percent) over the 1995 price.
The rental housing market is also beginning to show signs of improvement. In 1996 building permits were issued for 263 units compared with 91 units in 1995. The 1996 figure was the highest since 1992, when 590 units were permitted.
Areas such as James Island and Mount Pleasant, which were least affected by the base closure, are receiving the most attention. Areas closest to the base, such as Hanahan, Goose Creek, and North Charleston, are still experiencing double-digit vacancy rates, according to the Charleston Apartment Report.
---

The Midwest economy continued to show modest growth in early 1997. During the 12 months ending in February, employment in the region increased by 313,500 jobs, a 1.3-percent gain. The strongest employment growth was in business services, retail trade, and construction. Labor markets are tight throughout much of the Midwest, with shortages of skilled and unskilled workers reported in Minnesota, Wisconsin, and Michigan. Southeast Michigan's Building Industry Association reported that home construction in the Detroit area now takes a month or two longer due to difficulty finding available workers. Homebuilding through March 1997 was down moderately from last year's high level, but apartment production continued to strengthen in the region.
Michigan's strong economy is generating significant employment gains, with 60,000 jobs added during the 12 months ending in February. Steel producers in Indiana and Ohio are hiring workers in response to a strong increase in orders. AK Steel Holding Corporation will build a $1.1 billion processing plant in southern Indiana, employing 410 workers by 1998. Near Toledo the North Star BHP Steel Company is completing a $430 million minimill, which will employ 350 workers.
Regionwide, single-family building permit activity for the first quarter of 1997 was down 10 percent compared with the first 3 months of 1996. Through March, permits were issued for 30,420 single-family units. Although all States reported lower activity, this was still one of the highest volume first quarters in the past 10 years.
Existing homes have been selling well in the region. The Detroit area's healthy economy is supporting high volumes of home construction. The 15,798 single-family permits issued in 1996 were the highest volume in the past 18 years, and activity in the metropolitan area remained brisk through March 1997, with 2,830 units. Sales of new and existing homes in the metropolitan area totalled 39,050 last year, the highest volume since 1994. About 4,500 homes were sold in the first 2 months of this year. The Pulte Home Corporation has announced plans for a waterfront community of luxury homes near downtown Detroit. The development will include 40 condominiums priced between $330,000 and $370,000 and 17 single-family homes priced from $400,000 to $500,000.
The Chicago area's sales market remains strong following a very good 1996. About 155,000 new and existing homes were sold in the metropolitan area last year compared with 144,000 in 1995. In suburban Lake County, one lender reported that mortgage applications in January 1997 were the highest in the past 5 years. Activity in February exceeded January's volume. Mild weather in early February drew 3,800 prospective buyers to Lake County's Home Show, nearly double last year's turnout, and raised builders' expectations of strong home sales in the Spring. There has been a strong market response to new homes in the Near North/Cabrini Green Redevelopment area of Chicago. The city plans to rebuild the Cabrini Green area over the next 10 years, with 2,000 to 2,300 units of mixed-income housing, schools, a shopping center, and recreational facilities, at an estimated cost of $648 million.
Minneapolis-St. Paul's strong economy and favorable mortgage rates helped raise sales of existing homes in the metropolitan area to a record 42,079 in 1996. Through February 1997 home sales were up 5 percent over a year earlier. The local homebuilders association reported a high turnout of prospective buyers at the 14th annual Parade of Homes Spring Preview held throughout the Twin Cities area from March 8 to 23. Detached single-level homes priced between $120,000 and $500,000 are popular with empty nesters. The Wisconsin Builders Association reported that 20,136 single-family homes were started in the State last year, the highest total since 1980. Activity was especially brisk in the Fox Valley area near Appleton, where starts for 1996 increased 15 percent over 1995 due to expansion at Kimberly-Clark Corporation and other area manufacturers.
Rental markets remain generally good throughout the Midwest, with occupancy in the 92- to 96-percent range as of the first quarter of 1997. Permits were issued for 11,764 multifamily units through March, a 40-percent increase over first-quarter 1996 volume. Multifamily activity was up in every State of the region except Wisconsin where activity was essentially unchanged.
The Chicago area continues to maintain a high apartment occupancy rate of about 96 percent, according to a January 1997 survey of 109,000 units by the Grubb and Ellis Corporation. The number of multifamily units permitted in the metropolitan area through March (1,923 units) was 40 percent greater than in the first quarter last year. However, the rental market in the western suburbs has begun to soften due to an oversupply of new high-rent units. In the Aurora-Naperville area, absorption of new units has slowed from last year, and rent concessions are more widespread. Occupancy is expected to improve slightly in the Spring, but conditions are expected to remain very competitive.
Cleveland's downtown rental market remains strong, with occupancy at 95 percent in the Warehouse District. Multifamily permit activity in the Cleveland area in the first quarter was up 31 percent to 1,524 units. In Columbus a fourth-quarter 1996 survey of 105,000 rental units by the Danter Company showed a 4.4-percent vacancy rate in the metropolitan area, unchanged from last year. In the Cincinnati-Hamilton area, where apartment vacancies range from 5 to 7 percent, multifamily activity (1,018 units) through March 1997 increased 90 percent over a year earlier. New projects in north suburban Hamilton County are filling quickly, and nearby Clermont and Warren Counties are seeing increased apartment construction activity.
Indianapolis' rental market is becoming increasingly competitive as the large number of new apartments (3,100 units) come on line. CB Commercial's fourth-quarter 1996 survey found an 8-percent apartment vacancy rate, up from 6.8 percent in 1995. Local sources reported that the rental market continued to lose momentum in early 1997 as tenants in high-rent projects took advantage of favorable mortgage rates and sales incentives offered by Indianapolis area builders. One apartment developer said that rental markets in west Marion and Hendricks Counties have been particularly affected by the large number of new units coming on the market at the same time that sales of affordable new homes ($100,000 to $135,000) increased substantially.
The Detroit-Ann Arbor area reported an 83-percent increase in multifamily units permitted in the first 3 months of 1997. A developer of 241 high-rent units in suburban Novi reported leasing 59 apartments in 3 weeks. In the Grand Rapids area, absorption in new apartment projects has been moderately slow, ranging from 6 to 12 units a month. Occupancy in existing units has fallen to 92 percent, down from 94 percent this time last year.
Minneapolis-St. Paul's rental market remains tight due to the low level of apartment production for the past 2 years. Apartment occupancy is generally above 96 percent.
---
Spotlight on Dayton-Springfield, Ohio
The population of the Dayton-Springfield metropolitan area is currently approaching 1 million. The 4-county area added 5,400 jobs during the 12 months ending February 1997, boosting total employment to 467,800. Business and health services, trade, and construction provided most of the new employment. Manufacturing continues to influence growth, but currently represents only one in five jobs in the area, down from two in five jobs in the 1960s.
The aerospace, defense, and automobile parts industries have a significant impact on the Dayton area's economy. Wright Patterson Air Force Base is the largest employer in the area with 23,000 civilian and military personnel. Wright Patterson is credited with supporting more than 27,000 secondary jobs, including over one-third of Dayton's high-technology firms, which serve as defense contractors. General Motors, with about 20,000 employees, has invested $380 million to modernize existing facilities in the area over the past 5 years.
Dayton's sales housing market is healthy, reflecting the local economy's current stability. From 1990 through 1996, an average of 2,216 single-family units were authorized annually in the metropolitan area, well above the average of 1,638 units a year during the 1980s. Home construction has been strong in suburban Beavercreek and Bellbrook, while north Miami County is seeing increased construction activity.
According to the Dayton Board of REALTORS®, 9,637 existing homes were sold in 1996 in the metropolitan area, slightly above the average of 9,350 homes sold in the previous 2 years. The average sales price increased about 5 percent annually over the past 2 years to $110,380 in 1996. Especially active are well-established areas in Oakwood and Kettering; the newer, high-priced subdivisions in Beavercreek, Washington Township, and Bellbrook; and the unincorporated areas southeast of Dayton. FHA mortgage insurance activity in the metropolitan area increased 44 percent in 1996, with more than 2,600 loans endorsed last year.
The rental housing market in the Dayton-Springfield area is balanced. A recent HUD survey noted increased competition between older rental projects and new tax-credit developments in Dayton's southwest suburbs. The rent-restricted tax-credit units are being absorbed well, but may be contributing to higher vacancies in older apartment projects nearby.
Apartment construction in 1996 reached its highest level thus far in the 1990s. Building permits were issued for 1,438 multifamily units, compared with 546 units in 1995. The local apartment association's survey of 40,000 units in the metropolitan area showed a 6.9-percent vacancy rate for the fourth quarter of 1996, up slightly from 6.2 percent a year earlier. The rental market is strong in the eastern and southeastern suburbs, where new one-bedroom apartments rent for $600 and two-bedroom apartments rent for $700. The developer of a 360-unit project in suburban Washington Township reported that since August 1996, 134 of the first 136 units completed have been rented and another 34 units have been preleased.
---

From April 1, 1990, to July 1, 1996, the population of the Southwest region grew by 9.9 percent to reach 31,000,000. New Mexico led in percentage population growth (13.1 percent), followed by Texas (12.6 percent). The population growth experienced by some areas in the region, such as Austin, Albuquerque, and Dallas-Ft. Worth, has been fueled by expansion in the computer and telecommunications industries.
Nonagricultural wage and salary employment growth in the Southwest averaged 2.5 percent for the 12 months ending February 1997. Texas and Oklahoma both registered a growth rate of 2.9 percent, followed by New Mexico at 2.6 percent, and Louisiana and Arkansas at 1.5 percent each.
Job growth in some areas, including Dallas-Ft. Worth and Austin, has been constrained by a lack of skilled workers. There are reported shortages of semiconductor technicians, oil drilling rig fabricators, and telecommunication engineers.
Employment growth in the Fayetteville-Springdale-Rogers metropolitan area in northwest Arkansas slowed in 1996 to 2.9 percent. This is still a healthy rate of growth, but is down substantially from the 6- to 7-percent rates of the past 2 years.
In the first 3 months of 1997, single-family permits in the Southwest region (26,720 units) were off 14 percent from the same period in 1996. All States reported declines except New Mexico where activity remained essentially unchanged. With the exception of Texas and Louisiana, multifamily activity was down throughout the region.
In Texas the number of multifamily units permitted (9,151 units) was up 77 percent over the first quarter of 1996. Activity in the Dallas-Ft. Worth area rose over 350 percent to 4,370 multifamily units. The Houston-Galveston area permitted 2,183 multifamily units, double last year's figure at this time and nearly half of the total volume for 1996. Apartment construction in the Austin-San Marcos area totalled 1,165 units, a 27-percent increase over first-quarter 1996 volume. Industry sources are concerned about the large pipeline of units under development in this market.
In the first quarter of 1997, permits were issued for 1,068 multifamily units in Louisiana, a 70-percent increase over the first quarter of 1996. During 1996 multifamily housing construction in Louisiana registered a 14.6-percent increase over 1995. Almost one-third of the State's total of 3,281 multifamily units were in the New Orleans metropolitan area. Many of the new apartments added in the city of New Orleans have been conversions of older warehouses and office buildings.
For the first time in 10 years, a significant volume of rental housing is being built in the Oklahoma City metropolitan area. More than 1,000 multifamily units are under construction and more are in the planning stage. Almost all of the apartment construction is in the northern part of Oklahoma City and the adjoining suburb of Edmond. About one-third of the new units are in low-income tax-credit projects. Rents for new units without tax credits are about $750 for a two-bedroom unit, which is about 20 percent higher than current typical rents.
In the aftermath of the April 1995 bombing of the Alfred P. Murrah Federal Building, the Oklahoma City Urban Renewal Authority commissioned a study to outline the steps necessary to revitalize the downtown area. One of the recommendations of the recently released report is to create more housing. From 1986 through 1996, there was virtually no residential building activity in the downtown area. A 22-unit loft apartment development that opened about 2 years ago has been the only new rental property developed. Demand for rental housing is expected to increase when the new Federal complex is constructed in the north downtown area.
The city of Tulsa is also encouraging housing development as a way to renew its downtown area. Last year citizens approved an additional 1-cent sales tax to fund several city projects, one of which is a stimulus package for downtown housing. The city invited development proposals for a $4 million set-aside to be used for innovative approaches to creating housing, and is currently reviewing the submissions. More than 1,500 multifamily rental units were added to the Tulsa metropolitan area rental inventory during the past 2 years. Absorption of these units has been slow but steady, and rents have increased about 4 percent in the past year.
---
Spotlight on Baton Rouge, Louisiana
Baton Rouge is the State capital and home to Louisiana State University (LSU) and Southern University, which have a combined enrollment of approximately 37,000 students and 8,500 faculty and staff. The State government employs about 30,000 persons. The area has the largest concentration of chemical industry employment in Louisiana and the second-largest petroleum refinery capacity in the country. It also has one of the largest deepwater ports in the Nation. The population of the metropolitan area was approaching 570,000 persons in mid-1996.
Nonagricultural employment during the 12 months ending February 1997 increased by 2 percent over the previous 12-month period to 284,200. The increase was largely due to growth in services, trade, government, and construction. The completion of the 1.4-million-square-foot Mall of Louisiana in the Fall of this year will give Baton Rouge the largest shopping mall in Louisiana. Two new port operations were added near the end of 1996, and expansion of several chemical plants during the next 2 years will increase construction employment.
The improved economy has stimulated home construction and sales during the past 2 years. In 1996 single-family home permits rose by 22 percent to 1,450 units and home sales were up 10.4 percent to 6,470 units. The average sales price in East Baton Rouge Parish, which includes the city of Baton Rouge, increased by 4.5 percent.
After 8 years of very limited development, apartment construction increased significantly beginning in 1994. Nearly half of the 2,400 multifamily units permitted since 1993 have been in low-income tax-credit projects. A survey of 20,179 apartment units conducted by the apartment association in January 1997 found 8 percent vacant, up 1 percentage point from the same time last year. The Spring 1997 apartment survey conducted by LSU showed rents had increased less than 2 percent since the 1996 survey.
---

Nonagricultural wage and salary employment in the Great Plains region increased by 146,000 jobs (2.5 percent) from February 1996 to February 1997. Kansas led the region with a 3.7-percent rate of growth, followed by Missouri (2.4 percent), Nebraska (2.3 percent), and Iowa (1.7 percent). Unemployment in the region averaged 4.3 percent, ranging from a low of 2.7 percent in Nebraska to 4.8 percent in Missouri. Missouri, which has the second fastest growing economy in the region, added 60,300 jobs. Construction, amusement and recreation, and business services were among the faster growing sectors. Iowa created 22,800 jobs (a 1.7-percent increase). The meat products industry showed a major decline during the 12-month period, losing 3,100 jobs. The closing of Montfort's Des Moines meatpacking facility in 1996 caused a loss of 1,000 jobs.
The Kansas City economy continued its strong growth, adding 29,800 jobs (3.5 percent) during the past 12 months. Virtually all sectors shared in the growth. The amusement and recreation industry's addition of 1,600 jobs was primarily spurred by the gaming industry's opening of two new riverboat casinos and expansion of an existing casino. The $300 million Station Casino development, the fourth-largest casino in the Nation, opened in January. Besides its twin floating casinos, the facility includes a 200-room hotel, 12 restaurants, 11 bars and lounges, and a number of specialty shops. The casino currently employs 2,400 workers.
Kansas City's rapid economic growth has created labor supply problems, particularly in suburban Johnson County, Kansas. Employers have attempted to solve the problem with more intensive recruiting. In March 1997 Job Fair '97 was held at seven locations in the metropolitan area. The event was hosted by the Hispanic and African-American chambers of commerce, along with the chambers from 12 cities. A worker transportation plan is under development to transport unemployed and underemployed inner-city residents to jobs in Johnson County. The service is scheduled to begin this Summer.
Building permits for new residential construction in the Great Plains region reached an 18-year high in 1996. A total of 62,279 units were permitted, up 10 percent from the 1995 total of 56,442 units. The 43,350 single-family permits were also the highest figure in 18 years. Existing home sales for 1996 increased 5.3 percent from the 1995 level. Sales increased in three of the four States, ranging from a low of 5.3 percent in Missouri to 7.8 percent in Iowa. Nebraska's sales were off 4.2 percent from the year-earlier level.
Great Plains' housing markets, although still among the most affordable in the Nation, saw prices rise substantially in 1996. The Kansas City and Topeka markets, with 1996 median sales prices of $98,800 and $73,900, respectively, had the greatest price increases (7.7 and 8.4 percent) over 1995 levels. Des Moines and Omaha, with median sales prices of $92,400 and 88,300, respectively, had the next highest appreciation rates of 6.2 and 6.4 percent.
Multifamily housing activity in the region in 1996 reached the highest level (18,929 units) since 1986. Rental housing vacancy trends in the major markets are mixed. In Kansas City the apartment vacancy rate declined to 4.9 percent in December 1996, down from 5.4 percent a year earlier. Reflecting the tightening rental market, Kansas City had one of its largest rent increases in a number of years. Topeka's rental vacancy rate increased to 8.6 percent in January 1997, up from 8.1 percent in January 1996. With a relatively weak rental market, rents increased only 1 percent last year. Wichita's rental vacancy rate declined from 7.2 percent in October 1995 to 5.8 percent in October 1996, reflecting its rapidly expanding aircraft industry. The rental vacancy rate in Des Moines increased to 8.0 percent in late 1996 from 6.2 percent a year earlier. The Springfield, Missouri, rental market remains soft, with a vacancy rate of 11 percent in January 1997.
---
Spotlight on Columbia, Missouri
Columbia, located approximately halfway between St. Louis and Kansas City, is the regional economic center for central Missouri. The metropolitan area, which consists of Boone County, is one of the fastest growing areas in Missouri. As of July 1996, the metropolitan area's population was 125,600, up 11.8 percent since 1990.
The Columbia area's unemployment rate has historically been lower than other areas of Missouri because of its diverse economic base and recession-resistant employment sources, including education, health care, and insurance. Employment averaged 68,447 in 1996, up 10,904 jobs from 1990. During 1996 the unemployment rate averaged a low 1.7 percent.
Columbia is the home of the University of Missouri, as well as Stephens College and Columbia College. In addition, it is a regional health-care center, with five major hospitals and numerous other health-care providers. The economic impact of the University of Missouri is substantial. It employs about 15,000 faculty and staff, with direct expenditures by students, faculty, and staff totalling more than $500 million. Enrollment at the 3 institutions is near capacity at about 30,000 students and is expected to remain stable in the near future. The University of Missouri currently has $140 million in construction projects under way, including $46 million for a critical-care unit at its medical center. Two major construction projects, totalling more than $72 million, are planned for the near future.
During the past 5 years, an average of 942 single-family building permits were authorized annually in the metropolitan area, compared with 644 for the previous 5 years. In 1996 sales of new and existing homes increased about 1 percent over strong 1995 levels. Most new single-family construction has been in the $100,000 to $125,000 price range for a 1,500- to 2,000-square-foot home.
Multifamily housing permits averaged nearly 500 units yearly during the past 5 years compared with 320 units for the previous 5 years. Duplex structures account for 62 percent of the multifamily housing development in the market. The majority of these units have three bedrooms, two baths, and a garage, and typically rent from $550 to $650 per month. These units are popular with students and other young households. According to a recent survey, the vacancy rate in garden apartments is only 1.7 percent, about what it was 4 years earlier. The survey found that rental rates for apartments in Columbia increased at an average rate of 2 to 4 percent per year from 1993 to 1996.
---

Employment in the Rocky Mountain region during the first quarter of 1997 is up about 3 percent from the first quarter a year ago. After a weak fourth quarter last year, Colorado's job growth was back up in the first quarter. Growth in the remaining five States has slowed. Utah's growth rate still leads the region, but gains are down from the 5- to 6-percent rates of last year.
North and South Dakota's unemployment rates remain below 3 percent, among the lowest in the Nation. February rates in Colorado (3.1 percent), Montana (4.6 percent), North Dakota (2.6 percent), and Utah (3.1 percent) were record lows. Economists in Utah expect the tight labor market there to generate wage increases above the national average.
Information technology continues to spur growth in Colorado's job market. A recent study completed for the State Economic Development Commission ranked the State sixth in the United States in the number of jobs in this sector. Some major oil companies that left the region in the late 1980s have again begun exploration activities, primarily in North Dakota and Utah. Recent increases in natural gas prices have made these areas worth re-exploring.
The skiing industry in Colorado, spurred an increase in out-of-state visitors, should end the year with a modest gain over last year. Late snow has extended the season in several areas, and most ski areas are now aggressively courting the Front Range skier for one more trip to the slopes. Financing is finally in place for the Pavilions entertainment center in downtown Denver. Construction of this $100 million complex began this quarter.
South Dakota's manufacturing sector continues to benefit from an ongoing expansion at computer plants in the State. The agriculture sector in the Dakotas is reeling from the most severe Winter in decades and extensive Spring flooding.
The annual volume of existing home sales in the region was up 9 percent to 174,200 units in 1996. Single-family homebuilding in the first quarter was unchanged in Denver and Salt Lake City, while Colorado Springs saw a modest decline. Multifamily construction dropped dramatically in all three areas as the markets adjusted to the large volumes of units permitted in 1996. Much of the recent construction has been targeted to higher income renters and homeowners. The Denver market has also seen a surge in affordable single-family homes in the $125,000 to $150,000 price range. Builders have concentrated on this range as the higher priced market has slowed slightly. Condominium and townhouse construction is enjoying a resurgence, but remains below the boom levels of the 1980s.
Rental vacancy rates are drifting upwards, but most markets remain balanced. Some continued easing in the market will occur for the remainder of the year. Incentives will likely continue in the major markets, including very modest rent increases, which will help the market absorb the number of units started last year.
---
Spotlight on Salt Lake City, Utah
Salt Lake City's rate of employment growth as of the first quarter of 1997 fell below 5 percent for the first time in 3 years. This slower growth began during the second half of 1996 and has continued into the first quarter of 1997. Contributing factors are fewer manufacturing relocations and secondary impacts from military cutbacks. The unemployment rate is still at a very low level, dropping below 3 percent at the end of 1996. Since 1990 the area's population has increased by 2.1 percent a year to an estimated 1.2 million persons currently.
Strong but somewhat slower growth will occur in computer software and biomedical manufacturing. Research and development is expected to be a major contributor to growth in the future. The area's two largest aerospace companies will also increase employment. Low vacancy rates in office, industrial, and retail space have stimulated speculative building throughout the metropolitan area, as new space has been quickly absorbed.
The unprecedented period of infrastructure expenditures spurred by the Winter Olympics to be held in the area in 2002 will also fuel growth. The larger projects will include a $1.6 billion reconstruction of Interstate 15 and a new $180 million light-rail transit system. Other projects worth hundreds of millions of dollars have started or will begin construction shortly in Salt Lake City and throughout the Wasatch Front. There are 20 hotels under construction, including a $185 million addition to the Little America Hotel downtown. Employment growth is expected to remain at a strong 4- to 5-percent rate for the next few years. In-migration from other States, especially California, is still substantial, although the rate is declining. This influx had stimulated much of the housing development and sales activity at the upper end of the market for both sales and rental housing. With California undergoing an economic recovery, inmigration has slowed. However, the arrival of thousands of construction workers is expected to offset most of the decline.
Building permit activity began to slow by the end of 1996. This trend has continued during the first quarter of 1997. Single-family permits (1,893 units) were up a slight 3.4 percent over first-quarter 1996 volume, but multifamily activity was down 67 percent, reflecting concern about the large volume of rental units in the pipeline.
Rental market pressure has eased because of the large supply of new units coming on line. New projects are renting up, with most offering some type of incentives. New, larger apartment projects are coming on line with rents of $800 to $850 for a two-bedroom unit. Projects with rents at the high end of the market are facing moderately longer rentup periods than previously. Because of the extent of new construction, the apartment vacancy rate has increased to 4.2 percent from 3.0 percent recorded last year. The market is expected to absorb the units under construction and in the pipeline with no major softening. However, rent increases are expected to drop below last year's 5-percent level, and the vacancy rate is expected to continue to increase.
During the first quarter, home sales declined by about 10 percent, with the average sales price continuing to slow from the double-digit pace of 1992-95. However, these declines are relative to the area having one of the hottest housing markets in the country. The near record number of new homes built last year has contributed to the oversupply of homes priced more than $400,000.
---
From February 1996 to February 1997, job growth in the Pacific region topped 530,000 jobs, with the 3.4-percent annual increase well above the national rate. The Los Angeles, Phoenix, and Las Vegas metropolitan areas ranked first, third, and eighth nationally for new jobs in 1996. About 380,000 of the region's new jobs were added by the accelerating California economy. The State's unemployment rate dropped to 6.5 percent in February from a high of 9.7 percent in late 1992.
As of February Arizona's 4.9-percent annual rate of employment growth was nearly twice the average for the past 10 years. More than four-fifths of the gain was in the rapidly growing Phoenix area. Arizona's unemployment rate is just below the national rate. The latest round of casino/resort developments in Las Vegas powered Nevada's Nation-leading 7.7-percent growth rate, adding 62,000 new jobs. Hawaii's employment remained in a holding pattern.
California's single-family building permit activity (16,982 units) in the first 3 months of the year was up 9 percent compared with first quarter 1996. Held back by poor January weather that produced more than $1 billion in flood damage, these numbers underestimate the growing strength of the market. First-quarter activity in the San Francisco Bay area was up 29 percent to 3,261 units. In Southern California activity was up 16 percent in Orange County and 29 percent in Los Angeles County. Activity in Riverside-San Bernardino remained unchanged. The 6-percent drop in single-family permits in Las Vegas and the severe flooding in northern Nevada caused activity to decline 9 percent statewide. In Arizona activity was down a modest 8 percent compared with activity in the first quarter of the previous year. In Hawaii single-family activity was down 26 percent.
Sales of existing homes did well throughout most of the region, reflecting economic gains and consumer confidence. As of February the California Association of REALTORS® reported an estimated annual sales volume of nearly 559,000 for 1997, up almost 11 percent over the February 1996 figure. Prices increased in the San Francisco Bay, Monterey, and San Jose areas, but dropped 1.7 percent statewide. Existing home sales in Phoenix and Las Vegas were up 1 and 4 percent, respectively, in the first quarter. The median sales price of a three-bedroom home increased more than 5 percent in the past 12 months. In Honolulu home sales and prices continued to drop.
Multifamily housing units permitted in Arizona and Nevada were off 35 and 36 percent, respectively, through March compared with a year earlier. The decline reflects developer cutbacks in response to the large pipeline of units started in 1996. Phoenix and Las Vegas rental markets are balanced overall, with vacancy rates of about 5 percent in existing projects, but competition has become intense in the more active submarkets. Rents are flattening out, especially in submarkets with concentrations of luxury apartments.
California's multifamily permit activity (4,435 units) in the first 3 months of the year was 8 percent over the first quarter of 1996, but is still off the pace for 1996. The tightest rental markets are in the west San Francisco Bay Area, San Jose, and southern Alameda County, which have 3-percent vacancy rates. Upward rent pressure is strong in these areas. Sacramento is now balanced, but slow job growth in many Central Valley areas, such as Fresno, has kept rental markets loose. Honolulu's vacancy rate is about 5 percent, with flat rents reflecting a slack economy.
Continuing job growth in all areas of Southern California has helped improve occupancy rates. Los Angeles County still exhibits signs of soft conditions despite the drop in the rental vacancy rate from around 9 percent last year to an estimated 8 percent currently. The Riverside-San Bernardino area rental market has improved rapidly as the improved economy and increased demand have brought vacancy rates down from double-digits to around 9 percent. In Orange County rental vacancy rates are about 6 percent, and rents are starting to rise modestly for the first time in years.
---
Spotlight on San Diego, California
The San Diego metropolitan area's population exceeded 2.7 million in 1996, a gain of 42,000 persons during the year, which was the largest annual increase since 1991. Population growth is expected to accelerate to 50,500 persons in 1997. Total civilian employment in 1996 was at 1.16 million, the highest level ever recorded. The economic expansion is expected to continue in 1997, with the annual unemployment rate remaining below 5 percent, well below the statewide average.
The Department of Defense (DOD), principally the Navy and Marine Corps, is a major factor in the metropolitan area's economy. DOD has more than 82,000 military and civilian personnel stationed in the area and spends more than $6 billion annually. Despite the downsizing of defense-related activities in most of the country, activity is expected to increase in the San Diego area. San Diego has been designated as the Navy's principal west coast port and will attain a higher level of military presence as operations are transferred to the area. The area is slated to be the home port for three nuclear-powered aircraft carriers. The U.S. Space and Naval Warfare Systems Command (SPAWAR) will relocate to the area in 1997, bringing 800 to 1,000 high-paying jobs. According to the Greater San Diego Chamber of Commerce, the relocation will have added an estimated $1 billion to the local economy. A significant increase in shipbuilding and marine repair work is also expected as a result of the closure of the Long Beach Naval Shipyard.
According to the Center for the Continuing Study of the California Economy (CCSCE), San Diego is projected to lead California in job growth into the next century and be one of the fastest-growing metropolitan areas in the Nation. The four growth sectors are expected to be high-technology, foreign trade, tourism and entertainment, and professional services.
The start-up or relocation of numerous small high-technology firms has helped replace the losses that occurred in the early 1990s in the aerospace- and defense-related sectors. In 1997 the strongest growth is expected to take place in the areas of recreational equipment manufacturing, electronics, industrial machinery, and shipbuilding. International sales will account for 33 percent of goods manufactured in the area.
Residential building activity between 1990 and 1996 was at the lowest level in the past 50 years. However, single-family permit activity showed a substantial increase in 1996, rising to around 5,821 units, 21 percent over 1995. Continued improvement in homebuilding in San Diego is forecast for 1997. In the first 3 months of 1997, permits were issued for 1,406 single-family units, a 13-percent increase over first-quarter 1996 volume.
The average price of an existing single-family home in San Diego in 1996 reached $204,500, according to the Greater San Diego Chamber of Commerce. The huge appreciation in home prices experienced in the 1980s has all but evaporated. Adjusting for inflation, home prices are now about where they were in 1986. San Diego, however, remains one of the more expensive areas in the Nation.
With relatively few new apartments being added to the inventory since 1990, the rental market has become balanced and continues to tighten as the economy improves. Overall occupancy has increased to 94 percent. The vacancy rate in the newer, larger apartment complexes in San Diego in the Fall of 1996 fell to an estimated 2 percent from 4 percent in the Spring, according to a survey conducted by Market Profiles of San Diego. The weighted average rent for a two-bedroom apartment in the metropolitan area was $719.
---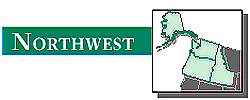 First-quarter economic expansion in the Northwest has been led by the aerospace industry and growth in the high-technology, construction, and services sectors. Nonagricultural wage and salary employment was up 3.5 percent, or 162,350 jobs, over the first quarter of 1996. Employment increased 4.6 percent in Oregon, 3.5 percent in Washington State, 2.5 percent in Idaho, and 0.7 percent in Alaska.
The first-quarter unemployment rate was 5.6 percent compared with 6.1 percent a year ago. Washington experienced a significant drop from 6.2 to 5.4 percent. The unemployment rate remained basically unchanged in Oregon (5.7 percent) and Alaska (7.6 percent), but rose slightly in Idaho (5.7 percent). There are critical labor shortages in the Seattle area where the unemployment rate has dropped to 4 percent.
In 1996 Boeing received orders worth $53 billion for more than 700 airplanes and hired 15,000 additional workers. Boeing's acquisition last year of Rockwell Defense and Space for $3 billion and McDonnell-Douglas for $13 billion boosted its market share to more than 60 percent of the global commercial airplane market. The addition of defense-related business should counterbalance the company's cyclical commercial business. Despite significantly increased production rates, demand will continue to exceed supply for several years. The duration of this current boom cycle, however, could by constrained by the inability of the housing markets and infrastructure investments in the Puget Sound area to keep up with the growing population.
Single-family permit activity in the Northwest region in the first quarter of 1997 was down almost 8 percent to 12,049 units compared with the first quarter last year. Activity in Washington State was off the most, 15 percent. Single-family activity was up 42 percent in Alaska on a small base of 326 units, while Idaho and Oregon remained almost unchanged.
Home price appreciation in Oregon in 1996 was the second-fastest in the Nation, according to a report released by the Office of Federal Housing Oversight. The average rate of appreciation for the State was 8.4 percent. In the Portland area, the median sales price increased by 8.2 percent between the first quarters of 1996 and 1997, while house prices in Salem and Eugene increased about 5 percent. Sales activity for these metropolitan areas was off a modest 3.6 percent.
Strong population growth stimulated housing market activity throughout Washington in 1996. Existing home sales were up nearly 4 percent over 1995. The median sales price also increased by 4 percent to $142,200. Nearly 62 percent of the homes sold in the State were in the Puget Sound region, where sales and price increases are expected to accelerate this year. Sales of new and existing homes in the Seattle area during the first quarter of 1997 were up more than 20 percent from the same period a year ago. Growth- management legislation, however, is limiting the availability of building sites. Soaring land prices have caused many builders to shift to the condominium market. One of the major challenges facing the Seattle metropolitan area will be to keep homeownership opportunities affordable to the middle class.
Multifamily housing units permitted through March 1997 were up 17.7 percent in Oregon and 6.4 percent in Washington from a year earlier due to continued strong market demand in the Portland-Vancouver and Seattle-Everett areas. Rental market conditions throughout the Puget Sound area are mixed. The market is tight in the Seattle metropolitan area, but conditions remain relatively soft in Bremerton, Tacoma, and Olympia. The fluctuations in military personnel at Fort Lewis and the Bremerton Naval Station have had an impact on apartment occupancy over the past several years. Hiring at Boeing and the assignment of more military personnel to the new Everett Naval Station have tightened the rental market in Snohomish County. Rental market pressures in the Portland and Salem areas have eased with the added supply of new apartments. The Eugene-Springfield and Medford areas still have somewhat tight rental markets.
---
Spotlight on Salem, Oregon
The Salem metropolitan area, like the Portland area just 50 miles to the north, has experienced robust growth in jobs, housing construction, housing sales, and housing prices throughout the 1990s. As of July 1, 1996, the population of the Salem area had grown to 319,100, an increase of 41,166 since 1990, exhibiting an annual rate of growth of nearly 2.3 percent.
Between the first quarter of 1990 and the first quarter of 1997, employment increased from 107,130 to 131,545, an average annual growth rate of 3.5 percent. The unemployment rate as of the first quarter was 5.6 percent, unchanged from a year earlier. Salem is the State capital, thus government dominates the local economy, accounting for 36,900 jobs. Government employment, however, has grown only slightly since 1990. The largest gains have been in business and professional services, mobile home manufacturing, and construction. Growth in manufacturing has been led by the electronics and electrical equipment industry.
More than 50 percent of the population moving to the Salem area is in households headed by a person in the prime homebuying age between 35 and 54. Between 1990 and 1996, permits were issued for more than 9,400 single-family units and more than 6,800 multifamily units. Single-family activity increased from 1,096 units in 1990 to more than 1,600 in 1996.
During the first quarter of 1997, 746 homes were sold, according to the Willamette Valley Multiple Listing Service, representing a 16.6-percent gain over the same quarter a year ago. The average price of a home sold was $118,500, up 5 percent from the first quarter of 1996.
Since 1994 apartment development has begun to catch up to demand. More than 2,500 multi-family units were permitted in 1995 and 1996.
As a result the previously tight market has moved to a more balanced and competitive condition. With the increased supply of new units, the vacancy rate has risen from 3.5 percent in the first quarter of 1995 to 5.7 percent as of the first quarter of 1997. Rent increases have slowed to between 2 and 3 percent over the past year. There are 625 multifamily units under construction in the Salem area, which should make the market even more competitive for the rest of the year.
---