Home > About > Organizational Charts > Office/Division Descriptions > Christopher Bourne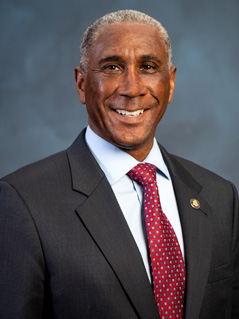 CHRISTOPHER BOURNE
Colonel Christopher Bourne, US Marine Corps (Ret.) served as an infantry officer during a 28-year active duty career that included command at every level and numerous overseas deployments, including Afghanistan and Iraq. He held staff positions up to the Joint Staff in Washington, DC where he was responsible for coalition management, managed the national commitment of forces to UN peacekeeping missions, and military planning of a Presidential Initiative to improve third world participation in UN missions. In his final active duty assignment, he served as Chief Technology Officer and Chief Training Officer in the 45,000-person Marine Expeditionary Force based in Southern California, responsible for specialized training and the innovative solutions development and fielding process.
Upon leaving active duty, Christopher helped launch a Washington, DC based consulting practice providing business development and federal marketing services. He subsequently served as National Director of Policy on the presidential campaign of Dr. Ben Carson. He joined HUD as Senior Policy Advisor in June 2017.
Christopher holds a bachelor's degree in Business Administration from Boston University, a master's degree in Military Studies from the Marine Corps Command and Staff College, and a master's degree in National Security Strategy from the National War College.