A Picture of Subsidized Households - 1996
1997 and 1998 are now available.
This Web site sketches a picture of nearly five million subsidized households across the United States. It includes: (1) Totals; (2) Indian Housing; (3) Public Housing; (4) Section 8 Certificates and Vouchers; (5) Section 8 Moderate Rehabilitation; (6) Section 8 New and Substantial Rehabilitation; (7) Section 236; (8) Other HUD subsidies; and (9) Low Income Housing Tax Credits (LIHTC). Each line of data is identified by these key numbers, 1-9, in the second position of each data record.

1996 Data are available for the 50 states, the District of Columbia, Guam, Puerto Rico, the Virgin Islands, and the Northern Mariana Islands. To view or download data for a particular State, please select from either the map (state abbreviation) or the appropriate letter below.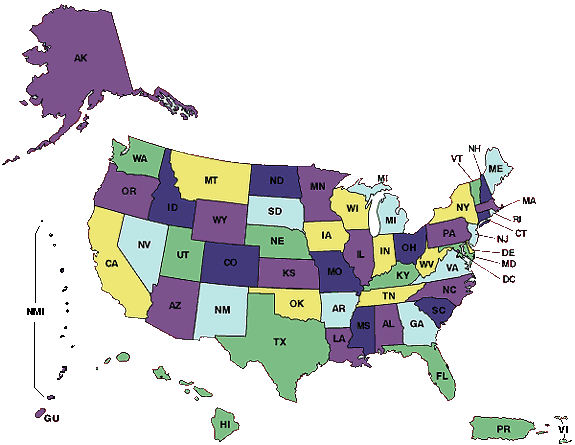 A-F | G-L | M-N | O-T | U-Z | US
---
Documentation
More details about the data can be obtained by selecting from the following topics:
The files use October 1995 through September 1996 data on the types of households in subsidized housing programs. The Census Tract Summary (Neighborhood) files show census tract data as of 1990 (the number of 1990 renters in these files was corrected 2/7/97). This is a working document and will be corrected as new information is received. We have tried to minimize errors, but the data come from so many different sources that errors undoubtedly remain. The material was compiled by Paul Burke 202-708-1060 x5888, who will appreciate comments and corrections.
---
Highlights
The database is valuable source of information about HUD subsidies. Some highlights of the data are:

The report covers nearly five million subsidized housing units, with 11 million people. Data on the occupants are missing on 27% of these units. Data on location are missing on 19% of units.
A quarter of households are wage earners and a fifth are welfare recipients. The average income of subsidized households is $8,800 per year, and 71% have incomes below $10,000. Most projects have a moderate income mix.
A third of households are elderly. Over half are minorities. Just under half include a single adult with children.
Subsidized households have been in their subsidy program for 6 years on average, and recent arrivals averaged one and a half years on the waiting list.
The average subsidized unit is in a neighborhood where one-eighth of the neighborhood are subsidized, one quarter are poor, and half are minority.
Four-fifths of people in the United States have one or more subsidized housing units in their neighborhood.
Most projects and housing agencies are small, but most subsidized units are in the large projects and agencies.