fy 1997 income limits and section 8 fair market rents
Click here to obtain a national data file with all counties and county subparts.
Click here to obtain state-level median family income estimates.
Click here to learn how HUD income limits are calculated.
Click here to learn how median family incomes are estimated.
To view information for a given county or to download information for a specific State, go to the U.S. map below and click on the State you are interested in. The file format is described below the map.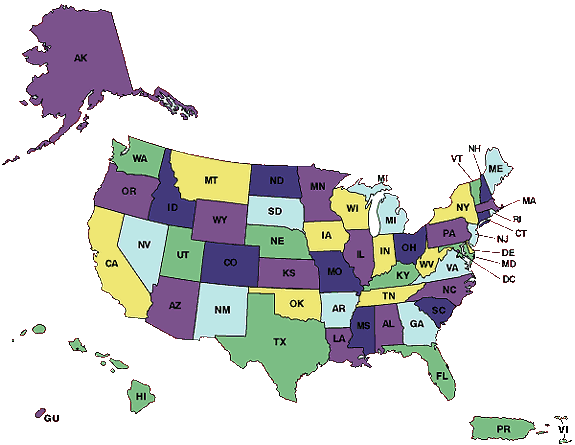 A-F | G-L | M-N | O-T | U-Z | STATES | ALL
Click here to view the file layout.
The data files provide county-level data. Income limits and FMRs are the same for all parts of a metropolitan area. In New England, a county may be split among metropolitan areas and have a nonmetropolitan part. You must use state, county, and metropolitan area codes to find the income limits or FMRs for a New England township.
Similar information is available for FY 1996, FY 1998, FY 1999, revisions to FY 1999, FY 2000, and FY 2001.
The file layout is as follows:








 Line#   Spaces    Content



-------------------------------------------------



      1       1-2        State FIPS Code

               4-5        State abbreviation

               6-9        FIPS county code

               10-37      County name

               38-43      HUD MSA code (usually same as Census code)

               50-77      MSA/PMSA name (or NONMETRO categorization)



      2       39-46      FY 1997 Area Median Family Income

   		   	 for a metropolitan area or for a 

                            nonmetropolitan county



      3       28-33      1-person HUD Very Low-Income limit

               34-39      2-person HUD Very Low-Income limit

               40-45      3-person HUD Very Low-Income limit

               46-51      4-person HUD Very Low-Income limit

               52-57      5-person HUD Very Low-Income limit

               58-63      6-person HUD Very Low-Income limit

               64-69      7-person HUD Very Low-Income limit

               70-75      8-person HUD Very Low-Income limit



      4       28-33      1-person HUD Low-Income limit

               34-39      2-person HUD Low-Income limit

               40-45      3-person HUD Low-Income limit

               46-51      4-person HUD Low-Income limit

               52-57      5-person HUD Low-Income limit

               58-63      6-person HUD Low-Income limit

               64-69      7-person HUD Low-Income limit

               70-75      8-person HUD Low-Income limit



      5       28-33      Efficiency Fair Market Rent

               34-39      1-bedroom Fair Market Rent

               40-45      2-bedroom Fair Market Rent

               46-51      3-bedroom Fair Market Rent

               52-57      4-bedroom Fair Market Rent