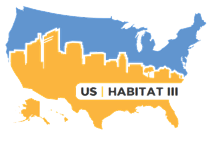 HUD, in partnership with the Department of State, is leading U.S. government preparations for Habitat III. HUD is committed to facilitating a dynamic and inclusive preparatory process that engages a diverse set of U.S. government and civil society stakeholders.
Habitat III is the United Nations Conference on Housing and Sustainable Urban Development, scheduled to take place October 17 - 20, 2016, in Quito, Ecuador. The UN convened the first Habitat conference in 1976 in Vancouver, sparking an international dialogue on urban issues. Twenty years later, at Habitat II in Istanbul, Turkey, world leaders adopted the Habitat Agenda, a global action plan aimed at providing adequate shelter for all. The Habitat III Conference is intended to reinvigorate the global commitment to sustainable urbanization. At Habitat III, participants will develop a "New Urban Agenda," an action-oriented outcome document that addresses 21st Century challenges and harnesses the tremendous potential of cities to promote sustainable development.
Learn more by expanding the sections below.