PD&R Quarterly Update: Institutional Investors in Housing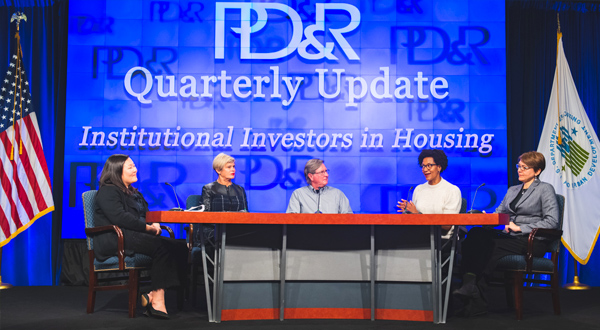 During PD&R's Quarterly Update event, researchers and community practitioners discussed institutional investors' growing role in the single-family housing market and the effects of this growth on homebuyers and renters. Photo credit: Sammy Mayo Jr
On December 6, 2022, HUD's Office of Policy Development and Research (PD&R) held a Quarterly Update event on institutional investors in housing. Researchers and community practitioners discussed institutional investors' growing role in the housing market, the effects of this growth, and actions to combat some of the negative effects of these investments, particularly on renters and prospective buyers of single-family homes. After Solomon Greene, PD&R's principal deputy assistant secretary, opened the event, HUD Secretary Marcia Fudge summarized institutional investors' role in the housing market and highlighted some recent efforts by the Biden administration to address this issue. The event featured two panels: a research panel moderated by Vincent Reina, senior policy advisor for Housing and Urban Policy at the White House Domestic Policy Council, and a community action panel moderated by Sarah Brundage, senior advisor for housing supply and infrastructure in HUD's Office of the Secretary.
Institutional Investors in Housing
In her opening remarks, Secretary Fudge noted that "in markets from Charlotte to Atlanta, from Phoenix to Milwaukee, institutional investors are reshaping local housing markets and making it more difficult for first-time homebuyers to purchase a home." Since the 2008 financial crisis, an increasing number of large corporations have purchased single-family homes to flip or convert to rentals, and these purchases accelerated during the COVID-19 pandemic. Institutional investors now own hundreds or thousands of properties, aided by their ability to outcompete individual homebuyers with all-cash purchases. Bruce Katz, cofounder and inaugural director of the Nowak Metro Finance Lab at Drexel University, explained that Sun Belt markets such as Miami and Phoenix have a substantial concentration of institutional investments, although the practice occurs in all U.S. regions. These firms' purchases are disproportionately in low-income and minority neighborhoods. Manufactured home parks, which house many low-income homeowners, are especially prone to investor acquisition and recently have been bought up by some of the largest private equity and real estate investment firms.
Large institutional investors often acquire single-family homes in need of significant repair. According to Laurie Goodman, an institute fellow at the Urban Institute's Housing Finance Policy Center, large firms generally have multiple competitive advantages over individuals when purchasing and rehabilitating homes. Before buying a property, the investor's team assesses the structure and prepares a renovation budget that is far more in depth than what most individuals could put together. Once they acquire properties, investors can often negotiate discounts from contractors because of the volume of renovation business they provide. Individual homebuyers, on the other hand, must endure an often-cumbersome application process to acquire even limited renovation financing and often are denied loans. Thus, sellers generally are more inclined to sell to institutional buyers.
Impact on Residents and Neighborhoods
As institutional investors acquire housing, they often drive up housing costs, pricing existing and potential residents out of the neighborhood. Bianca Motley Broom, the mayor of College Park, Georgia, explained that the influx of institutional investors has not only kept households from purchasing homes in the community but also priced out existing renters. The properties institutional investors have upgraded generally attract residents with higher incomes than the previous occupants, causing the neighborhood to gentrify. Elora Lee Raymond, an assistant professor in the School of City and Regional Planning at the Georgia Institute of Technology, presented research showing that Atlanta neighborhoods with multifamily acquisitions by investors had more White residents and fewer Black residents than otherwise comparable adjoining neighborhoods.
Panelists also talked about how investor acquisitions affect existing renters. Raymond found that, even when accounting for tenant, property, and neighborhood characteristics, institutional investors in Atlanta were 68 percent more likely than other landlords to file for eviction against their tenants. Displaced tenants can have a particularly difficult time finding other housing options. Goodman explained that many tenants of single-family rental operators have large families and need the space afforded by a single-family property but do not qualify for a mortgage because of their low incomes and lower credit scores. Residents of manufactured home parks can be especially vulnerable to investor acquisition. Esther Sullivan, an associate professor of sociology at the University of Colorado-Denver, said that large investors sometimes get away with charging higher fees and land rent or neglecting the communities because these landlords know that residents have their primary asset on land that they do not own.
Policies and Actions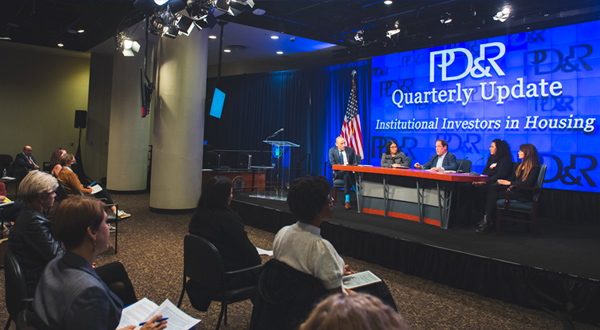 As institutional investors acquire single-family housing, they often drive-up housing costs, pricing existing and potential residents out of the neighborhood. Photo credit: Sammy Mayo Jr
The panelists discussed several actions to address some of the negative impacts large institutional investors have in the housing market. Researchers and stakeholders need accessible and accurate data to fully understand and mitigate the impact of investor purchases; however, determining the ownership of many of these properties can be difficult because some landlords purchase them under multiple corporate identities. For example, Laura Brunner, president and chief executive officer of the Port of Greater Cincinnati Development Authority, reported that 5 investors own more than 4,100 houses in Hamilton County, Ohio, and one of them owns property under 91 different names. "We do not have the data required to understand what the market share is of a given firm in a given city. It takes like three PhDs a year to put it together," said Raymond.
Katz and Raymond pointed to municipal rental registries as one solution to obtaining data on landlords. Brunner noted that once the Port of Greater Cincinnati Development Authority had the database of which landlords owned which properties, the organization was able to buy back several of the properties owned by large investors. The authority's leadership also went to local officials, who could crack down on landlords who were illegally claiming homeownership credits on their property taxes. Another solution Raymond proposed to address the data problem was to institute a "centralized federal repository and reporting requirement," either through the government-sponsored enterprises (GSEs) — Fannie Mae and Freddie Mac — or federal housing funding.
Governments can also make funding through GSEs and low-income housing tax credits conditional on providing stronger tenant protections against evictions, limiting rent increases, and monitoring the credit screening tools that corporate landlords use, said Raymond.
Other recommendations focused on more preemptive measures to limit the presence of large-scale institutional investors in the housing market. Some jurisdictions now require sellers to give tenants the first opportunity to purchase units going on the market. According to Elin Zurbrigg, deputy director of Mi Casa, a nonprofit affordable housing developer in Washington, D.C., the city's Tenant Opportunity to Purchase Act (TOPA) has allowed residents to assume ownership of their residences or form co-ops. Residents who do not purchase have used the law to negotiate better conditions or rents. Zurbrigg believes that TOPA, which emerged from the efforts of community organizers and tenant outreach initiatives, can be a model for other cities. Goodman recommended measures to make obtaining renovation financing easier for individuals seeking to purchase houses in disrepair, allowing them to effectively compete with large institutions. Other panelists highlighted strategies to help residents assume ownership of manufactured home parks. Sullivan suggested that GSEs issue more loans to allow residents to purchase the land under their homes. Terry McDonald, the executive director of St. Vincent de Paul Society of Lane County, an Oregon-based nonprofit housing developer, also supports using public funds, including community development block grants, to help residents purchase manufactured home parks.
Some of the speakers also highlighted broader initiatives to create and preserve affordable homeownership opportunities. McDonald and Broom stressed the importance of having cities form partnerships with trusted developers to build more owner-occupied housing. Broom said that localities often must seek out such partnerships because some developers lack the resources for extensive advertising. Sullivan supports zoning reforms that make manufactured home parks easier to build, explaining that federal incentives could support such reforms.
Collective Action
Secretary Fudge noted that increasing the affordable housing supply for owner occupants is a key goal of the Biden administration's Housing Supply Action Plan. At the federal level, HUD has taken several steps to combat investor activity, such as directing a greater share of HUD-owned properties to mission-driven entities and owner occupants rather than large investors. As Secretary Fudge observed, however, "We cannot do the hard work of solving this issue alone.…[I]t will take collective action to guarantee homeownership opportunities remain available for everyone in this country, especially people of color." Collaboration among federal, state, local, and community partners is crucial to tackling the impacts of institutional investors in housing.
For more on institutional investors in the housing market, see the Winter 2023 issue of Evidence Matters on HUD User.