Breaking Barriers for Renters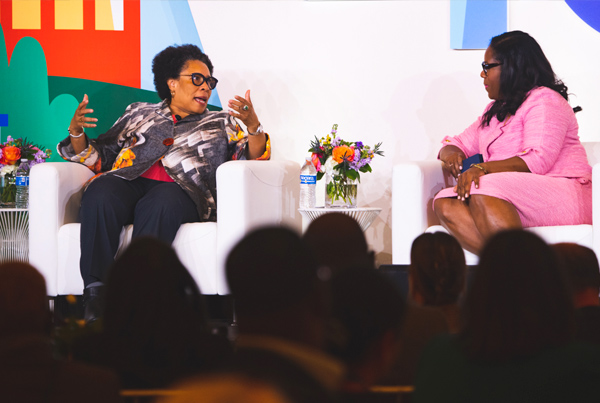 During Enterprise Community Partners' 40
th
Anniversary Conference in October 2022, HUD Secretary Marcia Fudge and other panelists discussed wealth creation solutions for renters and methods to foster community ownership with shared social and economic returns. Secretary Fudge discussed HUD's Our Way Home initiative, which helps communities create and preserve affordable housing for individuals experiencing homelessness, the elderly, or people with disabilities.
Low-income renters are struggling with skyrocketing housing costs, a widening wealth gap, and insufficient affordable housing. In October 2022, Enterprise Community Partners gathered affordable housing advocates, practitioners, and government officials for its 40th Anniversary National Conference in Washington, D.C., to discuss the problem. Lori Chatman, president of the capital division at Enterprise Community Partners, moderated the opening plenary, "Upward Mobility through Wealth Creation: The Case for Rentership." Panelists included former HUD Secretary Henry Cisneros; Tiffany Manuel, president and chief executive officer of TheCaseMade; and Daniel Tangherlini, managing director at the Emerson Collective. Following this panel, Jacqueline Waggoner, president of the Solutions Division at Enterprise Community Partners, interviewed HUD Secretary Marcia Fudge. The speakers discussed solutions to the housing affordability crisis, the importance of connecting housing to education and job opportunities, and ways to foster the shared ownership of neighborhoods among renters and homeowners alike.
Supporting Renters
Population growth and new household formation fuel demand for affordable housing, especially among those at lower rungs of the economic ladder. A large segment of the population, noted Cisneros, will not be homeowners in the short term and will require decent, affordable rental housing. Chatman pointed to the Biden-Harris administration's May 2022 Housing Supply Action Plan, which outlines several solutions to reduce the affordable housing shortage within the next 5 years through streamlined federal financing to speed up housing production, jurisdictional incentives that ease restrictive zoning laws, and other actions. HUD Secretary Marcia Fudge called for more states to outlaw source of income discrimination through legislation that bans landlords from rejecting tenants who use housing choice vouchers and other nontraditional income sources to pay their rent. Secretary Fudge also emphasized the need for policymakers and local officials to do more to engage with landlords and assess their needs. Outreach efforts will be especially helpful to encourage mom-and-pop and medium-size landlords to allow voucher holders to move into their units.
In June 2022, HUD launched the Our Way Home initiative, which builds on the Housing Supply Action Plan and offers several tools to help local communities create and preserve housing that is affordable, safe, and accessible for residents. In a June 2022 statement, Secretary Fudge noted that Our Way Home is a call to action for communities to create permanent housing for people experiencing homelessness, the elderly, and people with disabilities. In addition, Our Way Home will support transit-oriented development that connects households to jobs and community amenities. Cisneros noted that public housing can also be a critical platform to help low-income households build wealth and join the middle class. One method for doing so, he explained, is by creating access to education in housing developments. Under his leadership, HUD designated 25 public housing sites as Campuses of Learners where residents could access job training, computer labs, and other skill-building resources to improve their economic mobility.
Resident Voices
Tenants' lived experiences and input can inform strategies and programs to improve upward mobility. Manuel of TheCaseMade, a training organization for social justice advocates, explained how interviews with affordable housing residents shed light on their views of wealth and ownership. When asked what wealth means to them, residents expressed the ability to obtain peace of mind and provide for their families. In addition, residents discussed debt as a barrier to homeownership. These interviews informed the creation of Enterprise Community Partners' Renter Wealth Creation Fund, which benefits both renters and social impact investors. Tenants living in properties in which the fund invests can receive cash back when they pay their rent on time that they can use for savings and debt reduction. In addition, residents have access to individualized services to help them gain economic mobility, and, like homeowners, they can receive a share of the proceeds from a property sale. Resident loyalty programs at such properties help investors ensure high occupancy levels and lease renewals.
Including community residents in the planning process has the potential to cultivate wider support for an affordable housing project and speed development. Tangherlini, managing director at the Emerson Collective, a philanthropic organization that supports nonprofits in several issue areas, challenged attendees to consider strategies that would allow renters to develop the same sense of shared stake in their community as homeowners have. He explained that improving low-income households' access to soft second mortgages can help more families afford a downpayment on a home, and developing community land trusts can spur collective ownership of community assets and develop shared equity. Tangherlini emphasized the importance of creating "mezzanine levels of participation and ownership" to move beyond the dichotomy of owners and renters, suggesting that community ownership will be critical to helping families understand that people do not necessarily have to be homeowners to own property or have a stake in the community in which they live.
Looking Ahead
As more Americans identify affordable housing as a national crisis and a policy priority, resident-informed solutions will be critical for building community support for affordable rental projects. Secretary Fudge emphasized the need for policymakers and affordable housing advocates to develop solutions through site visits and conversations with residents. "We have to show how rented homes are just as meaningful, just as deserving, and just as worthy as an owned home," Chatman stated, underscoring the importance of investing in affordable rental housing. Strategies for wealth creation and community ownership can help low-income renters and their neighbors share social and economic returns.