Eviction Prevention Strategies To Promote Housing Stability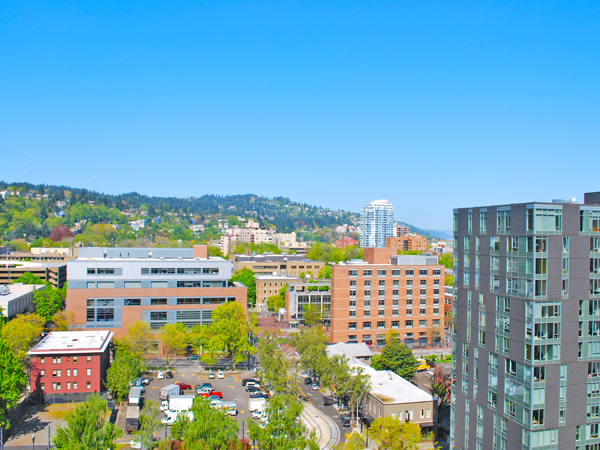 The eviction prevention measures that local and state governments adopted during the pandemic, such as tenant right to counsel rules and landlord incentive programs, have helped ensure long-term housing stability for vulnerable families. Photo credit: istockphoto.com/thegreenercity
When the COVID-19 pandemic began in late 2019, its economic impact threatened the ability of many households to pay their rent and mortgages. Localities nationwide responded by quickly implementing eviction prevention measures to keep people stably housed. As part of its November 2021 Virtual City Summit, the National League of Cities (NLC) held a webinar titled "Eviction Prevention as a Long-Term Strategy for Housing Stability." During this panel, the four speakers discussed measures that various localities have taken to avert evictions during the pandemic and how these changes can influence long-term housing policy. The webinar, moderated by Lauren Lowrey of NLC, used two cities as case studies: Portland, Oregon, and Minneapolis, Minnesota.
Five Primary Policy Changes To Reduce Evictions
The webinar began with a presentation from Margaret Hagen, director of Stanford Law School's Legal Design Lab. Hagen discussed how localities have responded to the crisis by proposing changes to local laws governing evictions, the legal processes through which evictions proceed through the courts, and the regulatory framework surrounding rental housing. According to data gathered by the Pew Charitable Trusts, the number of eviction-related bills introduced and enacted at the state level of government increased sharply in the first half of 2021; approximately 213 bills were introduced or enacted by June 30, 2021, compared with only 98 the previous year, and these recently adopted changes will persist long after the current eviction crisis passes. Hagen reported that these interventions tend to fall into five categories: Just Cause rules, tenant right to counsel in eviction cases, court process reform, incentivization of landlords to avoid evictions, and regulatory oversight of rentals.
Just Cause rules involve changing the relevant law governing evictions to limit the circumstances under which a landlord can file an eviction lawsuit against a tenant, requiring an appropriate reason for the eviction. Although Hagen points out that nonpayment of rent is considered a just cause for eviction, these rules eliminate arbitrary evictions. The state of New Jersey has a Just Cause law, as does the city of Philadelphia. Other cities, such as San Francisco and New York, have Just Cause laws for certain tenants, such as those occupying rent-regulated units.
Adoption of tenant right to counsel rules and other court process reforms are measures targeting the legal processes by which eviction cases move through the courts. In most court systems, Hagen explained, eviction proceedings are rapid and offer tenants few procedural protections. By adopting a local measure that affords tenants a right to counsel — coupled with free legal aid for eligible individuals facing eviction — localities can substantially improve tenant outcomes. Other court process reforms include such measures as increasing (or imposing) fees for filing an eviction lawsuit, allowing judges to divert cases to Emergency Rental Assistance programs, or allowing court navigators or mediators to explain the process to plaintiffs.
Hagen characterized efforts to create incentives for landlords to reduce evictions as "employing both the carrot and the stick" of housing law. She discussed the Gold Star Landlord Program in Tulsa, Oklahoma, as an example of a "carrot." In this free, voluntary program, Tulsa landlords agree to abide by requirements such as participating in a mediation program before starting eviction proceedings and allowing the Tulsa Health Department to inspect their rental units. In exchange, the city advertises the landlord, refers potential tenants who have completed Housing Solutions' Housing Stability Certificate program, and offers other incentives financed by the city's Affordable Housing Trust Fund. By contrast, Hagen characterized more punitive measures as those targeting abusive landlords and serial eviction filers.
The final category of intervention Hagen described, regulatory oversight of rentals, involves government agencies ensuring that rental housing is safe and habitable and that landlords adhere to fair housing laws and avoid abusing the eviction court system. As an example of relevant legal changes, Hagen cited source of income protections — regulations that prohibit discrimination against tenants receiving housing assistance, such as housing choice vouchers.
Regulatory Control and Informational Services in Portland, Oregon
Christina Dirks, the rental housing policy and program coordinator for Portland Housing Bureau, in Portland, Oregon, discussed her city's Residential Rental Registration Program and its impact on housing stability. The program's registry, administered by the Rental Services Office, records all rental units in the city. The registry was created in 2019 after a July 2018 law mandated that all landlords register their properties annually when filing their business taxes, rendering this an early example of what Stanford's Legal Design Lab would likely characterize as a means of exerting regulatory oversight over rentals.
Dirks explained that the goal of the registry is to create an archive of the city's rental housing stock and generate a revenue stream to pay for the services that the Rental Services Office provides. The fee to list a market-rate rental unit in the registry is $60, and affordable units can be registered for free. This income fully funds the office as well as a telephone hotline and email help desk for landlords and tenants who have questions about housing law or need referrals for eviction defense, tenant legal services, educational services, fair housing assistance, relocation help for tenants in substandard housing, or volunteer mediation services.
Dirks estimated that approximately 75 percent of landlords are compliant with the registry. The office plans to use the registry for data analytics functions and integrate it with other city systems.
Minneapolis, Minnesota Implements Right to Counsel
Kaela McConnon Diarra of the city of Minneapolis Civil Rights Department and Dean Porter-Nelson of the city's Community Planning and Economic Development Department discussed the October 2021 decision of Minneapolis City Council to approve right to counsel legislation for low-income renters facing eviction. Porter-Nelson provided some context for the decision: "From national examples, we know that right to counsel causes better outcomes, and it impacts communities of color most substantially. Also, demographically, Minneapolis shifted to majority-renter over the last 5 years, so our policymakers have been focused on enhancing renter rights and tenant rights."
The city is providing free lawyers for eligible tenants facing eviction through a contract with a legal aid society. Tenants will access this assistance through the Minneapolis Civil Rights Department, which already serves city residents experiencing wage theft, discrimination, or police misconduct. McConnon Diarra remarked, "I'm excited about this as an additional tool in our toolbox to address people who are in crisis. Evictions tend to happen fast, and a discrimination investigation would not usually be able to address that immediate need."
Long-Term Interventions
The eviction prevention measures that local and state governments adopted in response to the pandemic-induced housing crisis have been vital to preserve the health and well-being of individuals and households facing job loss or reduced income. Some of these measures, such as Just Cause and tenant right to counsel rules and landlord incentive programs will continue to mitigate the adverse impacts of eviction beyond the pandemic and ensure long-term housing stability for vulnerable families.