Increasing Multifamily Housing Near Transit in Massachusetts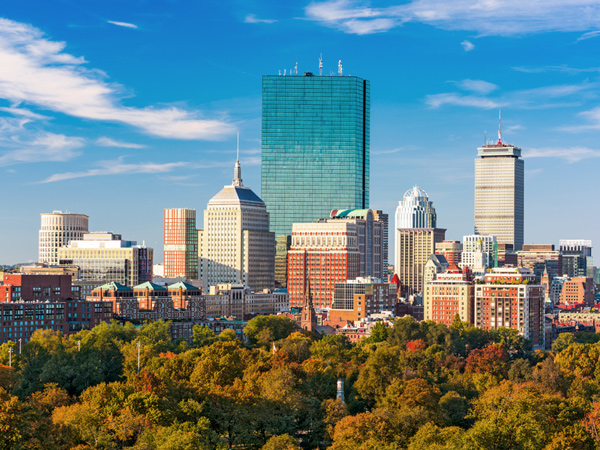 In a recent report, researchers from Boston Indicators and the Brookings Institution posit that legalizing moderate-density housing near all transit in Massachusetts would expand access to high-cost areas, particularly in Greater Boston. Credit: Sean Pavone/shutterstock.com
Despite economic growth from 2009 to 2020, housing supply in Greater Boston fell short of demand, and at the same time, housing prices increased 53 percent. In a recent report, "Zoned Out: Why Massachusetts Needs to Legalize Apartments Near Transit," researchers from Boston Indicators and the Brookings Institution identified the problems that result from overly restrictive zoning in Boston's suburbs and proposed the adoption of a statewide policy to allow the production of moderate-density housing such as townhomes and small multifamily buildings located within a half mile of all transit stations in Massachusetts. Researchers examined how such a policy would impact housing affordability in affluent, suburban neighborhoods near four commuter rail stations: Beverly Farms, Melrose Cedar Park, Needham Heights, and Wellesley Hills. On October 21, 2020, Boston Indicators and the Brookings Institution co-hosted a virtual launch of the report, where panelists discussed current housing affordability challenges and solutions in Greater Boston, as well as best practices and lessons from other locales.
Moving from Problems to Solutions
Zoning laws that limit neighborhoods of Greater Boston to single-family housing have led to several challenges at a regional scale. First, few people are able to access housing in high-cost suburban areas. At the root of this issue, noted Luc Schuster, director of Boston Indicators, is a "mismatch of interests" between decision making at the local level and the broader needs of the region. This mismatch has led to the adoption of single-family zoning, which is essentially a "ban on all other forms of housing" Schuster said. Second, with little housing located near public transportation and employment, residents face long commutes and further dependence on cars, leading to traffic congestion and environmental degradation. It is increasingly becoming the case that people want to live in more walkable neighborhoods near schools, restaurants, and other amenities, but without more modest development near transit, meeting these demands will be out of reach. Third, single-family zoning laws restrict neighborhoods to high-income, predominantly white residents, thereby perpetuating racial and economic residential segregation.
Jenny Schuetz, fellow at the Brookings Institution Metropolitan Policy Program, discussed how suburban neighborhoods in Greater Boston could look with a different statewide approach to zoning. The researchers' proposal to legalize moderate density multifamily housing across the state would help "level the playing field for development" around public transportation, Schuetz noted. Moderate density housing can include townhouses, duplexes, triplexes, and low-rise multifamily buildings, rather than high-rise apartment buildings to maintain the neighborhood feel. Redeveloping neighborhoods that have high land values but low density on large lots and unused greenspaces can offer the greatest long-term benefits, Schuetz indicated.
Schuetz pointed out that it is financially feasible for developers to redevelop single-family lots as townhouses or low-rise multifamily condos near transit without an additional subsidy. By dividing a lot across several buyers in Wellesley Hills, for example, the cost of developing a new townhouse or condo is about $800,000 or $500,000, respectively, compared to nearly $2 million to develop a new single-family home. In Wellesley and Needham, the monthly cost of new condos would fall below HUD's small area fair market rents, thus potentially allowing families with Housing Choice Vouchers to rent condos in these areas. The rate of turnover ― how often an existing home is sold and converted ― would be a gradual process rather than all at once. At a 5 percent lot conversion rate, about 200 to 300 new condo units could be built in each of the 4 suburbs within 5 years of passing legislation. A 10 percent lot conversion rate could substantially increase medium density housing with an estimated 400 to 600 new condo units in each of the 4 suburbs. Adopting this proposal would expand and diversify housing stock in suburban areas and relieve pressure from the few cities close to the urban core that allow multifamily development such as Boston, Cambridge, Malden, and Newton.
Allowing moderate density housing near all transit in Massachusetts would open up high cost areas to people who have traditionally been disenfranchised and also spur economic gains due to increased ridership. Janelle Chan, senior policy fellow with the Massachusetts Housing Partnership, advocated for the need to increase the average number of units near rapid transit and commuter rail stations in Greater Boston from 6.5 units to 10 units per acre, which could result in over 250,000 new units of housing. She indicated that building more housing is merely foundational, but to resolve equity concerns, the state needs to be more deliberate by examining different modes of transit-oriented development such as bus ridership and identifying ways to prioritize improvements to stations located in areas that lack walkability and connectivity to services.
Learning from Successes
Other states have pursued zoning reform through diverse coalition-building, which can offer some lessons for Massachusetts. In 2019, Oregon became the first state to successfully enact a statewide rezoning law to allow duplexes, triplexes, and fourplexes on land traditionally zoned for single-family housing. Taylor Smiley Wolfe, director of policy and planning at Home Forward ― a public corporation which is the largest provider of affordable housing in Oregon ― indicated that strong leadership from elected officials was vital to Oregon's success. Additionally, Wolfe explained that starting the conversation early was critical to building momentum and shifting the dialogue on the state's role in local land use. Oregon also developed a bipartisan work group and reached out to stakeholders to help the bill gain traction. A lengthy amendment process also gave time for local jurisdictions to express their concerns and for lawmakers to address them.
Realizing Opportunities
A statewide policy in Massachusetts that allows the conversion of single-family housing into moderate density housing near transit could enable households with lower incomes the opportunity to access highly desirable neighborhoods. Such efforts could mitigate residential segregation, reduce development costs as a result of allocating more units per lot, and increase transit ridership. In the report, the researchers indicate that the state can have a role in local land use planning while still allowing local jurisdictions some leeway in determining models that work in their local contexts. Vital to ensuring compliance among cities, the state should collaborate with local jurisdictions in establishing a policy framework but should also ensure accountability through strong enforcement mechanisms, Wolfe indicated. Additionally, pairing tenant protections alongside zoning reforms can help lawmakers to develop a larger coalition of support and mitigate tenant displacement and other negative consequences. Although the first step in a long process, eliminating single-family zoning, is vital to ensuring that high-opportunity areas become inclusive for residents of various socio-economic and racial groups.