Addressing the Affordable Housing Gap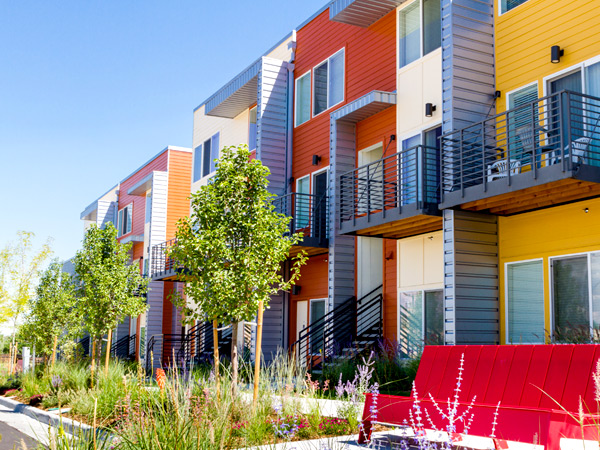 A panel at the 2018 Solutions for Affordable Housing convening explored potential strategies to close the gap between the supply of and demand for housing affordable to low- and moderate-income households.
The supply of housing in the United States that is affordable to low- to moderate-income renters and homeowners (those earning up to 140 percent of area median income) remains insufficient to meet the demand. At last November's Solutions for Affordable Housing convening hosted by the National Housing Conference (NHC), one panel, "Filling the Affordable Housing Gap," explored a number of potential strategies to close this gap. Lesli Gooch, executive vice president of government affairs and chief lobbyist at the Manufactured Housing Institute; Julia Gordon, executive vice president of the National Community Stabilization Trust; Jim Gray, manager of the Duty to Serve Program at the Federal Housing Finance Agency; and David Ledford, executive vice president for housing finance and regulatory affairs at the National Association of Home Builders, joined moderator Tristan Bréaux, NHC policy director, to discuss this critical topic.
Persistent Challenges, Promising Successes
Foremost among the persistent challenges, said Ledford, are state and local regulations that increase development costs. He noted that local fees sometimes target affordable housing because the communities do not welcome affordable housing. Nevertheless, dedicated affordable housing developers have sought to overcome such obstacles, although these barriers have often prevented them from building to the scale needed. In addition to scaling back excessive regulations, Ledford said that federal resources, along with strong local leadership and planning that accounts for housing when seeking to attract jobs, are needed. Ledford mentioned Old Town Commons (OTC), a development in Alexandria, Virginia, as an example of the potential of public-private-partnerships. OTC redeveloped public housing into 245 market-rate townhomes and 134 public housing apartments.
As Bréaux put it, "[T]here is no silver bullet to address affordable housing [challenges]." Instead, these challenges must be addressed on several fronts simultaneously. Gordon argued that in addition to rental housing, affordable homeownership should be part of any affordable housing plan. The panel discussed various approaches to increase affordable homeownership, including a form of place-based tax credits, financing incentives for specific markets, and manufactured housing.
Promoting Pathways to Affordable Homeownership
Focusing on the markets that have not recovered from the financial crisis, Gordon identified areas where many houses would be viable with some renovation, but the surrounding comparable sales make it difficult to finance renovations that do not exceed the property's market value. To address this problem, Gordon suggests a tax credit that closes the value gap between the money required to build or rehabilitate a home and its market value. The credit would promote homeownership for households earning less than 140 percent of the area median income (AMI) through the renovation of existing stock or building on vacant lots. Gordon anticipates that such a policy could achieve greater scale than current efforts, which tend to be one-off rehabilitation projects. Like the low-income housing tax credit, this credit would run through state housing finance entities. The tax credit would be realized when a sale is made and only for the actual amount of the value gap, thus ensuring that the municipality does not subsidize an excess amount that benefits only the seller. Gordon noted that many of the tools that localities have for assembling vacant properties for redevelopment, such as land banks, can be made more effective by removing the uncertainty of the value gap.
Gray addressed additional efforts to help buyers finance affordable homeownership in markets that have lacked capital investment. He described an existing federal program, Duty to Serve, that operates through the government-sponsored enterprises (currently in conservatorship) Fannie Mae and Freddie Mac. Duty to Serve fosters qualitative programming aimed at developing a secondary market for loans serving three specific markets — manufactured housing, rural housing, and affordable housing preservation — to assist households earning incomes of up to 140 percent of AMI. Fannie Mae and Freddie Mac developed plans for the program during 2017 and began implementing them in January 2018, although they are still working out protocols for program evaluation and reporting. Gray said that, particularly if there is persistent public engagement, "Duty to Serve offers promise to help meet some of the big, yawning gaps in affordable housing in this country."
Gooch, an industry representative, argued the case for one of the three Duty to Serve markets — manufactured housing. She emphasized that manufactured housing is a supply-side solution that increases the supply of affordable housing not through direct subsidies but by reducing the costs to construct it. She reported that manufactured housing makes up only 7.3 percent of the nation's occupied housing units but 10 percent of housing starts. Gooch added that manufactured units provide safe, quality, affordable housing that is typically indistinguishable from site-built homes. Approximately 35 percent of manufactured housing is constructed in manufactured housing communities that offer amenities comparable to those in other neighborhoods. Gooch indicated that federal regulations can still present hurdles for manufactured housing and stated that policymakers must ensure that the Federal Housing Administration, U.S. Department of Veterans Affairs, and U.S. Department of Agriculture mortgage insurance programs include manufactured housing. She said that one problem relates to the lack of a secondary market for loans financing the purchase of manufactured housing on land that is leased by the homebuyer. Gooch also noted that the federal building code under which manufactured housing falls needs to be updated more efficiently to keep up with innovations in homebuilding.
Closing the Affordability Gap
Closing the affordable housing gap in the United States will require ongoing, across-the-board efforts. The panelists argued that such efforts can include policies to promote both affordable rental housing and affordable homeownership opportunities through a variety of tools such as public-private-partnerships, tax credits, financing incentives, and alternative construction materials and methods.