Adaptive Reuse in Suburban Housing Markets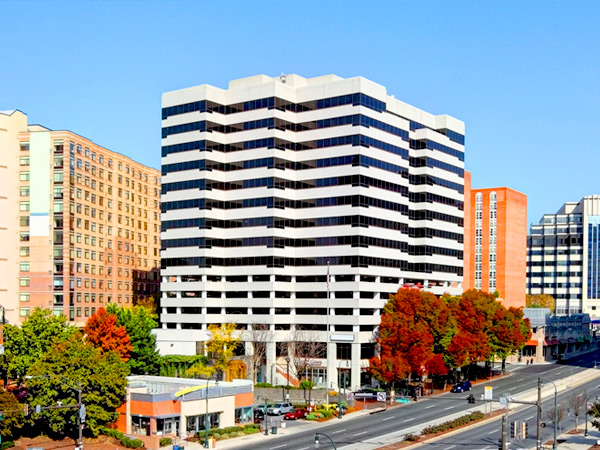 In markets with a large amount of underutilized office space, adaptive reuse of office buildings can be an opportunity for developers to create relatively low-cost housing. In Silver Spring, developer ProMark Real Estate Services renovated an office building into 102 condominiums sold at workforce housing prices.
The 2008 recession created a lasting high-risk environment for the retail, office, and residential markets, changing the way tenants lease space to live and work and creating demand for new models of housing. As part of the second session of the Montgomery County, Maryland Planning Department's winter speaker series, The Economic Future of the Suburbs, two real estate professionals spoke about how developers and property owners can respond to shifting preferences for housing and commerce. New community-based housing models have emerged to meet the increased demand for flexible, short-term housing options. Similarly, retail and office tenants now tend to seek out smaller spaces with shorter-term leases, leaving many older buildings vacant and obsolete. One market response to this problem is to adaptively reuse these buildings as housing, as was done by developer ProMark Real Estate Services in Silver Spring, Maryland with the conversion of an underutilized office building into the Octave 1320 condos. With Octave 1320, ProMark demonstrated how such projects can be less expensive than new construction. In the future, developers must prioritize adaptability in building design to keep up with rapidly changing markets.
New Trends in Housing Demand
Heather Arnold, director of research and analysis for Streetsense, said that in 2016, the homeownership rate dipped to its lowest point since 1962. Arnold attributes this decline to the fact that people have felt more uncertain about the stability of their jobs since the recession and therefore require housing flexibility in case their employment situation changes. This uncertainty has given rise to the phenomenon of "hare-footed housing," in which people, particularly millennials, jump from place to place. Housing is seen not as an investment but rather as a place to sleep. Arnold also believes younger generations own fewer possessions and therefore assign less value to having a permanent home.
To meet this demand for hare-footed housing, startups such as WeLive and Common have created new, community-based models. WeLive operates microunit apartment buildings that offer extensive amenities and programming, whereas Common curates compatible people to share a group house or apartment. Arnold foresees coliving arrangements becoming more prevalent, particularly among single parents who could benefit from the sharing of parental responsibilities among roommates.
Flexible Design and Adaptation
One of the biggest challenges facing developers today is adapting to rapidly changing markets within a built environment filled with obsolete buildings originally meant to be used for up to 100 years. Developers interested in building new properties may consider designing them with the flexibility to adapt easily to different needs. Ideally, such buildings could function as office, retail, or residential space depending on which type is currently in demand. Adapting existing buildings that have reached the end of their useful life in their current form can be trickier. According to a study commissioned by the Montgomery County Planning Department, the Washington, DC metropolitan area currently has approximately 72 million square feet of vacant office space, mostly in large-format office buildings considered unleasable today. Peter McLaughlin, development director of ProMark Real Estate Services, explained how some of these properties could be redeveloped to create affordable housing.
ProMark recently transformed a 1960s-era Class C office building in downtown Silver Spring, Maryland, into Octave 1320 — 102 new condominiums sold at workforce housing prices (affordable to households earning between 80 and 120 percent of the area median income) and financed without public subsidy. One of the primary reasons McLaughlin gave for why adaptive reuse can deliver units at such low prices was that the regulatory process for redeveloping an existing building can be much easier than for new construction. In Montgomery County, developers that do not change a project's lot size or building footprint do not need to go through a site plan or entitlements process with the county, which allows them to deliver their products to market much more quickly.
Converting Office Space Into Residential Units
McLaughlin asserted that developers considering an adaptive reuse project must first look for specific characteristics when searching for a property, because some buildings are not well suited to residential use. For Octave 1320, ProMark chose a rectangular building, because such structures are more easily converted to residential use. Developers will also need to be flexible with their design and come up with creative solutions for using all the space. ProMark transformed Octave 1320's "dead spaces" — those that did not meet building code requirements for residential units — into amenity rooms and converted the building's loading ramp into terraces for the basement units. Another strategy for keeping costs down is to take advantage of assets in the surrounding environment. ProMark chose not to build a parking garage for the building, which would have increased unit costs by $30,000 to $40,000. Instead, residents can park in the adjacent county parking garage or use public transit.
Through the example of Octave 1320, McLaughlin demonstrated how developers can redevelop office buildings to deliver low-priced residential units. Nearly 80 percent of Octave 1320's units went to first-time homebuyers, and 13 percent of buyers made less than 80 percent of the area median income. With the real estate market undergoing rapid changes, new models of housing will be needed to meet changes in demand. The reuse of existing buildings can be an efficient way to produce new housing. Although not every underused office or retail building is suitable for redevelopment, developers can seek out creative opportunities for adaptation and construct new buildings to be resilient to market changes.