Zoning Reform at the State Level
Exclusionary land use laws perpetuate segregation, threaten the supply of affordable housing, and hinder sustainable development. Although these issues are mainly a product of local zoning codes, states can enact zoning reforms that address equity, economy, and environmental concerns. On September 30, 2021, the American Planning Association (APA) held a virtual event, "Winning Strategies to Zoning Reform at the State Level," at its annual Policy and Advocacy Conference. Moderated by Brian Lockland, chair of APA's Housing and Community Development Division, the panel focused on how organizations in three states leveraged research, coalition building, and education as tools to advocate for new zoning legislation. Panelists included Sara Bronin, founder of Desegregate Connecticut; Andrea Brown, executive director of Michigan's APA chapter; and Dana Cuff, director of cityLAB at the University of California Los Angeles.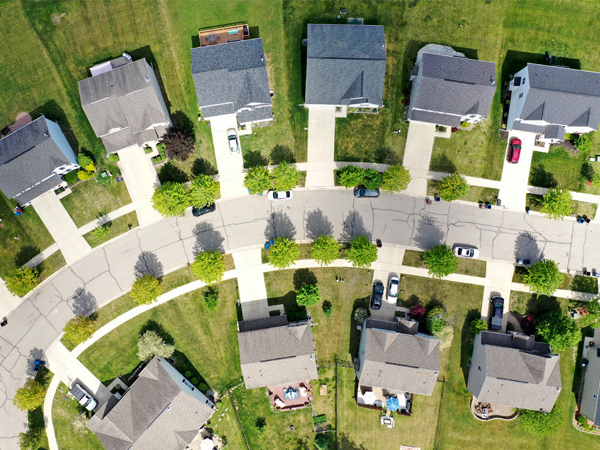 Large lot zoning requirements can become a problem when the size of the lot negatively affects housing affordability and excludes lower income families. Photo credit: istockphoto.com/Better Planet Media
Research and Data as an Advocacy Tool
Research is a necessary starting point for most state zoning reform, because it provides evidence for inefficiencies in existing land use and can demonstrate the ways in which new legislation could benefit various stakeholders. Desegregate Connecticut, a zoning reform campaign with a primary focus on equity, started its efforts with a massive data collection project called the Connecticut Zoning Atlas. The atlas chronicled more than 32,000 pages of local zoning regulations, which the researchers analyzed to show that single-family homes on 1-acre lots occupy 81 percent of residential land in the state. This requirement for large lot sizes makes Connecticut an expensive state in which to live and further exacerbates segregation by excluding lower-income families. A similar affordability problem exists in California, where single-family zoning covers nearly 75 percent of the state's residential land, according to Cuff's research.
In Los Angeles, cityLAB initially focused on zoning reform at the local level, where the problem seemed to originate and where it was acutely experienced. The lab discovered the illegal presence of accessory dwelling units (ADUs) in backyards and garages, and it published a 2010 research pamphlet describing the logistics, design, and implementation of infill housing. After a 10-year research period, the lab was unable to remove local legislation barriers that prevented the construction of 80 to 90 percent of potential secondary units; however, a local assemblyman approached Cuff and her cityLab colleagues to coauthor AB2299, a state bill passed in 2017 encouraging ADU construction by overriding local restrictions.
State Zoning Reform Possible Through Coalition Building
Organizations in California, Michigan, and Connecticut have used coalition building to allow various entities to share their knowledge and resources as they enact zoning reform. In Los Angeles, the coalition between a neighborhood and a local university helped advocates address resistance from the city council. For example, when initial proposals allowing corner lots for ADUs were rejected, cityLAB gained permission by forming a transactional relationship with neighborhood organizations in which proposed ADU lots would offer a greening component or neighborhood amenity. In an advocacy shift to promote housing for education professionals, cityLAB has partnered with the California School Boards Association to pass AB780, which overrides local zoning restrictions on building housing on school property.
Desegregate Connecticut is a coalition of 80 nonprofit members, neighbors, planning professionals, and law students who help address zoning affordability and equity issues. The coalition has engaged legislators who have attended its press events and rallies. Bronin explains that by directly involving legislators, they were able to quickly pass proposals such as HB6107, which, among other things, legalizes ADUs and limits parking mandates. The bill also creates a model form-based code, making Connecticut the first state to model design guidelines for buildings and streets that cities can adopt.
Although Connecticut and California saw clear paths to state legislative actions, Brown explains that similar changes to Michigan state laws may be less likely because of a lack of political consensus. To overcome this challenge, Michigan's APA chapter leveraged relationships with the Housing Michigan coalition along with funding from state agencies and grassroots efforts with nonprofits to promote housing solutions at the local level. The coalition created a how-to zoning reform guide that can help local governments facing problems such as neighborhood opposition, overly restrictive zoning codes, and a lack of planners. The guide explains actions at the local level that stakeholders can take under existing state laws, such as making dimensional modifications, using by-right processes, and rezoning single-family areas as multifamily and mixed-use zones.
Storytelling and Visualization as a Means of Persuasion
Effective storytelling and visualization can be persuasive tools to help justify proposed zoning reforms to legislators, skeptical residents, schools, business owners, and other community members. The Housing Michigan coalition's how-to guide also provides talking points that target various audiences. In addition to creating compelling videos, Desegregate Connecticut has encouraged storytelling through more than 70 op-eds written by community members and press events and rallies where legislators speak directly to residents. Michigan and California have used graphics to help residents and legislators understand how diverse housing types can integrate into neighborhoods. cityLAB presented models to show what ADUs on corner lots and alleys might look like if proposed legislation were passed, and a pattern book by the Michigan Municipal League, a Housing Michigan coalition member, shows local governments how multifamily units would look in areas previously zoned for single-family homes. As more states turn to zoning reform to solve pressing housing issues, strategies adopted in Michigan, California, and Connecticut serve as advocacy models that rely on a strong foundation of research, coalition building, and effective communication with stakeholders.