The Affordable Housing Potential of Manufactured ADUs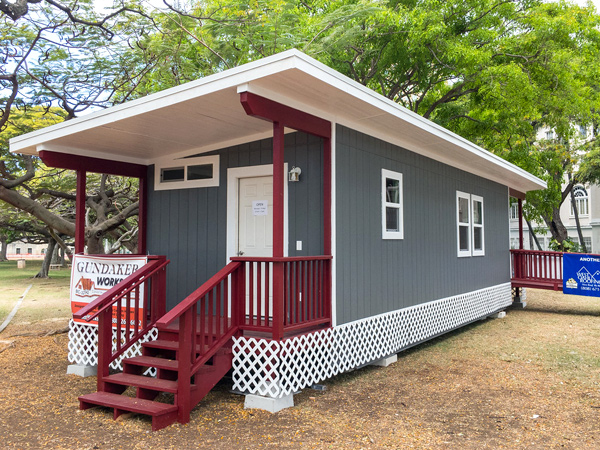 An accessory dwelling unit (ADU) is a smaller secondary residence colocated with an existing home, whether physically within the same structure or merely occupying the same property. Credit: "
Accessory Dwelling Unit at the Capitol
" by 
Sightline Institute
 is licensed under 
CC BY 2.0
.
Often called in-law suites, granny flats, secondary units, or accessory apartments, accessory dwelling units (ADUs) are additional living quarters on single-family lots that are independent of the primary dwelling. These accessory units can be physically attached to the main dwelling — for example, occupying previously unused space in an attic or garage — but they often are built as independent structures elsewhere on the lot. In addition to providing homeowners with rental income, ADUs can serve as a form of naturally occurring affordable housing because of their small size and relatively low development costs. In August 2020, the Population Health Learning Collaborative held an online summit, "Innovations in Naturally Affordable Housing," that featured a webinar focusing on how manufactured housing can enhance the affordability and prevalence of ADUs.
Developing Manufactured ADUs
In the webinar "Increasing Residential Density with Manufactured ADUs," presenters Patrick Quinton and Galiano Tiramani discussed the business models of their respective private companies with moderator Bill Barberg of the consulting firm InsightFormation Inc. Both Quinton's Oregon-based Dweller and Tiramani's Nevada-based Boxabl prefabricate small residential units in a factory setting, ship them to a homeowner's property, and assemble and connect them to utilities onsite.
Tiramani and Quinton contend that manufactured ADUs provide two primary advantages over traditional site-constructed units: a simpler — and therefore faster and cheaper — development process and the availability of alternative financing models that do not rely on the homeowner's existing equity. In addition to these advantages, both companies also advertise their products as stronger and more resilient than site-built units. "We're outperforming [traditional builds] on wind ratings, fire ratings, [and] energy ratings," Tiramani said.
In traditional ADU construction, a homeowner must obtain designs, contract with a builder, navigate local codes and ordinances, and finance the project. "[ADUs are] the only form of housing in which we expect individual homeowners to navigate the development, financing, and permitting processes," said Quinton. The complexity of each step of the development process adds stress, time, and expense, ultimately presenting a barrier to many homeowners who otherwise might be interested in adding an ADU to their property.
By contrast, companies specializing in manufactured ADUs can take on some or all of these roles for the homeowner. Because floor plans are standardized — Dweller currently offers six different ADU plans, whereas Boxabl has a single-size room module that can be deployed singly or in combinations — there is no need to consult an architect or designer. The customer merely selects the desired finishes and features from the available options, and the company manufactures the unit to those specifications at the production facility. The extent to which homeowners can customize their units varies by producer. Because most of the construction happens offsite in a controlled factory setting, typical variables such as weather and the availability of local labor are less relevant to the timeline of the project.
The manufacturer may also take on the onsite work of assembling the unit, landscaping, obtaining permits, and completing utility hookups. Dweller performs these functions and includes all of these considerations in its fixed prices, which range from $120,000 to $160,000 in the Portland, Oregon metropolitan area. Boxabl sells only the physical unit and refers customers to a certified local installer; as a result, the company is able to advertise a per-module cost of only $49,500.
Dweller claims that one of their manufactured ADUs can be produced, deployed, and installed in as few as 6 months — less than half of the 18 to 24 months required for a homeowner to build a detached ADU using traditional methods.
Financing
Homeowners who wish to build an ADU typically finance the project with a home equity line of credit in the form of a standalone second mortgage, cash-out refinance, or similar product. Although this method is appropriate for homeowners with sufficient equity, it is inaccessible to many. Quinton said that relying on home equity financing to drive the growth of the ADU industry will suppress the supply of ADU production and exclude most homeowners, including those who could benefit most from alternative housing options and extra rental income. Relying on home equity also gives the first mortgage holder "veto power" over whether an ADU is built even when a homeowner wants to have one, a fact that can reduce the prevalence of ADUs and ultimately decrease residential density in areas that would benefit from additional housing units.
The speakers and Barberg discussed several solutions to the issue of ADU financing, including the use of consumer and chattel loans. Quinton explained that Dweller has piloted a financing mechanism for ADUs that does not require money down or home equity. In short, Dweller takes out a ground lease for part of the owner's property and develops, owns, and manages the resulting ADU. The company and the homeowner share the rental income from the unit, and the homeowner can buy out the ground lease and take full ownership of the ADU at any time.
The Role of Manufactured ADUs in an Affordable Housing Strategy
Like their traditionally constructed counterparts, manufactured ADUs have the potential to increase an area's stock of naturally affordable housing and increase density in existing residential areas. Manufactured ADUs present homeowners with the opportunity to deploy high-quality, disaster-resistant, and energy-efficient housing units in their own backyards in a fraction of the time (and often at a fraction of the difficulty) it would take to build a traditional unit. In certain cases, financing mechanisms may be available that allow a homeowner to purchase a new ADU without the need for money upfront or a second mortgage.