Landmark Family Options Study Has Clear Policy Implications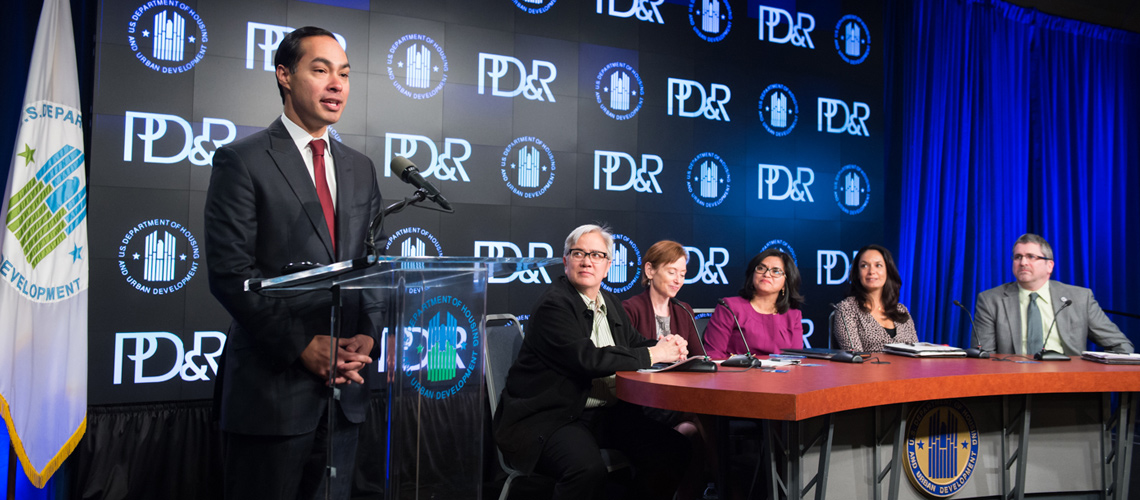 HUD Secretary Julián Castro praised the Family Options Study for contributing to a clearer understanding of what works to address family homelessness.
The recently released Family Options Study: 3-Year Impacts of Housing and Services Interventions for Homeless Families report describes the results of "a landmark study in our long quest to eliminate homelessness in America," said HUD Secretary Julián Castro. The new report largely mirrors the findings of the study's short-term impacts report on the comparative advantages of different interventions to address homelessness among families with children. On October 25, 2016, HUD's Office of Policy Development and Research (PD&R) hosted its quarterly update to discuss the major findings of the study and their policy implications. Assistant Secretary for Policy Development and Research Katherine O'Regan noted that the Family Options Study represents "rigorous, forward-thinking, and highly policy-relevant" research to address the critical question of how to best address homelessness among families.
Study Design
The Family Options Study was designed as an experiment, in which 2,282 families who had spent at least 7 days in emergency shelter and had at least one child aged 15 or younger, were randomly assigned to receive priority access to one of four possible interventions: 1) a long-term housing subsidy, which offers a long-term, deep housing subsidy, usually in the form of a housing choice voucher; 2) community-based rapid rehousing, which provides temporary rental assistance for up to 18 months with limited housing-related services; 3) project-based transitional housing, which is temporary housing for up to 24 months in an agency-controlled building coupled with intensive supportive services; and 4) usual care, which refers to the mix of housing and services that homeless families may access from shelter on their own without direct referral to one of the other interventions. The study was implemented in 12 sites across the country, and families were followed for 3 years after random assignment. Researchers conducted extensive surveys of the families at baseline and again approximately 20 and 37 months after random assignment.
Major Findings
"The power of offering long-term subsidy to families experiencing homelessness is deep," said O'Regan, identifying what she called the "headline" takeaway from the study. In addition to striking improvements in housing stability (reduced rates of homelessness, shelter stays, and doubling up), researchers found that at 37 months after random assignment, the group of families offered priority access to a long-term subsidy experienced significantly reduced psychological and economic distress, lower rates of intimate partner violence, less school mobility for children, and greater food security than did those assigned to usual care. Although the 37-month findings generally followed those of the 20-month interim report, some differences emerged. At 37 months, spouse or partner separations for families assigned to the long-term subsidy group were higher than for those assigned to usual care, after being found roughly equivalent at 20 months. In addition, children in families with priority access to a long-term subsidy had reduced behavior and sleep problems compared with those offered usual care. O'Regan noted that, given our increased understanding of the biological mechanics of toxic stress and the role of adverse childhood experiences on later adult outcomes, the reduction in material hardships and negative childhood experiences that were documented among the families offered a subsidy were powerfully important findings.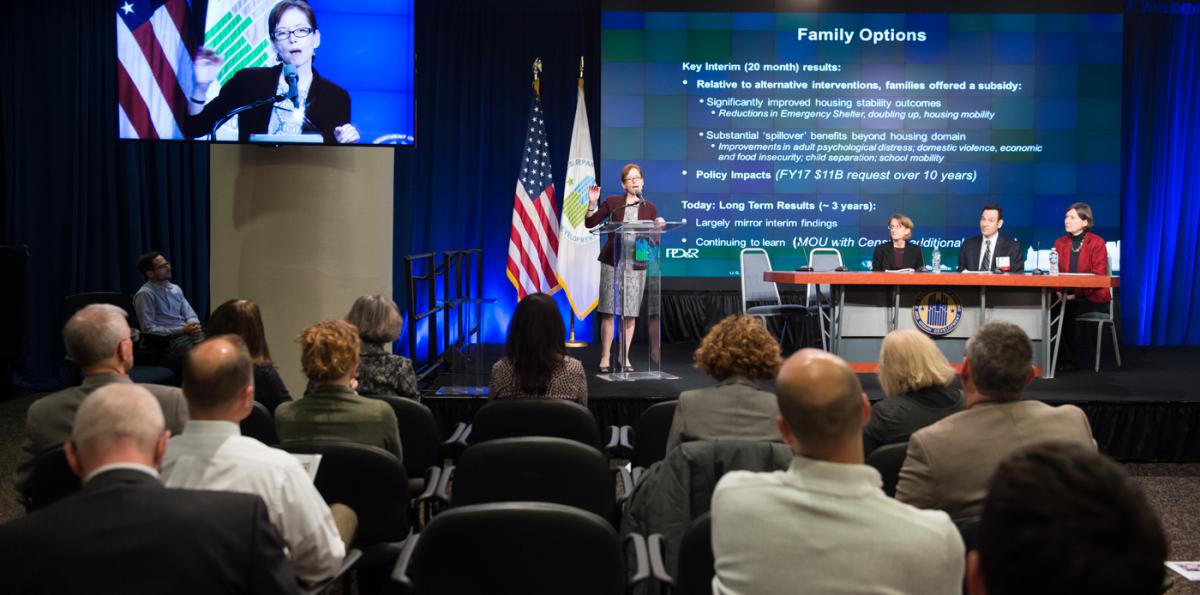 The Family Options Study found significant housing and spillover benefits associated with the offer of a long-term housing subsidy to families experiencing homelessness.
A second key finding concerned the cost efficiency of the various interventions. The average cost of all the programs used by the families assigned to usual care over the full 37-month period was approximately $41,000. Families given priority access to a long-term subsidy incurred costs that were 9 percent higher than for those assigned to usual care, and achieved significantly better domains across a range of outcomes for an additional cost of approximately $3,800 over the full three years. Although not associated with the same benefits as a long-term subsidy, priority access to community-based rapid re-housing achieved roughly the same outcomes as usual care for less cost than alternative interventions. Families with priority access to rapid rehousing incurred costs 9 percent lower than for those in the usual care group. The per-family monthly cost of rapid rehousing was $880, compared with $1,162 for the long-term subsidy and $2,706 for project-based transitional housing.
Policy Implications
Deputy Assistant Secretary for Special Needs Ann Marie Oliva said that HUD has taken a two-track approach to applying the study findings to policy. First, the evidence of significant housing and spillover benefits from the long-term subsidy intervention has informed HUD's request in the Obama administration's fiscal year 2017 budget for $11 billion over 10 years to address homelessness among families with children, primarily through expanding access to housing choice vouchers and rapid rehousing programs. Principal Deputy Assistant Secretary for Public and Indian Housing Lourdes Castro Ramirez noted that the request builds on the agency's successful experience with the HUD-Veterans Affairs Supportive Housing (HUD-VASH) program in addressing homelessness among veterans and the lesson that "in order for us to end family homelessness, we need dedicated resources." Senior Advisor to the Secretary on Housing and Services Jennifer Ho, the panel's moderator, added that HUD-VASH had demonstrated the importance of not only investment but also partnerships among stakeholders and improvements in how vouchers are allocated, such as through coordinated entry. The study also reveals how families value the offer of a subsidy, as demonstrated by their take up of the intervention, when offered (83% of families offered a subsidy used the subsidy at some point over the followup period). It also demonstrated that families can maintain the subsidy over time, even without the offer of tailored services, with more than two-thirds of subsidy families still using the subsidy at the time of the 37-month followup point.
Second, the findings on the cost effectiveness of different interventions, particularly the costs of transitional housing, emergency shelter, and rapid re-housing, provide HUD guidance for how to best use available resources within the crisis response system. If resources are too limited to offer long-term subsidies to all families experiencing homelessness, community-based rapid rehousing would likely be the most effective policy response, because it can achieve outcomes similar to those of usual care and transitional housing at a lower cost. Oliva pointed out that rapid rehousing was still in its early stages during the study period; as communities gain experience and adjust the program, they will be able to improve its quality and outcomes. By comparison, transitional housing costs more than usual care, and the study finds little evidence that it achieves improved outcomes other than short-term reductions in homelessness, even among families with higher levels of psychosocial challenges or housing barriers.
Moving Forward
In addition to the goals of seeking more resources to support long-term subsidies and of allocating existing resources to the comparatively cost-effective rapid rehousing intervention, Matthew Doherty, executive director of the U.S. Interagency Council on Homelessness, pointed to three areas of focus moving forward. First, policymakers at all levels should continue to improve the quality of all interventions currently being implemented. Second, communities can strengthen coordinated entry systems to better connect people with the interventions and mainstream services they need. Finally, another big-picture conclusion supported by the study is that, in most cases, family homelessness is caused by the inability to afford housing. Doherty argued that scaling up investment to increase the supply of housing generally — especially affordable housing — and reducing barriers to housing development are essential components of a strategy to end homelessness among families. In terms of future research, O'Regan specifically identified continuing research on rapid rehousing and looking at the experiences of public housing agencies that have prioritized serving families with children who are experiencing homelessness as opportunities to learn valuable lessons. "This can't be something that just goes up on the shelf," Castro said of the study. "It needs to be something that connects with what we do." The Family Options Study demonstrates the fundamental role that stable and affordable housing plays in improving child and family well-being, and has indeed provided clear, actionable evidence for future policy and research agendas in the ongoing work to end family homelessness.
Alameda County, California; Atlanta, Georgia; Baltimore, Maryland; Boston, Massachusetts; Bridgeport and New Haven, Connecticut; Denver, Colorado; Honolulu, Hawaii; Kansas City, Missouri; Louisville; Kentucky; Minneapolis, Minnesota; Phoenix, Arizona; and Salt Lake City, Utah.
×