Making ADU Development Equitable in California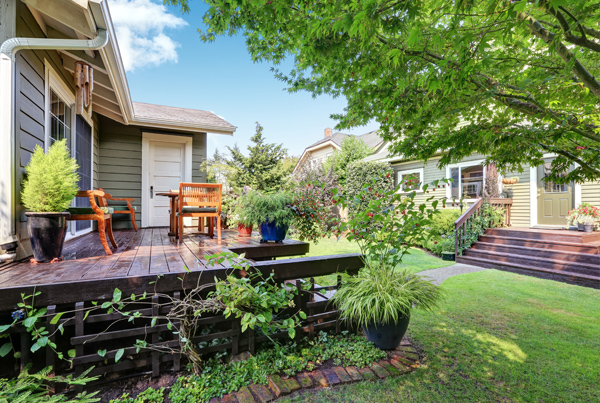 At an event hosted by the Terner Center for Housing Innovation, panelists discussed strategies to help ensure that the benefits of a regulatory environment friendly to ADU construction are available to homeowners on an equitable basis.
Persistent housing shortages in California and the resulting high housing costs prompted state lawmakers, starting in 2016, to pass a series of laws legalizing and facilitating the construction of accessory dwelling units (ADUs) in the state. Thanks to this more hospitable legal and financial landscape, ADU permitting and construction has expanded rapidly in California in recent years. However, a recent report from researchers at the Terner Center for Housing Innovation at the University of California Berkeley reveals barriers to racial and economic equity in ADU production. On August 26, 2022, the Terner Center, along with the Casita Coalition, which promotes small house development in California, hosted a webinar to discuss the report's findings. Moderated by report coauthor and Terner Center policy director David Garcia, panelists included Nikki Beasley, executive director of Richmond Neighborhood Housing Services; Charles Ampate, a housing counselor at Richmond Neighborhood Housing Services; Iliana Nicholas, program associate at the East Palo Alto Community Alliance and Neighborhood Development Organization; and Katherine Peoples, executive director of HPP Cares.
Garcia noted that the creation of ADUs in California has been disproportionately concentrated in affluent areas of the state, meaning that many medium- or low-income homeowners are not accessing the wealth- and income-building benefits of ADUs. Karen Chapple, report coauthor and University of California Berkeley professor of urban planning, discussed many of the barriers the research team identified: ADUs are expensive and difficult to finance, the ADU permitting process is often frustrating for homeowners, local planning departments often are not equipped to advise homeowners on ADU policy, and many homeowners simply lack information about ADUs generally.
Creating Clear Guidance for Homeowners
Nicholas and Beasley both reported that their organizations have served as educational resources for homeowners interested in constructing ADUs. One reason that their organizations have assumed this role is that, unlike developers, laypersons typically have little experience navigating the fragmented, bureaucratic structures of the relevant government agencies (such as the planning department and water department) needed to undertake a one-time ADU project.
This need, said Peoples, suggests the importance of developing single points of contact within planning departments from which homeowners can seek comprehensive information and avoid the discouraging process of shuffling between departments for a single project. Nicholas recommended that agencies develop a strong customer service orientation designed to build trust, especially in jurisdictions where trust between local planning departments and community members has eroded because of an adversarial approach to regulatory enforcement. Providing free, authoritative information, said Peoples, can streamline the permitting process for homeowners, save them money, and help them avoid scammers who might take advantage of this information gap.
Overcoming Financing and Permitting Challenges
Although ADUs have rarely been easy to finance with existing financial tools, the challenges facing low- and moderate-income households can be even greater, says Ampate, pointing to their higher prevalence of past financial challenges, such as poor credit or bankruptcy, that make obtaining financing more difficult. Additional challenges exist when the ADU is not a new construction but rather an existing, unpermitted unit that needs to be brought up to code, as Garcia observed.
Nicholas noted that many unpermitted ADUs resulted from cultural preferences for intergenerational living. For Ampate, the desire for multigenerational living can mean that a homeowner may not be earning rental income from the ADU. Without rental income, financing an ADU can become more difficult.
To fill this information gap and to help owners of unpermitted ADUs bring their units up to code, Peoples again emphasized the importance of trust. Peoples said that her organization, for example, functions as a safe space where homeowners with unpermitted ADUs can ask questions without fear of exposing themselves to regulatory action, learn how to bring their units up to code, and access grants to fund that process. Nicholas advocated for programs that offer amnesty for existing, unpermitted ADUs as a tool to help homeowners. Beasley described a program in Oakland that provides access to renovation loans for homeowners earning less than 80 percent of area median income so they can bring their units up to code.
With the broad appeal of ADUs for California homeowners across the income spectrum, practitioners are determining how to ensure that this recently legalized vehicle for wealth building is equally accessible to all.