Social Equity and Urban Planning: Learning From Boston and Los Angeles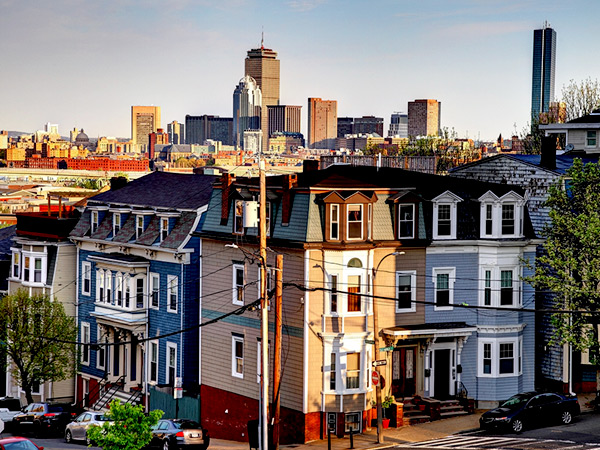 In a session at the Urban Land Institute's Fall Conference, panelists discussed their experiences with recent large-scale planning activity in Boston (shown) and Los Angeles.
The experience of many booming cities illustrates that success often begets unintended social consequences. Rapid economic gains can be unevenly distributed, a phenomenon expressed spatially in gentrification and displacement. At the Urban Land Institute's Fall Conference, held October 8 – 11 in Boston, one panel explored strategies to promote equitable social outcomes as cities grow. Moderator Ken Greenberg of Toronto-based Greenberg Consultants framed the discussion by asking whether these unintended consequences were inevitable, whether they are fixable, and what roles private- and public-sector actors should play in realizing solutions. In response, panelists Sara Myerson of the Boston Planning and Development Agency, Jenna Hornstock of the Los Angeles County Metropolitan Transportation Authority (LA Metro), and Martha Welborne of HR&A Advisors discussed their experiences with recent large-scale planning activity in Boston and Los Angeles. Their stories demonstrate how planning that incorporates mutually respectful and substantive dialogue between expert practitioners and engaged community stakeholders can support equitable development goals.
Equity as a Value and a Practice
Pointing to his home city of Toronto as both example and exemplar of urban trends in recent decades, Greenberg defined the contemporary social challenge facing many booming cities: "The people with the most means end up living in the most desirable places, and what this has produced is a displacement of poverty." The consequences for poorer urban residents, says Greenberg, are reduced access to transit, amenities, and walkable neighborhoods and diminished public health outcomes. What, Greenberg asked, can be done to counteract these trends?
Part of the answer may lie, according to the panelists, in ensuring that the process of urban planning itself is inclusive. In addition, growth, when harnessed strategically, may be an opportunity to encourage inclusive outcomes — a strategy Boston is embracing. For the first time in half a century, Boston has a new comprehensive plan guiding its urban development. Unlike the 1965/1975 General Plan, which responded to conditions of population loss and disinvestment, Imagine Boston 2030, released in summer 2017, charts a vision for a city experiencing rapid growth and high income inequality. According to Myerson, the plan first began by recognizing that Boston is experiencing a housing shortage, a conclusion that resulted in the city's 2014 housing plan, Housing a Changing City. The housing plan outlined steps to produce 53,000 new units of housing (since revised to 69,000 new units) by 2030 with specific targets across affordability levels. Dimensions of urban equity stretch beyond housing, however, and shortly after the release of the housing plan, work commenced on the comprehensive plan.
The first step in the comprehensive plan involved crafting a planning document stating community values, ultimately named Guiding Growth: Towards an Inclusive City. Developed over 4 months in collaboration with community groups, this framework served as a guidepost that stakeholders could return to as planning progressed toward more difficult, concrete policy choices. According to Myerson, the trust built between community groups and planners in the early stages was essential for convincing advocates that growth is an opportunity to address the city's social challenges. "Through comprehensive planning, we can guide the kind of growth that we want to see, and by encouraging collaboration of stakeholders, we can achieve more equitable outcomes," said Myerson. The plan that emerged from this process emphasizes quality, accessible neighborhoods; inclusive economic growth; a healthy environment adaptive to climate change; and investments in infrastructure, space, and culture.
Learning by Doing
The concept of equitable development focuses on both results and process. In Los Angeles, recent experiences by LA Metro demonstrate how a sincere commitment to equitable development requires a willingness to learn from past mistakes. Martha Welborne discussed the agency's experience with Measure J, a 2012 municipal ballot initiative to raise tax revenue for transit. Although such measures require a two-thirds supermajority vote to win approval, the general public had endorsed similar proposals in the past. According to Welborne, the deployment of a top-down approach to crafting Measure J played a part in the failure of the initiative, which received only 61.6 percent of the vote. Learning from that experience, LA Metro decided to approach Measure M from the bottom up. Rather than centralize decisionmaking internally, LA Metro reached out to and engaged with all the cities and councils of government in Los Angeles County. Those interactions led to lists of priorities that Measure M could fund that reflected the differing transit needs of the diverse locales that make up Los Angeles County. Once local governments became convinced that the tax could advance their particular transit goals, Measure M passed in 2016 with 71 percent of the vote. The process was so successful that the agency produced a report detailing its engagement process as a model for passing large transit measures.
Jenna Hornstock described LA Metro's growing pains in learning how to engage communities productively. In Hornstock's words, "When you're achieving equitable outcomes, process really matters." After completing its Blue Line, the agency began to address the first/last mile question — that is, how people get from the start of their journey to transit, and how they then get from transit to their final destination. LA Metro began their community engagement process in earnest only to be rebuffed by community organizations that felt that the process was perfunctory and unable to truly hear the concerns people had around transit and development. The misunderstanding, according to Hornstock, threatened to derail the process. LA Metro and community organizations along the Blue Line corridor decided instead to work together to create processes that combined the expertise of planners with the voices of the agency's constituency: the people who live near and use transit. As with Measure M, that experience offered important lessons that LA Metro likewise developed into a case study.
Unequitable Outcomes Are Not Inevitable
Greenberg highlighted the panel's themes with an example of a city that is taking aggressive steps to ensure equitable development. In some ways, the city of Helsinki in Finland might appear similar to many North American cities in the midst of a technology boom, yet the public sector takes active steps to mitigate inequitable outcomes. Public agencies have made significant public investments into affordable housing production, and the city maintains economically integrated neighborhoods by insisting on the block-by-block mixing of housing that targets diverse income levels. Although Greenberg acknowledges that Helsinki's approach might not be adopted in the United States, Meyerson offered that possible solutions exist in new and robust public-private partnerships. In Los Angeles, for example, the Metro Affordable Transit Connected Housing program is a public-private lending partnership encouraging affordable housing development near public transit. The experiences in Boston and Los Angeles demonstrate the potential efficacy of expanding stakeholder participation, building processes that center on equity and are cooperative throughout.