Message From PD&R Senior Leadership
Preparing for Habitat III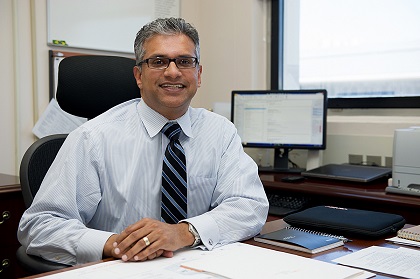 Salin Geevarghese, Deputy Assistant Secretary for International and Philanthropic Innovation.
It's been more than a year since we began preparations for the Habitat III conference, which will be held this October in Quito, Ecuador. Now is a good time to discuss our approach to the planning process, update readers on our work so far, and preview a number of upcoming events that HUD is cosponsoring.
Our Approach
Habitat III, the United Nations Conference on Housing and Urban Sustainability, is held every 20 years. During the Habitat II conference in 1996, then-HUD Secretary Henry Cisneros led the effort to link U.S. policies to the broader international conversation. Nearly 20 years later, we have grown even more aware that incorporating transnational relationships into the expanding network of partners is critically important to HUD's work. Today's cities are tackling serious challenges ranging from globalization to climate change, spurring local leaders to test ideas and exchange strategies with their international counterparts. We have seen powerful examples of the influence of cities while developing the Sustainable Development Goals as well as during COP21, demonstrating the importance of the global trend toward urbanization.
Yet, even as cities expand their global presence, Habitat III's work centers on achieving outcomes locally, in communities across the country. As members of the National Committee, we are concerned about the people living in our communities, the infrastructure that helps these communities function and thrive, the policies that drive local change, and the relationships that allow for coordination and collaboration. In this sense, all work is local, even for an international conference like Habitat III.
It is with this understanding of the inseparable connections among international, federal, state, and local initiatives that we approach the preparations for Habitat III. As cities continue to assume leadership roles on the international stage, and the federal government strives to be more responsive and flexible to state and local partners, HUD is adapting to the growing need for closer coordination in our approach to governance.
The National Committee also seeks to break down policy silos and develop cross-sector partnerships and networks. Although HUD serves as the lead agency for Habitat III planning, we rely heavily on a vibrant network of stakeholders to bring insights and value to our work. We are therefore building a broad and inclusive preparatory process that engages a network of partners: civil society, nonprofits, research organizations, affinity and advocacy groups, community organizations, and philanthropies.
HUD and our partner's intent is to make Habitat III more than just an international conference. We view the planning process as an opportunity to activate a diverse network around shared goals. This does not mean that the process should be without disagreement; rather, it is an opportunity to hear different voices, challenge assumptions, and build a unified framework that takes into account competing priorities and perspectives. HUD is proud that our United Nations colleagues have remarked that no other member state is pursuing Habitat III with as much bottom-up engagement as the United States.
Building the U.S. Habitat III Effort
More than 40 agencies and organizations, ranging in size and geographic footprint, are participating in the U.S. National Committee for Habitat III. Chaired by HUD Secretary Castro, the National Committee consists of three subcommittees that oversee its specific goals. Membership to all three subcommittees is open, and individuals or organizations are encouraged to join.
U.S. National Report Subcommittee: Guides the drafting of the National Report by contributing content and providing feedback.

Connecting the U.S. to Global Conversations Subcommittee: Serves as a liaison between the National Committee and other organizations connected to Habitat III and relevant global discussions.

Education and Outreach Subcommittee: Raises public awareness about urban development issues and trends in the United States and engages local communities in national preparations for Habitat III.
Habitat III Planning: Recent Highlights
HUD's Office for International and Philanthropic Innovation (IPI) has met regularly with the National Committee to share updates, discuss key issues, and set milestones.

In collaboration with our colleagues in the U.S. Department of State, IPI has supported the ongoing Preparatory Committee meetings that took place in New York City and Nairobi, Kenya.

HUD submitted a draft National Report in response to a series of questions designed to draw analyses at regional and global levels.

IPI reviewed and collected input on the Habitat III Issue Papers, which form the foundation for the conference outcome document.

IPI nominated technical experts to serve on Policy Units to generate papers that will inform the New Urban Agenda.
The National Committee developed three themes for the National Report: Investing in People and Communities for Upward Mobility, Securing Housing Options for All, and Responding to Change and Building Resilience. In addition to these themes, the National Committee highlighted important issues or approaches that should be woven throughout the National Report — in particular, perspectives from multiple sectors and jurisdictions (local, state, and federal). Committee members also discussed the need to address how social inclusion, race, and poverty intersect with the three themes as well as the increasingly important role of data and evidence-based policy.
A Preview of the Next 10 Months
A number of global events will inform the development of the New Urban Agenda, the outcome document of the Habitat III conference. UN-Habitat is hosting regional and thematic meetings convened in six cities around the world, with more information at www.habitat3.org. At the same time, civil society partners on the global stage are holding a series of Urban Thinkers Campuses that allow for open dialogue and debate. These events all provide opportunities for feedback from a broad range of stakeholders and further the development of policy recommendations across a series of issues and topics.
U.S. National Report for Habitat III
The purpose of the National Report is to tell the story of housing and urban development in the United States in the 20 years since Habitat II and to outline the U.S. approach to this work going forward. HUD is authoring the final National Report, taking into consideration structural and thematic feedback as well as input from the National Report Subcommittee. In addition, the subcommittee will identify and curate a number of supplemental materials that will be submitted with the HUD-authored report. These materials will provide additional perspectives and details on certain topics.
Education and Outreach: U.S. Regional Convenings for Habitat III
The three themes from the National Report will also serve as the structure for a series of regional convenings. These convenings, cohosted by HUD field offices and local partner organizations, will bring together practitioners at the regional level to share perspectives and lessons learned. Each convening will focus on that region's pressing issues as they relate to the National Report themes and to relevant international experiences and insights.
Foreign Policy Convenings for Habitat III in Washington, DC
In addition to the regional convenings hosted around the country, the Connecting the U.S. to Global Conversations Subcommittee is organizing a series of convenings to expose the foreign policy community, largely concentrated in Washington, DC, to complex metropolitan and community development issues, with a focus on the direct implications for national and foreign policy.
More information on the regional and foreign policy convenings can be found on HUD's Habitat III website as it becomes available.
Your Involvement
We invite stakeholders to engage with our subcommittees and to join us for the upcoming convenings. We also encourage organizations to create additional opportunities to build on the Habitat III preparatory process, both domestically and globally, to foster conversation, share best practices and lesson learned, and discuss the important and complex issues that we work on each day. Please visit HUD's Habitat III website for more information about upcoming events and opportunities to participate in the preparations for Habitat III.