Ted E. Payne, PD&R's New Director of the Program Monitoring and Research Division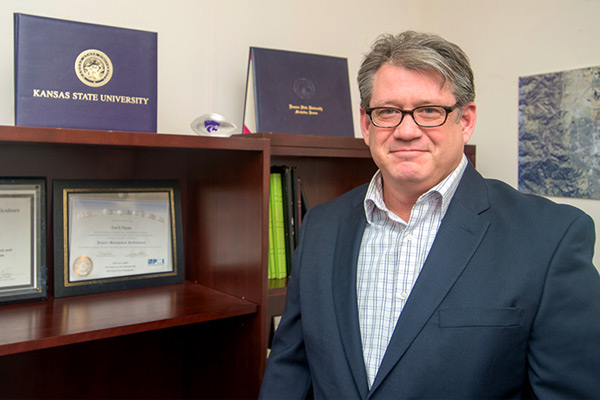 Ted E. Payne, Director of the Program Monitoring and Research Division
On January 9, 2017, I enthusiastically came on board to the Office of Policy Development and Research as the new director of the Program Monitoring and Research Division. I have been in the geographic information systems (GIS) industry for 21 years managing geospatial data/projects/applications in the environmental sciences, real estate and appraisals, 911 addressing, planning and zoning, water and wastewater, and agricultural fields. Working with demographic data will a new field for me, and I look forward to gaining experience in another data type. Getting the opportunity for continued growth professionally is something I cherish, and have been given the chance by the HUD community. I have found the people in PMRD to be extremely helpful, and they have made my landing a soft one.
Before joining the federal government, my proudest work was performed for the Utilities Department of the city of Olathe, Kansas. I architected, managed, and implemented an integrated call management system, work order management system, inventory management system, and the Olathe, Kansas GIS system (including water, wastewater, sewer, fire hydrants, and water meter geospatial feature objects). The benefits of this integration were that the Utilities Department could track changes in the field for all utility infrastructure, create work orders for the personnel with the correct information to take to the field, perform planned maintenance, conduct predictive year budget formulations, and order replacement utility parts as needed for parts out of service age or for infrastructure breaks. This was a hard choice to leave the rewarding and challenging job, but when my wife got a job here in Washington, DC, I decided to pursue new opportunities in the nation's capital.
After leaving Kansas (not by clicking the heels of my ruby slippers three times but by driving a U-Haul for 24 hours), I landed at the U.S. Department of Agriculture (USDA) like a house coming down on the Wicked Witch of the East. Okay — that is enough of the Kansas jokes. I spent 10 years as the chief geospatial architect at the Farm Service Agency (FSA) and 4 years in the Office of the Chief Information Officer, first as the geospatial program manager and then as the department's geospatial information officer. Some of the most gratifying work done at USDA was to modernize the FSA geospatial application so that it seamlessly interfaced with FSA's SAP program data and field staff did not have to manage two independent systems. This work at FSA was seminal in the sense that it was the first time SAP and Esri systems were integrated. I only wish that I'd had the opportunity to use the program data to build a business intelligence piece for analysis using geospatial features (agricultural land and commodity types), which would have made the integrated SAP/Esri environment more than just a data management system with geospatial features.
My professional career can be sliced and diced many different ways for various views. Professionally, I started as a GIS cartographer, became a GIS programmer, managed a team of GIS programmers, and managed a GIS program with many different vertical mission areas before moving into the geospatial information officer position at USDA. This should provide a good sense of how GIS professionals grow and advance in the geospatial industry. I also have considerable experience that cuts through the private sector, municipal government, and the federal government.
I have two master's degrees from Kansas State University: one in communications and another in geography. The geography degree focused on the use geospatial tools for environmental science. My thesis was on The Use of GIS and GPS to Study the Spread of Tamarix into Quivira National Wildlife Refuge. The tamarix is a water-intensive tree invading a wetland that is being managed by the U.S. Fish and Wildlife Service. The research focused on how land management at the refuge through fire and grazing practices created a more ideal environment that encouraged the spread of this tree.
My favorite activities outside of work are playing billiards, hiking in Colorado (CO)/Rock Creek Park/urban hikes, and cooking. My wife and I have been traveling to Colorado for 23 years now where, over a 2-week period each year, we hike an average of 75 miles at elevations of 11,000 to 13,500 feet. The view of the world from these peaks is breathtaking.
I look forward to working with the HUD community. Right now, it feels like I'm taking the fire-hose approach to learning about the department's people, data, mission areas, and systems, but I feel it will get better as I hit the 3-month mark for tenure.