Operation Breakthrough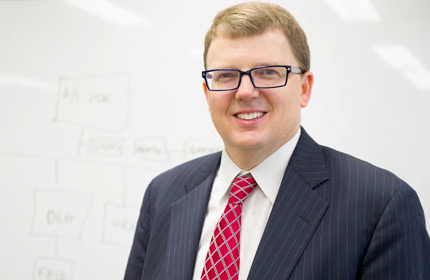 Todd M. Richardson, Acting General Deputy Assistant Secretary for Policy Development and Research.
Periodically, I find it helpful to look back at the early days of the Office of Policy Development and Research (PD&R). You may recall my post on the Housing Allowance Experiment that inspired what is today's Housing Choice Voucher program.
Today's post is about a very different PD&R demonstration, a massive effort to change how we build housing in the United States. In the late 1960s and 1970s, PD&R ran a demonstration called Operation BREAKTHROUGH. According to then-Assistant Secretary for PD&R Michael Moskow in 1974, "The Department of Housing and Urban Development launched Operation BREAKTHROUGH in 1969 to stimulate volume production of quality housing for all income levels. Factory building offered a logical means — then as it does now — for the housing industry to grow and progress. We set ambitious objectives for that growth. BREAKTHROUGH tested many techniques of industrialization." The demonstration is well documented in this report from our archives that we have posted on HUDUSER.gov.
This demonstration involved complex partnerships with multiple "Housing System Producers" (including General Electric and Alcoa) and "Prototype Site Developers" (including the Boeing Company). The report states that between 1971 and 1973, "on the nine prototype sites are 2,938 housing units, 2,794 representing BREAKTHROUGH systems.... Those producers, assigned to 44 separate parcels or micro-sites, erected a variety of single family and multi-family dwelling types. There are 45 different combinations of producer and type...."
Probably almost as interesting as the technology and site plans was the financing. Some of the financing tools used in the 1970s were different from the ones used today, although some have remained the same. This report provides some reminders of past practice. HUD contributed in multiple ways, such as providing mortgage insurance and housing subsidy contracts. Notably, in 1971 Congress funded $30 million ($192 million in 2017 dollars) toward PD&R's Research and Technology Account to subsidize various aspects of the demonstration.
If you are interested in how these developments look today, I have linked to their approximate location in Google Maps. The report noted above provides site plans so that you can compare their current state to the 1970s site plans, including which housing system producer was associated with each section of the development. Unfortunately, not all the sites have Google Street View images, but for those that do, it is interesting to take a virtual walk through the community. The St. Louis site seems to have been demolished. The Sacramento site appears to be partially demolished, probably because of the many problems with the units documented in the HUD report. The other sites appear to have fared very differently over the more than 40 years since they were developed. In most of the sites, the architecture is notably different than that of other housing in the community.
Kalamazoo, Michigan. New Horizon Village (245 units by 7 producers): No Street View available.
St. Louis, Missouri. LaClede Town (464 units by 4 producers): As best as I can tell, this site was demolished in the late 1980s, and it looks as though St. Louis University has redeveloped the site.
Macon, Georgia. Crystal Lake (287 units by 6 producers): Partial Street View available.
Sacramento, California. Greenfair (407 units by 7 producers): Street View available.
King County, Washington. Lendemain (178 units by 4 producers): Street View available.
Memphis, Tennessee. Edison Park (518 units by 4 producers): Satellite view only.
Jersey City, New Jersey. Summit Plaza (486 units by 3 producers): Street View available
Seattle, Washington. Bryant Manor (58 units by one producer): Street View available.
Indianapolis, Indiana. Park Lafayette (295 units by eight producers): Street View available.
When the National Academy of Sciences reviewed PD&R in 2008, it summarized the core lessons from Operation BREAKTHROUGH as follows:
A series of demonstration houses were constructed, but most of the proposed systems did not advance to commercialization. Overall, the initiative proved ineffective and ended in the late 1970s. In citing Nelson and Langlois (1983), the National Research Council (2000, p. 7) noted: "the lessons learned from Operation Breakthrough and other federal R&D projects are that successful programs have the following characteristics: association with government procurement or some other well defined public-sector objective; support of defined, nonproprietary research guided by a scientific community; and an institutional structure that allows potential users to guide the program." Operation Breakthrough's failure was attributed to the attempt by government to introduce technologies in an arena in which it had no procurement interest.
However, one generally unrecognized success of Operation Breakthrough is the recent marketplace acceptance that increased factory production of housing improves construction efficiency, quality, and affordability. Factory production can be achieved not only by complete factory production of housing units as in manufactured housing, but also with factory production of increasingly sophisticated building components that are then assembled in the field into traditional single and multifamily housing. The latter concept of factory production has grown dramatically in the last two decades. The structural building component industry consisting primarily of factory-built wood trusses and walls has grown in sales in a decade by over 120 percent, from approximately $6.9 billion in 1996 to $15.3 billion in 2006 (SBC Legislative, 2007). The leadership shown in developing an idea that has continued to grow in the housing industry can be viewed as an Operation Breakthrough success. But, it is important not to overlook the lesson that the government's role in sponsoring research and technological leadership has boundaries that must be compatible with marketplace conditions.
Source:
U.S. Department of Housing and Urban Development. 1970. Operation BREAKTHROUGH Phase II: Prototype Construction and Demonstration, ii. Washington, DC: U.S. Government Printing Office.
×
Source:
U.S. Department of Housing and Urban Development, 20.
×
Source:
National Research Council of the National Academies. 2008. Rebuilding the Research Capacity at HUD, 67­–8. Washington, DC: National Academies Press.
×