Lisbon's Walkability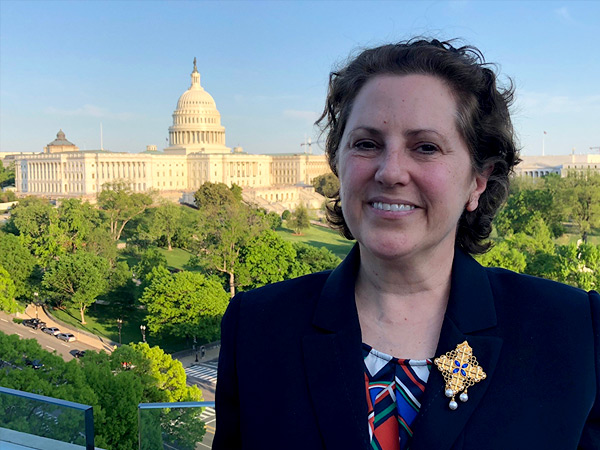 Cynthia Campbell, Director of PD&R's International and Philanthropic Affairs Division.
Cynthia F. Campbell, director for International and Philanthropic Innovation in HUD's Office of Policy Development & Research, reflects on transit in Lisbon, Portugal, and the importance of home.
Recently, during my first international vacation since the pandemic began, I visited Lisbon, the capital city of Portugal. I was struck not only by the city's architectural beauty but also its walkability. I found wide avenues with dedicated bike lanes and broad sidewalks for pedestrians. The historic city center along the waterfront was closed to automobiles, allowing for safe and enjoyable strolling. Lisbon's historic tram system has been operating since 1873, and it was interesting to see the array of street cars still in use. A robust tuk tuk business, targeted mainly to tourists, made transportation around the city easily accessible.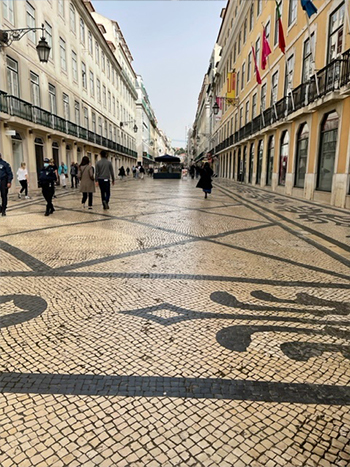 Lisbon is notable for its walkability and generous pedestrian areas. Photo credit: Cynthia Campbell
I became fascinated with the intricate designs adorning the city's sidewalks and historic plazas, so I researched the topic and found this very interesting New York Times article that discusses their history and how the city is maintaining them. The Lisbon City Council established a paving school in 1986 that trains pavers, or calceteiros, to maintain and install new pavement designs. The article notes that the school has trained 224 calceteiros since its founding. When you stroll through Lisbon, these intricate patterns and designs make you feel as though you are in an art gallery.
I also noted the city's ubiquitous bike lanes. During the pandemic, Lisbon increased its network of bike lanes from 65 miles to 124 miles. I noticed that these bike lanes are protected from automobile traffic by barriers, curbs, or complete separation. Lisbon is very bike friendly, and I noticed hundreds of cyclists zipping around the city, especially during commuting hours.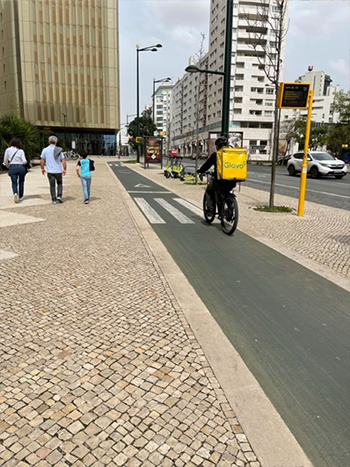 De-emphasizing automobile traffic allows space for not only pedestrians, but also bicycles. Photo credit: Cynthia Campbell
I am a retired naval officer, and I was traveling with some former Navy shipmates. While in Lisbon, we visited another former naval officer who is retired and living permanently in Lisbon. During his time in the Navy, this officer taught at the Naval War College in Newport, Rhode Island, and one of his former students was a Ukrainian naval officer. When Russia recently invaded Ukraine, he reached out to his former student to offer assistance. The Ukrainian naval officer accepted this generous offer and asked the retired officer if he could house his mother and son as well as his sister and her daughter. The Ukrainian naval officer's wife also serves in the Ukrainian Navy, and his sister's husband is in the military as well. The retired officer took in the Ukrainian's entire family.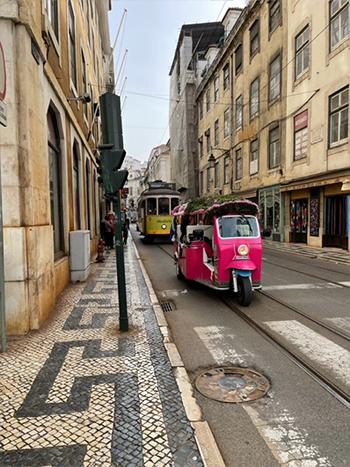 Lisbon's historic tram system has been operating since 1873, while tuk tuks (pictured in front) provide tourists an easy way to see the city. Photo credit: Cynthia Campell
We were able to host the family for dinner with lots of hugs and support. With the help of Google Translate, we heard them describe their harrowing journey to Lisbon. The home of the officer's mother was destroyed, and the family members could take only one bag each with them during their harrowing escape. The mother even showed us some video that she filmed as she was leaving her home. It was horrifying to see and hear the firsthand story of her escape from Ukraine.
The good news is that the family is adjusting well to their new home in Lisbon with the generous support of our friend and his family. Fortunately, they have enough room and, more important, large enough hearts to take in this amazing family. I'm sure that the Ukrainian naval officer is relieved to know that his family is safe and in good hands with his former U.S. Navy officer.
All in all, it was a great visit to Lisbon!