Public-Philanthropic Partnerships Combat Homelessness in Southern California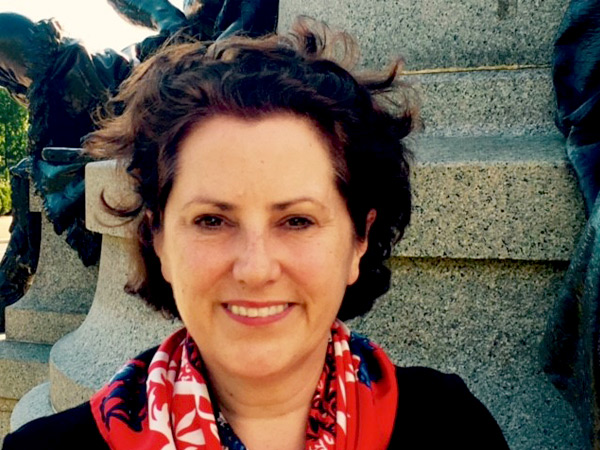 Cynthia Campbell, Director of PD&R's Office for International and Philanthropic Innovation.
I was recently in Los Angeles with senior HUD officials to participate in a philanthropy roundtable on homelessness and to attend the National Alliance to End Homelessness' 2018 National Conference on Ending Family and Youth Homelessness. Having lived in Southern California, I am very aware of the area's dire homelessness situation. I was stationed at Naval Base San Diego from 2002 to 2006, and I was also stationed in the Bay Area earlier in my Navy career. While I was in Los Angeles for these meetings, I had the opportunity to visit Skid Row and some of the facilities that are offering supportive services for the county's homeless residents.
Homelessness numbers in Los Angeles County increased markedly in 2017. There were 57,794 homeless individuals in 2017, a 23 percent increase from 2016 (46,874). The city of Los Angeles saw a 20 percent increase in homelessness, from 28,464 individuals in 2016 to 34,189 in 2017.
Another striking issue for Southern California is the dramatic increase in people living in cars, recreational vehicles, and encampments. In 2016, there were 11,472 people living in vehicles and encampments, and in 2017 there were 14,412, a 26 percent increase. The most dramatic increase was in the number of homeless youth. There was a 61 percent increase from 2016 to 2017. Most homeless individuals are between the ages of 25 and 54.
To combat homelessness, Los Angeles County officials proposed a dramatic measure that would significantly increase the funding to combat this dire situation. In March 2017, Los Angeles County passed Measure H, which authorizes a quarter-cent sales tax that will generate about $355 million a year to fund services and programs that will help alleviate homelessness in Los Angeles County. The tax is authorized for a 10-year period. The programs include rapid rehousing, permanent supportive housing, emergency shelter, and prevention services. The county also passed Proposition HHH, a $1.2 billion bond measure with the goal of building 10,000 permanent supportive housing units.
We had an opportunity to visit the Downtown Women's Center, located in the 10-block Skid Row area of Los Angeles. The center provides permanent supportive housing for formerly homeless women. They also provide a day center for women who are currently homeless. This center provides women with a place to stay during the day so they are not on the streets. It's a large, cafeteria-like setting with tables and chairs but not much else in the way of comfort. The center offers meals, counseling, a health clinic, a clothing pantry, and other supportive services. When the center closes, most women seek shelter in area overnight homeless shelters.
Violence on Skid Row has always been a problem, but it has become more frequent due to increased use of the drug Spice. Spice is a narcotic created by spraying plant material with chemicals to produce a cannabis-like high. It's cheap and easy to find. Skid Row has seen several toxic batches of Spice that may have included bug spray, air freshener, or detergent. These ingredients are added to increase the drug's potency, but the resulting side effects can include catatonic behavior, blackouts, agitation, and violent meltdowns. We were accompanied by officials from the Los Angeles Homeless Services Authority, who noted that Spice has become an increasingly difficult issue.
The Office for International and Philanthropic Innovation (IPI) organized a philanthropy roundtable in Los Angeles before the conference that focused on how local philanthropy is working with local city officials to address homelessness. Neal Rackleff, assistant secretary for community planning and development; Matthew Hunter, assistant deputy secretary for field policy and management; Jimmy Stracner, regional administrator for HUD's Pacific Region; and numerous other HUD representatives from the region also attended. The Hilton Foundation and the United Way of Greater Los Angeles helped IPI organize the roundtable. The roundtable was an opportunity for local city officials working in tandem with philanthropic partners to discuss how they are addressing homelessness with the resources from Measure H.
Four examples of successful public-philanthropic partnerships in Los Angeles were briefed:
These dynamic local coalitions are tackling homelessness with great energy and determination. Their efforts as well as those of new partners will have to be sustained over the long term to significantly reduce the homelessness situation in Los Angeles. I am encouraged by the work that these public-philanthropic partners have done thus far and I look forward to following their progress in Los Angeles for years to come.
Update: Based on the 2018 Greater Los Angeles Homeless Count, homelessness decreased by 3 percent in Los Angeles County and 5 percent in the city of Los Angeles. More specifically, veteran homelessness decreased by 18 percent and chronic homelessness by 16 percent.