Message From PD&R Senior Leadership
Introducing IPI Director Cynthia Campbell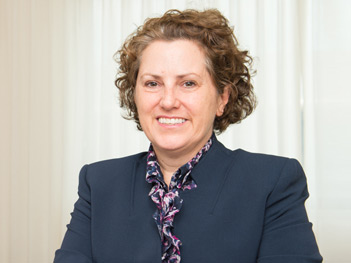 Cynthia Campbell, Director of PD&R's Office for International and Philanthropic Innovation.
I'm excited to join HUD's Office of Policy Development and Research as the new director of the Office for International and Philanthropic Innovation (IPI). I hope that my experience will bring an added dimension to the IPI team, and I look forward to meeting more of the PD&R team in the future.
I was very fortunate to have spent 30 years in the U.S. Navy. During this time, I was stationed all over the United States and internationally, and served onboard numerous ships including a carrier, a command ship, an oiler, and a destroyer. I was stationed at the Pentagon on 9/11; a very dark day in my career but one that has left me with gratitude for living every day to the fullest. While on the staff of the Office of Legislative Affairs for the Secretary of Navy, I advocated for Navy programs, working closely with Senate and congressional staff. My final assignment was as the director of administration for the White House Military Office, serving in both the Bush and Obama administrations.
Following the completion of my Navy career, I served as the vice president for communications for the Fisher House Foundation, helping veterans, active-duty service members, and their families by providing comfort homes at military and U.S. Department of Veterans Affairs (VA) medical centers worldwide. More recently, I was the vice president for operations at the Corporation for Public Broadcasting and I continue to serve on the American Battle Monuments Commission appointed by President Obama, which oversees all the American cemeteries located outside of the United States.
I hope to bring my extensive international and philanthropic experience to IPI.
While at Fisher House Foundation, I worked very closely with the U.S. Department of Defense and VA. Government entities could not build comfort homes for veterans or the troops so the Fisher House Foundation stepped in to provide all construction and furnishing costs. After the homes were built, the foundation gifted them to the federal government, which then took ownership and assumed responsibility for maintaining the homes. This was a perfect example of how philanthropy can fill in a gap that the government, by legislation, cannot. These are the opportunities that I hope to find for HUD.
I saw this same trend working at the Corporation for Public Broadcasting. Public television and public radio cannot be sustained solely with a government grant. Private donors and grantmakers step in to make up the difference. Without a public-private partnership, there would be no commercial free PBS or NPR.
Since joining HUD, my first priority has been to engage with Habitat III, the United Nations Conference on Housing and Sustainable Urban Development, which will take place in October 2016 in Quito, Ecuador. The primary aim of this conference is to create and establish the "New Urban Agenda," which focuses on the 17 Sustainable Development Goals previously negotiated by the United Nations including Goal 11 on Sustainable Cities and Communities.
The IPI team, along with a delegation from the U.S. Department of State, participated in negotiations on the final New Urban Agenda at the United Nations in New York City. To prepare for the meeting, HUD created the U.S. National Committee for Habitat III in a massive undertaking to engage stakeholders across the country. I'm excited about the future opportunities for even more national engagement following Habitat III in Quito.
I'm also excited about the prospect of fostering information sharing at the international level. Since I have been here at HUD, we have helped the new government of Ukraine reorganize their Ministry of Housing. We are also negotiating a partnership with our counterparts in Japan on a research project involving aging in place. We have ideas to share, and we also have an opportunity to learn from our international partners.
I am committed to fulfilling HUD's mission: to create strong, sustainable, inclusive communities and quality affordable homes for all. I feel very fortunate to be part of a team that is improving the lives of Americans in such a profound and impactful way.