A Worthwhile Challenge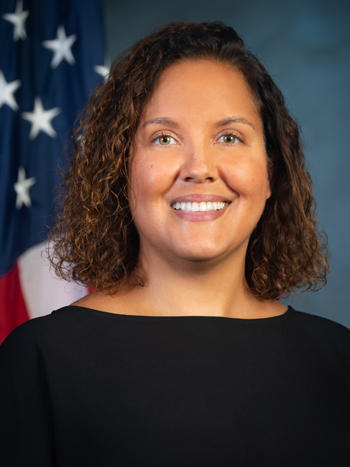 Heidi J. Joseph, Director of the Research Utilization Division for Policy Development and Research
I joined the Research Utilization Division team in 2020, and one of the most interesting parts of the job has been participating in the Office of Policy Development and Research's (PD&R's) efforts to capture HUD and housing history and make it available to the public through PD&R's HUD User website. We have a treasure trove of documents in the HUD library, the sub-basement, and, I imagine, various other forgotten corners of the Weaver Building. Sifting through and scanning these old documents to add them to HUD User is challenging work, but the effort is worth every particle of dust that I inhale when I take another forgotten document from a shelf. (See HUD Librarian Eric Erickson's July 2020 Edge article for more information on our historic document preservation efforts.)
In the summer of 2020, Todd Richardson, PD&R's general deputy assistant secretary, asked me to look out for an old publication called HUD Challenge, which he had heard about from Malcolm Peabody, former deputy assistant secretary for equal opportunity under former HUD Secretary George Romney. No one else seemed to have heard of HUD Challenge, and it seemed impossible that a major HUD publication could have been forgotten. Although I silently questioned Todd's claim that such a periodical ever existed, I kept it in mind as I rifled through old materials. One day, as I walked through the library stacks moving books in preparation for construction work, I saw the words "HUD Challenge" emblazoned on the side of 18 bright orange, uncatalogued, bound volumes. And with that, HUD Challenge was rediscovered.
HUD Challenge was a departmental magazine published from 1969 to 1978, and its 100 issues spanned four HUD Secretaries – George Romney, James Lynn, Carla Hills, and Patricia Harris. It provides a snapshot of HUD's early years, when the fledgling agency was full of promise but still getting its federal feet on the ground. As then-Secretary Romney stated in the first issue, "We have now been together long enough to know each other, to have smoothed out some organizational wrinkles, and to have set a course for the long pull ahead. We have defined our problems; now it is time to meet their challenge."
The content of HUD Challenge is robust, and the stories are the stories of HUD and the people of this country. A highlight from each year follows:
HUD Challenge also has something special for the data wonks out there—a recurring one-page section called Lines & Numbers. From data on mobile home shipments in 1970 to the median sales price of single-family homes in 1970 to housing mortgage debt in 1971, the Lines & Numbers columns provide a data snapshot of points in time from 1969 to 1978. Staff in HUD's Office of Economic Affairs looked at various Lines & Numbers columns, tying housing data from Annual Housing Surveys in the 1970s to data from recent American Housing Surveys. Learn more in the recent Edge article "The American Housing Survey: Then and Now."
I imagine that most people think that PD&R produces only new research and data, but a key part of our value lies in preserving and sharing historical information to ensure that HUD's current programs and policies are informed by what we learned in the past. History shows us what initiatives have already failed so that we can direct future efforts toward success. History offers proof of injustices that are baked into the very fabric of this country, providing context for the issues that our nation still faces and the disparities that it cannot seem to shake. History tells us the story of why we do this work and why it matters.
As we continue on that "long pull" mentioned by former Secretary Romney, I hope you enjoy these snapshots into HUD history as much as I do.