Outlining Principles of Policy Development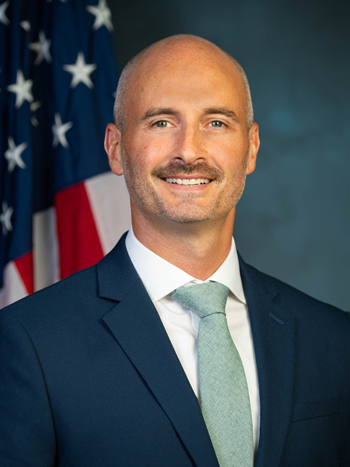 Brian J. McCabe, Deputy Assistant Secretary for Policy Development in the Office of Policy Development and Research.
It's been nearly 2 months since I joined the Office of Policy Development and Research (PD&R) as the Deputy Assistant Secretary for Policy Development. Already, my whiteboard is full of urgent policy issues for our team to tackle.
PD&R's policy development team plays an important role within HUD, and we're central to many of the federal government's most pressing policy decisions. Our team is engaged with stakeholders to improve the collection, standardization, and dissemination of eviction data, especially in HUD-assisted housing. We're learning from the Moving to Work cohorts in our public housing programs. We're helping lead the government's tenant protections work and fulfill the Biden-Harris administration's commitment to eliminating racial bias in the appraisal process. We're leading discussions about the growing role of institutional investors in the housing market, the dwindling supply of starter homes, and the future of short-term rental assistance programs.
In short, our work is urgent, and it impacts people's lives.
As we tackle these issues (and many more), I'm struck by the spirit of collaboration required to advance this ambitious agenda. Here in PD&R, we're collaborating with colleagues throughout Headquarters to improve rental assistance programs, fairly allocate disaster recovery funds, and address timely issues concerning the mortgage market.
But a broader spirit of collaboration exists across the government. We're working closely with the White House and Cabinet agencies on a holistic approach to policymaking –— an approach that recognizes the benefits of interagency collaboration. One important example is the Interagency Task Force on Property Appraisal and Valuation Equity, which was formed to address racial bias in the appraisal process. HUD is collaborating with the Federal Housing Finance Agency, the U.S. Department of Agriculture and the U.S. Department of Veterans Affairs to fulfill our commitment to collecting data and jumpstarting the research process. Such collaborations draw on the strengths of multiple agencies to address an important public policy issue.
However, many of our most important collaborators are not federal agencies. They're local partners. They're the public housing agencies tasked with running the Housing Choice Voucher program and the community partners distributed Emergency Rental Assistance funds. For any of our federal programs to succeed, we need the dedicated participation of our local partners.
With that in mind, as I look forward, I'm driven by three core principles that motivate our work in PD&R.
First, we need to continue to center equity in our approach to policy development. Does our policy work contribute to the creation of more equitable and fair housing systems and communities? Recently, my own research into the Housing Choice Voucher program centered on issues of fairness and equity to understand who gains access to rental assistance. Throughout the government, and particularly in PD&R, we need to make sure that we ask important, challenging questions about equity in federal policy.
Second, I'm committed to reducing the burdens of social policy. On one hand, these burdens include those on people seeking government assistance, including renters seeking housing assistance and residents seeking emergency relief after a disaster. But they also include burdens placed on the government officials implementing these programs, especially those at the local level.
And, finally, I'm committed to policy development that actively addresses the historic injustices imposed by federal policy — a type of active undoing. Historically, federal housing policy segregated communities, limited opportunities for Black households to build wealth, and concentrated poverty in disadvantaged neighborhoods. As an agency, we have a responsibility to develop policy that actively rights these wrongs. I'm committed to policy development that expands opportunities for Black homeownership, develops tools to help low-income households build credit, encourages mobility within the voucher program, and protects tenants from the harms of eviction.