Biden-Harris Administration National Security Policy – How it Relates to HUD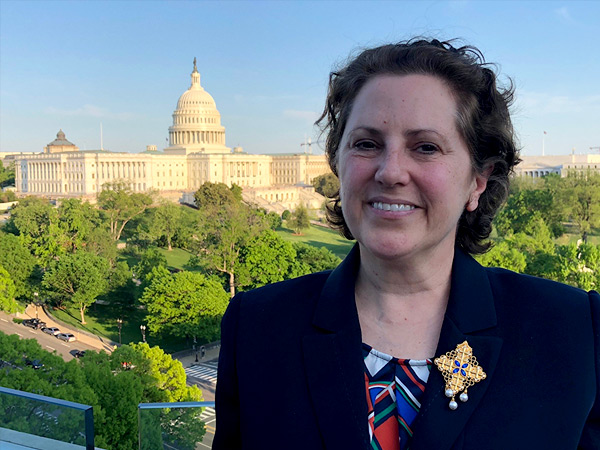 Cynthia Campbell, Director of PD&R's International and Philanthropic Affairs Division.
On October 12, 2022, the White House released the Biden-Harris administration's National Security Strategy. The fact sheet states the following:
President Biden's National Security Strategy outlines how the United States will advance our vital interests and pursue a free, open, prosperous, and secure world. We will leverage all elements of our national power to outcompete our strategic competitors; tackle shared challenges; and shape the rules of the road. The Strategy is rooted in our national interests: to protect the security of the American people, to expand economic opportunity, and to realize and defend the democratic values at the heart of the American way of life. In pursuit of these objectives, we will:

Invest in the underlying sources and tools of American power and influence;

Build the strongest possible coalition of nations to enhance our collective influence to shape the global strategic environment and to solve shared challenges; and

Modernize and strengthen our military so it is equipped for the era of strategic competition.
How does this strategy relate to HUD? HUD participates in and supports numerous international organizations, such as the Organisation for Economic Co-operation and Development (OECD). HUD participates in OECD's Regional Policy Development Committee along with our colleagues from the U.S. Department of Agriculture, U.S. Economic Development Administration, and the U.S. Department of Commerce. Our deputy assistant secretary for economic affairs, Kurt Usowski, is the vice chair of the Working Party on Urban Policy, a subcommittee of the Regional Policy Development Committee. The Working Party on Urban Policy describes itself as "a unique international forum to debate common challenges and opportunities facing cities of all sizes, exchange concrete policy experiences and share innovative solutions that help shape a more resilient, sustainable and inclusive urban future." Meetings are held twice a year at OECD's headquarters in Paris.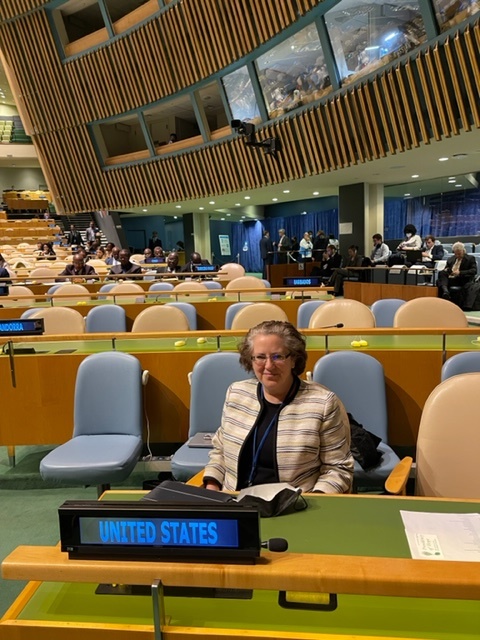 Attending a UN Habitat meeting held in April 2022. Photo credit: Cynthia Campbell
HUD also is engaged with the United Nations Economic Commission for Europe (UNECE). Peter Kahn, associate deputy assistant secretary for HUD's Office of Policy Development, is the delegate to the UNECE's Committee on Urban Development, Housing and Land Management, which meets annually at UNECE's Geneva headquarters. This committee focuses on "affordable, adequate, climate-neutral housing, including for those with special needs and vulnerable population groups; compact, inclusive, circular, resilient, smart and sustainable cities; [and] [t]ransparent and efficient land use and property registration."
HUD participates in the Committee on the Elimination of Racial Discrimination, part of the United Nations Office of the High Commissioner for Human Rights. Principal Deputy Assistant Secretary Demetria McCain serves as HUD's delegate to this committee. The Committee on the Elimination of Racial Discrimination monitors the implementation of the Convention on the Elimination of All Forms of Racial Discrimination by its members. HUD contributes its technical expertise on housing discrimination to the committee, whose annual meetings are held at the UN Human Rights Council's headquarters in Geneva.
HUD has several longstanding, formal, bilateral partnership agreements with countries such as Japan, Israel, Germany, and South Korea as well as informal relationships with many others, including the United Kingdom, Australia, Canada, and Mexico. The National Security Strategy fact sheet highlights the U.S. commitment to continuing these current relationships and extending our cooperation to other countries:
[P]eople all over the world are struggling to cope with the effects of shared challenges that cross borders — whether it is climate change, food insecurity, communicable diseases, or inflation. These shared challenges are not marginal issues that are secondary to geopolitics. They are at the very core of national and international security and must be treated as such. We are building the strongest and broadest coalition of nations to enhance our collective capacity to solve these challenges and deliver for the American people and those around the world.
One example is our research partnership with Japan on how to keep an ever-increasing senior population aging in place. This work has led to a joint research project published in October 2020. The work continues as we learn more about how Japan is addressing the obstacles to aging in place. Japan's policymakers have shared innovative ideas for keeping elderly residents in their homes for as long as possible, and HUD has shared U.S. innovations with Japan in return, including our Integrated Wellness in Supportive Housing model.
International engagement helps HUD staff learn best practices from our counterparts around the world. Through each committee meeting and exchange, we learn how other countries approach complex housing and urban issues and pursue their policies and practices. We then bring home a better understanding of how to tackle our own country's housing and urban issues.