Aging in Place Research Project Visit to Tokyo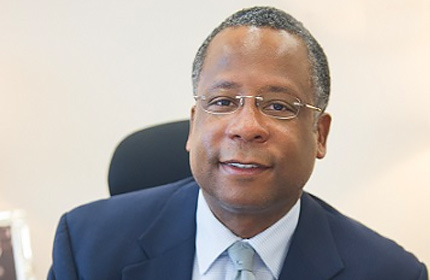 Calvin Johnson, Deputy Assistant Secretary for Research, Evaluation, and Monitoring
Last September, I joined my fellow Aging in Place research team member Cindy Campbell on a visit to the Ministry of Land, Infrastructure, Transport and Tourism (MLIT) and the Urban Renaissance Agency (UR) in Tokyo. The trip presented an opportunity for the team to learn about best practices in aging in place from Japan, which has the world's oldest population with a median age of 47.3 years and a life expectancy of 85.3 years. Although the U.S. population is younger, with a median age of 37.7 and a life expectancy of 78.7, our country faces challenges similar to those of Japan in accommodating the housing needs of older residents. Cindy and I visited several demonstration sites that bring supportive services for the elderly directly into housing, including one at a local elementary school and another at a 7-Eleven convenience store unlike any that I have ever seen in the United States.
In Shinagawa City, a ward within the greater Tokyo region, we visited a unique elderly support project run by the city in partnership with a local elementary school. Unused space within the school was sectioned off as an adult day care center with many elderly support services available. We visited other sites where supportive services were brought directly into housing, including a single-family unit that had been converted into an elderly community activity center and the Toyoshiki-dai housing complex in Kashiwa, Chiba Prefecture, which has a unique public-private partnership with a fitness center that offers many health and fitness services focused on elderly clients.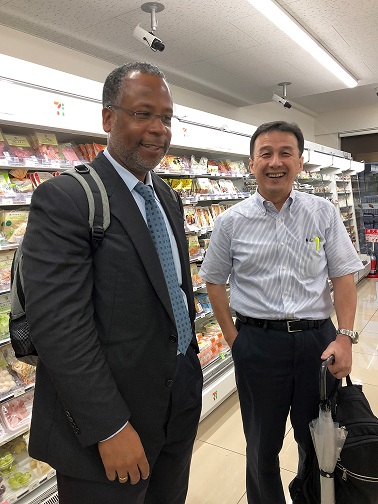 Calvin Johnson and Keiji Kamiyama, Director-General, Policy Research Institute, Ministry of Land, Infrastructure, Transport and Tourism, tour a 7-Eleven store in Japan. 7-Eleven stores in Japan are found throughout major multifamily complexes and offer healthy prepared meals and services, such as delivering purchases and accepting utility payments.
One of Japan's challenges is providing services to elderly in rural areas, but a unique public-private venture with 7-Eleven is helping to address the needs of rural seniors. The first 7-Eleven opened in Tokyo in May 1974; that number had risen to 10,000 by 2003 and to 20,000 by January of this year. Although they are concentrated in urban areas, 7-Eleven stores are ubiquitous and can be found throughout major multifamily complexes. We visited the Greentown Misumi Housing Complex, a low- to moderate-income senior housing project that has a 7-Eleven convenience store onsite. Convenience stores in Japan are somewhat like those in the United States except that they offer more prepared foods, making them more closely resemble a Pret a Manger than a typical American convenience store. The Japanese stores offer healthy prepared meals that you can heat up at home as well as cold prepared sandwiches, sushi, sashimi, rice cakes, and fresh fruit and vegetables. In Japan, 7-Eleven stores will deliver purchases over $5.00 free of charge — an amenity that the chain offers as a public service. The service is used mostly by working parents and the elderly, those who are pressed for time, and those with mobility issues. Japanese 7-Eleven stores offer other services that their U.S. counterparts don't, such as holding customers' delivered packages for pickup and accepting utility payments.
MLIT also provided new insight into how Japan finances care facilities for the elderly that include elder day care and housing. UR, a quasi-governmental organization, operates 750,000 housing units for low- to moderate-income residents in Japan, mostly in transit-oriented suburban communities. Japan has a unique approach to providing affordable housing for the middle class — one that would be worth investigating further. Essentially, UR helps acquire land and engages in community development with affordable housing in areas beyond, but with easy access to, the city center. This approach to transit-oriented community planning and development increases the stock of affordable rental housing accessible to the central business districts.
This trip was a great opportunity to see firsthand how Japan is meeting the housing and services needs of its elderly population. Our partnership with our Japanese Ministry counterparts will provide additional insight on strategies we might explore that focus on delivering supportive services to seniors in their own housing, designing senior housing that supports healthy aging, and developing multigenerational communities to support aging in place. It is worth noting that the national government is subsidizing multigenerational housing in the form of a reduced-rent housing unit for households living within 2 kilometers of an elderly family member. These key insights helped inform the U.S. focus of our U.S.-Japan research exchange on aging in place, which was held in San Francisco in October 2018. As we move forward in our research partnership, we will be able to add more innovative ideas for aging in place.