Monroe Gardens Preserves Affordable Housing and Pilots Digital Equity in Revitalization Area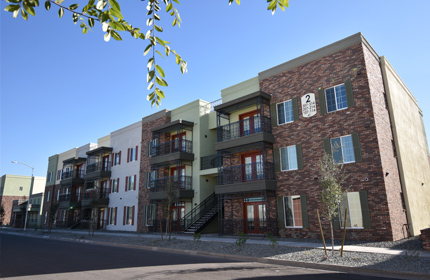 Monroe Gardens, a 78-unit affordable housing project in the Eastlake neighborhood in downtown Phoenix, is the city's first conversion of obsolete public housing to preserve affordable housing, deconcentrate poverty, and spur revitalization. Photo credit: City of Phoenix
Phoenix, Arizona, is redeveloping its obsolete public housing stock to deconcentrate poverty and create quality affordable housing units. In the downtown Edison-Eastlake Community (EEC), the city completed its first conversion of public housing to project-based Section 8 rental housing under the HUD Rental Assistance Demonstration (RAD) program. Opened in 2021, Monroe Gardens replaces a 38-unit public housing site with 78 modernized units for low-income households. The development is the result of a partnership with affordable housing developer Gorman & Company and spurs revitalization in EEC, a historically African-American neighborhood featuring downtown access and proximity to light rail. In addition to unit upgrades and increased density, Monroe Gardens is the city's pilot site for creating digital equity for low-income families.
Converting Outdated Public Housing to Modern High-Density Apartment
Before its conversion, A.L. Krohn East was a 1960s-era public housing complex consisting of 38 cramped units with little or no insulation and exposed plumbing. Instead of renovating the units, the city's Housing Department, which serves as the local public housing authority, demolished the seven existing buildings and replaced them with four three-story apartment buildings and a centralized community building. Before demolition began, the city relocated residents and held multiple meetings to explain the upcoming changes. To prevent relocated children from having to change schools, city staff helped residents find housing in the same area and expanded busing options as needed. Half of the former residents, who received priority placement for the new units, returned to the site, which now offers a more robust unit mix consisting of one-bedroom apartments along with additional options for four- and five-bedroom apartments. The new energy-efficient units include dishwashers, washers and dryers, LED lighting, and microwave ovens. In addition to the 38 RAD project-based voucher units, the Housing Department used housing choice project-based vouchers for the additional 40 units.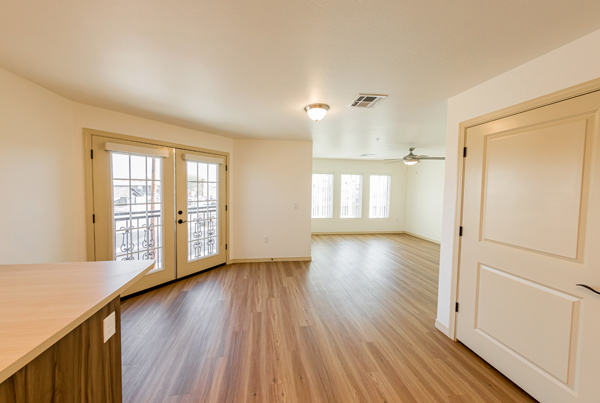 The 78 households ranging from individuals to large families receive project-based rental assistance for their units, which have a modern design and include upgraded sustainable appliances. Photo credit: City of Phoenix
The exterior space, which previously was filled with clotheslines and wasted open space, now facilitates recreation with attention to climate comfort through heat mitigation. For example, the community gathering space has two ramadas next to the barbecue grills, and residents' children enjoy a covered playground. The Arizona Public Service (APS) installed solar carports that create additional shade. The solar carports, which are part of the APS Solar Communities Program, generate power that returns to the grid, and residents receive a $15 monthly credit on their utility bills. The program also generates $1,000 annually in credits toward electricity use in the property's common areas.
Pilot Program for Digital Equity
Redeveloping the A.L. Krohn East site was an opportunity for the city to not only improve the physical condition of the development but also address barriers to digital connectivity for low-income residents. The neighborhood surrounding Monroe Gardens has historically lacked broadband access, and most public housing properties in the area were not configured to support low-cost internet services. The cost of the devices needed to access the internet, such as a Wi-Fi router or computing devices, has also been a barrier to access for neighborhood residents. For example, a 2021 survey found that 13 percent of Maricopa County households did not own a computer.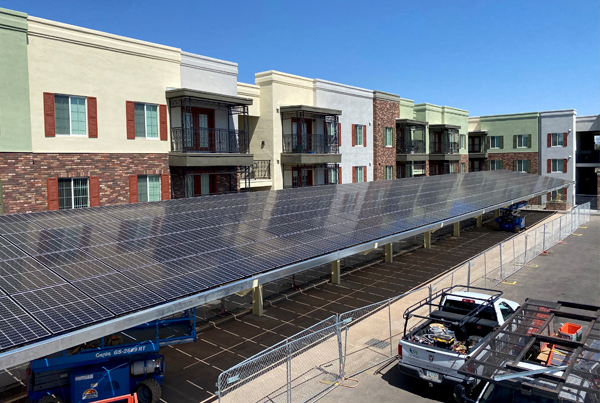 Along with ample tree shading on sidewalks, the site features a solar carport that provides additional shade to mitigate urban heat. Photo credit: City of Phoenix
Recognizing the role of digital access in improving social services, health and wellness, education, and employment outcomes for low-income residents, the city of Phoenix launched its Wi-Fi Access and Digital Navigator Pilot program at Monroe Gardens. Part of HUD's ConnectHomeUSA initiative, the program ensures each Monroe Gardens unit will have free Wi-Fi access for the next 15 years, and city-funded digital navigators will offer residents technical support for their internet service as well as Wi-Fi devices such as phones, tablets, and computers. The on-demand technology support also includes helping residents acquire digital skills, education, and job training. Initial program funding covers operations for up to 4 years, and during the first 6 months of the pilot phase, the city will survey residents to assess their engagement with the digital navigators and the degree of student participation. Ultimately, the city will have a digital navigator at all its affordable housing sites, and Monroe Gardens offers insight about how to expand the model.
Fulfilling Housing Goals at the Local Level
Monroe Gardens reflects the goals of multiple policy plans and programs intended to reshape the housing landscape for the city's Eastlake neighborhood. In 2018, HUD awarded the city a $30 million Choice Neighborhoods Planning Grant to transform EEC, which has the largest concentration of public housing in the state. Although Monroe Gardens residents live just outside the grant's target area, they are directly involved with and benefit from program outcomes. For example, EEC will use grant funds to add programming to Edison Park, an underused green space close to Monroe Gardens. The residents served on a resident leadership council to propose the Edison Park Activity Hub, which will host cultural events, farmers markets, and outdoor fitness classes.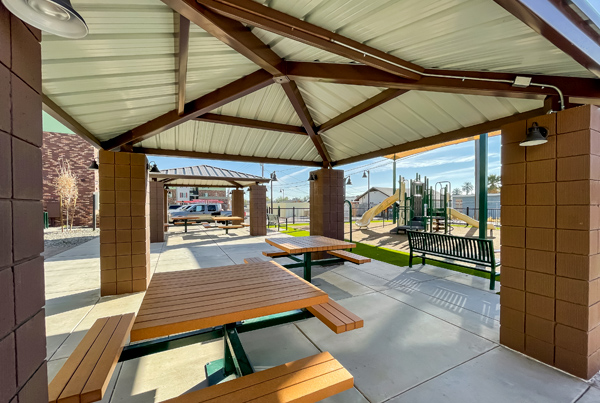 Unlike the preexisting complex, the new site includes a central community building that leads to an outdoor gathering area consisting of ramadas and a covered playground. Photo credit: City of Phoenix
The A.L. Krohn development was one of three public housing sites to be redeveloped under the Eastlake-Garfield Transit Oriented Development Policy Plan. The policy plan is one of five district plans created under Reinvent PHX, a partnership between HUD, the city, Arizona State University, and other organizations, to create transit-oriented neighborhoods by connecting them with the light rail and facilitate other non-automobile modes of transportation for residents. A direct result of this plan, the city rezoned the Monroe Gardens parcel for the Walkable Urban Code ordinance, which requires bicycle parking onsite and 75 percent tree coverage for sidewalks to mitigate heat and create climate comfort for pedestrians.
The development helps accomplish broader goals under the Housing Phoenix Plan, a 9-initiative vision to create or preserve 50,000 housing units by 2030. The plan launched in 2019, and Monroe Gardens exemplifies initiative three, which calls for increasing affordable housing units in new developments on city-owned land.
Edison-Eastlake Community. 2018. "Edison-Eastlake One Vision Plan." Accessed 14 December 2022; Document provided by Kristin Couturier, senior public information officer, City of Phoenix, 29 November 2022; Edison-Eastlake Community. 2021. "Virtual Grand Opening of the Monroe Gardens Apartments." Accessed 21 November 2022; Interview with Angela Duncan, deputy housing director, and Brad Puffer, project manager, City of Phoenix, 1 December 2022. ×
Documents provided by Kristin Couturier, senior public information officer, City of Phoenix, 29 November 2022; Interview with Angela Duncan, deputy housing director, and Brad Puffer, project manager, City of Phoenix, 1 December 2022; City of Phoenix. n.d. "Annual PHA Plan: OMB No. 2577-0226." Accessed 4 January 2023. ×
Documents provided by Kristin Couturier, senior public information officer, City of Phoenix, 29 November 2022. ×
City of Phoenix. 2021. "2020–2024 Consolidated Plan: 2020–21 Annual Action Plan, Phoenix, AZ." Accessed 21 December 2022; City of Phoenix. n.d. "Annual PHA Plan: OMB No. 2577-0226." Accessed 4 January 2023; Document provided by Kristin Couturier, senior public information officer, City of Phoenix, 29 November 2022; Interview with Angela Duncan, deputy housing director, and Brad Puffer, project manager, City of Phoenix, 1 December 2022. ×
City of Phoenix. n.d. "Housing Phoenix Plan." Accessed 19 December 2022; Document provided by Kristin Couturier, senior public information officer, City of Phoenix, 29 November 2022. ×