Mixed-Use Affordable Housing Project Is a Catalyst to Long Beach Neighborhood Plan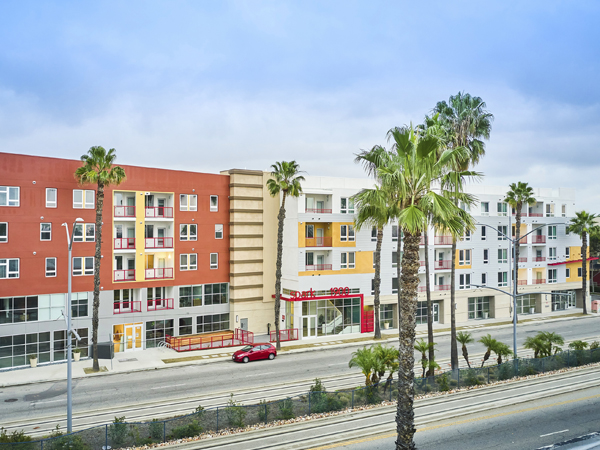 Spark at Midtown in Long Beach California is a transit-oriented housing project that offers low-income and permanent supportive housing for persons who were formerly homeless, while also supporting the surrounding community through onsite programming offered by local organizations. Photo credit: Weldon Brewster
In June 2016, the city of Long Beach, California released the Midtown Specific Plan, which outlines a framework for implementing streetscape and economic improvements along Long Beach Boulevard, a 369-acre transit corridor providing access to the rest of the city. Because the plan's strategy involved using housing as a revitalization tool, the city released a request for proposals to create a mixed-use, affordable housing project. Developer Linc Housing and WHA Architects submitted the winning proposal, Spark at Midtown, and received funding from the city's nonprofit affiliate, Long Beach Community Investment Company (LBCIC), to provide low-income and permanent supportive housing. In addition to serving 94 families, the property is a community resource with ground-level features that include a shared park, flexible retail space, and space for local organizations offering a variety of programming.
Project Details
Spark at Midtown, which opened in July 2021, provides one-, two-, and three-bedroom apartments that consist of a manager's unit, 47 low-income units, and 47 supportive housing units for families experiencing homelessness. The city's Homeless Services Division uses coordinated entry to fill the supportive housing units, with 23 units eligible for Los Angeles County Department of Health Services (LADHS) referrals and 24 units eligible for mental health service referrals. All residents have access to second-floor amenities that include a community room, a meeting room, and a room for afterschool activities. The building also has case management offices for LADHS and The People Concern, a nonprofit providing wraparound services for those who have experienced homelessness. Exterior amenities, which are shared with the surrounding community, include bicycle parking, a community garden, and a public park.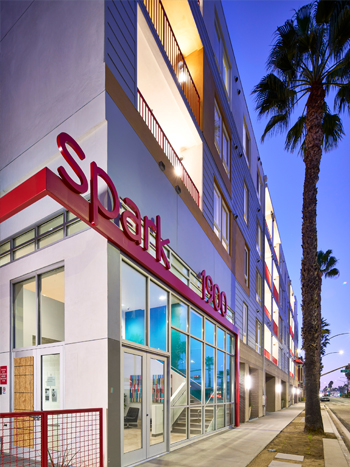 The development is located along Long Beach Boulevard, the main thoroughfare targeted for revitalization through enhanced streetscape and economic investment. The contemporary design of Spark at Midtown along with its active ground floor spaces makes it an exemplary model to catalyze more investment in the neighborhood. Photo credit: Weldon Brewster
The total cost of development was approximately $54.1 million, and the developer received more than $24 million through the sale of low-income housing tax credits. Raymond James Affordable Housing Investments purchased the credits, which cover rents for households making between 30 and 60 percent of the area median income. City- and county-affiliated funding sources included the Los Angeles County General Development Funds and LBCIC, who gave $10 million and $3 million, respectively.
Design and Programming Honor the Guiding Principles of Neighborhood Plan
Spark at Midtown, located at the intersection of Long Beach Boulevard and Rhea Street, was one of the first housing projects developed under the Midtown Specific Plan and embodies the plan's guiding principles for creating a vibrant and thriving neighborhood: enhanced mobility, a sustainable future, safety and wellness, urban amenities, and working with and for the community. The conversion of Rhea Street into a pedestrian-friendly parklet with bicycle parking encourages slow mobility — nonmotorized forms of transportation that are sustainable. Without vehicles in the area, residents can safely travel to the Metro A Line light rail station, which is walking distance from the complex.
The parklet is an urban amenity that features an amphitheater, a plaza, and a green space that the community uses for activities such as health fairs and outdoor fitness classes. These amenities share ground-floor space with local organizations that embody the last guiding principle: working with and for the community. The YMCA of Greater Long Beach supports youth by offering programs in digital media and art, while Mental Health America of Los Angeles offers workforce training for people with mental health needs. The plan specifically encourages partnerships with medical institutions such as St. Mary Medical Center, an onsite community clinic operated by Dignity Health.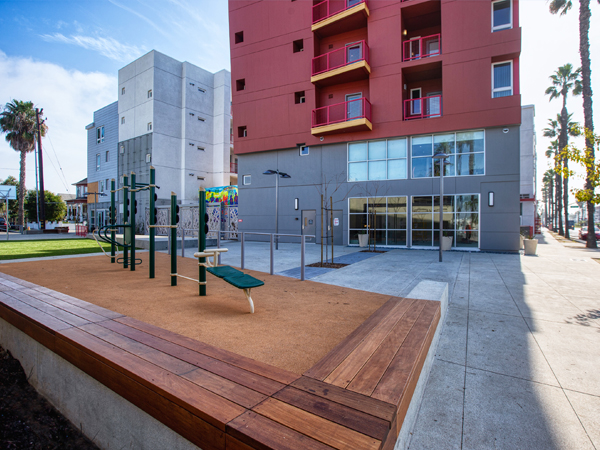 A converted side street authorized under the neighborhood plan, the parklet supports community engagement through shared spaces, which include a playground, open lawn, and amphitheater. Photo credit: Jevone Moore
Pop-Up Urbanism Fuels Community Engagement and Informs Design
The guiding principle of working with and for the community also influenced the project's design phase. Linc Housing collaborated with City Fabrik, a nonprofit design studio, to facilitate community engagement events that informed the final plan. One such event was a pop-up park that demonstrated the proposed concepts for the design and programming of the parklet through a built-to-scale prototype. Community members participated in charettes and answered questionnaires that revealed the most relevant functions the space could serve. For example, the questionnaire revealed that, although most participants rarely exercised, most walked to the event. When asked about their preferred active uses for the space, residents chose playground and outdoor equipment. This feedback led the developers to amend the original design to include an outdoor gym with fitness stations and designated sidewalk space along Long Beach Boulevard for bike and scooter parking.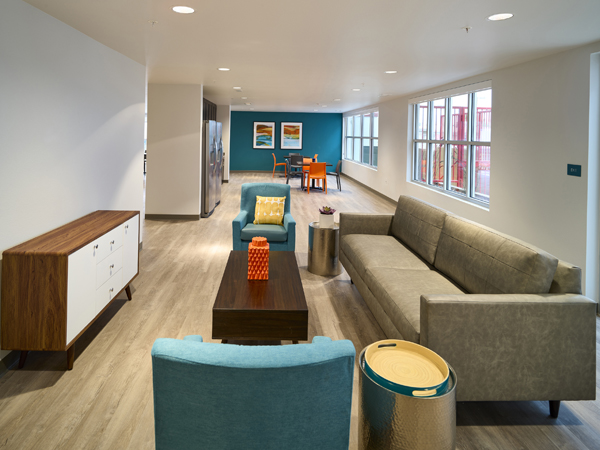 Spark at Midtown designates the second-floor as the community area, which offers residents amenities such as a computer lab and dining area. Photo credit: Weldon Brewster
As with the current programming at Spark at Midtown, the 200-person pop-up event was made possible through local support. Enterprise Community Partners provided a grant to support the event totaling $7000 in costs, which covered interactive stations and rental equipment. The city of Long Beach waived permit fees and provided signage for the event and volunteers from a healthcare organization and design firm helped staff the event.
Through intentional design and programming during the planning and use phase of the building, Spark at Midtown serves as a template for future housing developments along the Long Beach Boulevard transit corridor that will eventually add 924 dwelling units. In addition to creating housing stability for its residents, the mixed-use project exemplifies how to provide services and spaces that engage residents while benefiting the larger community.