Affordable Housing Development Becomes First Project To Use Funding From Dedicated Municipal Bond in Charleston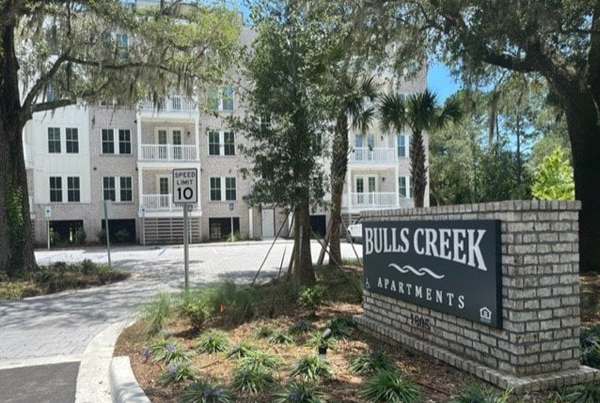 Bulls Creek Apartments, in Charleston, South Carolina, has 57 one-, two-, and three-bedroom apartments, all of which are reserved for households earning 60 percent of area median income (AMI) or below. Photo credit: GEM Management
Bulls Creek Apartments, in Charleston, South Carolina's West Ashley neighborhood, is a 57-unit affordable housing development geared toward families. All of the one-, two-, and three-bedroom units are reserved for individuals and families earning less than 60 percent of the area median income (AMI). When Bulls Creek opened in August 2022, it was the first project in the city to be completed using revenue from the city's dedicated $20 million affordable housing bond. Bulls Creek Apartments represents a promising step toward resolving Charleston's affordable housing shortage.
The Apartments
Bulls Creek consists of 7 one-bedroom, 35 two-bedroom, and 15 three-bedroom units ranging from 750 to 1,150 square feet. Forty-five apartments are reserved for households earning up to 60 percent of AMI and 12 are reserved for those earning up to 50 percent of AMI. Amenities at Bulls Creek include a fitness center, a clubhouse, and a laundry facility. The development is in Charleston's West Ashley neighborhood, roughly 7 miles northwest of downtown, and a nearby freeway provides easy access to the city and surrounding metropolitan area. A large shopping center nearby offers residents retail and service job opportunities. The development cost approximately $16 million. The primary funding source was low-income housing tax credit equity. The city also provided roughly $2.6 million in dedicated bond revenue for construction.
Affordable Housing Bond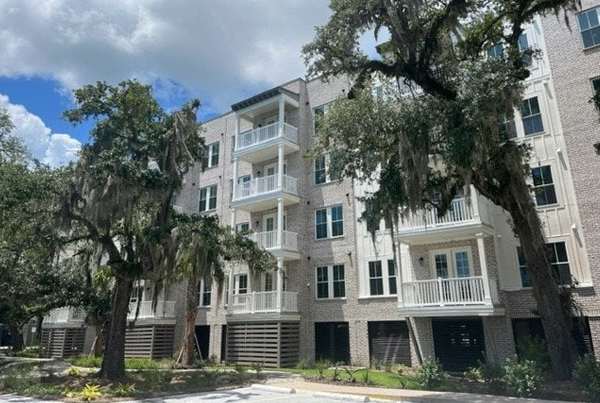 Bulls Creek is the first apartment complex completed with funding from the city's affordable housing bond, which was approved by voters in 2017. Photo credit: GEM Management
According to Geona Shaw Johnson, director of Charleston's Department of Housing and Community Development, the city's recent comprehensive plan found that Charleston needs to add more than 16,000 housing units to keep up with demand, nearly half of which should be targeted to those earning less than 30 percent of AMI. In November 2017, Charleston voters overwhelmingly approved a referendum allowing the city to issue up to $20 million in general obligation bonds for affordable housing. Bond funding could be used "for the acquisition, construction, and equipping of safe and affordable housing for persons and families of low- to moderate-income," which is defined as those earning between 30 and 120 percent of AMI. The city uses bond revenue to award loans to developers who provide income-restricted units that remain affordable for at least 30 years. The city began accepting applications for loans in 2019, after the council approved funding to repay the bonds from the city's general budget.
The city prioritizes projects based on factors such as the timing of the development process, duration of the affordability period, level of affordability, the energy efficiency of the project, and the project's location. Reviewers also consider the projects' proximity to grocery stores, medical offices, schools, parks, public transportation, and more. The city considered Bulls Creek an attractive project because the West Ashley neighborhood particularly needs affordable housing and because the project site is close to downtown Charleston, a bus stop, and neighborhood amenities.
Moving Forward
The city of Charleston still needs more housing units, particularly those targeted to low-income households, to meet its demand. City leaders are investigating additional sources of funding for affordable housing construction, including other municipal sources. For example, the city has started using tax increment financing for affordable housing. Although funding from the housing bond will support only a portion of affordable housing financing in Charleston, it has been a helpful local funding source for producing low- and moderate-income houses.
Correspondence with Geona Shaw Johnson, director, City of Charleston Department of Housing and Community Development, 3 January 2023; Gem Management. n.d. "Bulls Creek." Accessed 4 January 2023; John Wall and Associates. 2019. "Market Analysis: Bulls Creek Apartments." Accessed 4 January 2023; Interview with Geona Shaw Johnson, 13 December 2022. ×
Interview with Geona Shaw Johnson, 13 December 2022. ×