Prado Family Homes Brings Long-Awaited Supportive Affordable Housing to Fountain Valley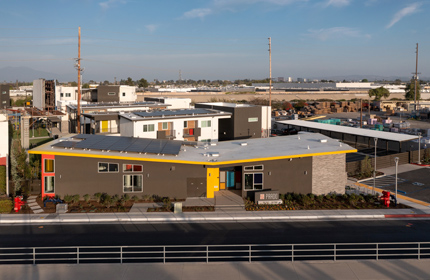 A cluster of five buildings on the bank of the Santa Ana River, Prado Family Homes was the first fully-affordable housing development to be built in Fountain Valley, California in 16 years. Photo credit: Related California
Prado Family Homes, a 50-unit supportive affordable housing development, opened in July 2022 in the Los Angeles suburb of Fountain Valley, California. Fountain Valley, a planned community established in the 1950s, has limited developable land remaining. The city also has not escaped the housing crisis gripping the rest of Orange County. As a result, until the construction of Prado Family Homes, no affordable projects had been developed in the city in 16 years. To accomplish the $28.5 million project, developer Related California, west coast affiliate of the larger Related Companies, partnered with the city to obtain a rare urban infill site along the Santa Ana River. Prado Family Homes — so named because prado, the Spanish word for "field," recalls Orange County's history as one of California's agricultural centers — serves low-income families and veterans who previously experienced homelessness and offers supportive services for both populations.
Fountain Valley's First LIHTC Development
Prado Family Homes is a five-building development on nearly 2 acres. The 4 garden-style apartment buildings ― which vary in size from a two-story building with 7 units to a 3-story building with 23 apartments ― and community building are clustered on the bank of the Santa Ana River. Prado serves families and veterans and offers 23 one-bedroom, 14 two-bedroom, and 13 three-bedroom units. Some units feature patios or balconies, and the project provides accessible units for tenants with mobility, auditory, or visual impairments. A single unit is reserved for an on-site manager.
Eligible tenants must earn no more than 60 percent of the area median income (AMI). However, 32 units are reserved for households earning no more than 50 percent of AMI, and 13 units are reserved for households with incomes not exceeding 30 percent of AMI. Eight units are subsidized by the HUD-Veterans Affairs Supportive Housing program and set aside for veterans with referrals from the U.S. Department of Veterans Affairs (VA).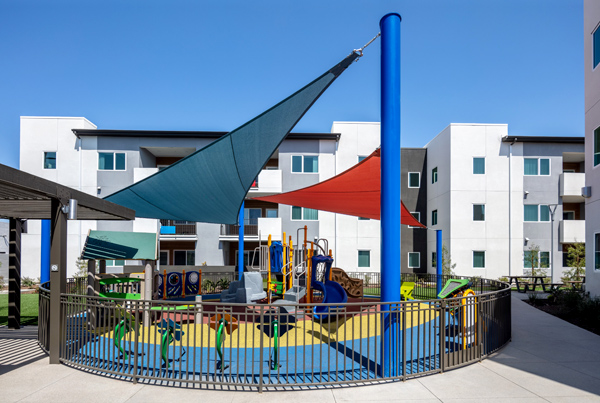 The development has amenities that include a playground, outdoor workout equipment, barbeque area, and a community building. Photo credit: Related California
The project broke ground in November 2020. Obtaining the land had been the first hurdle, because vacant land is prohibitively expensive in Fountain Valley. The city, just 35 miles from Los Angeles and only 20 minutes from Disneyland, was incorporated in 1957, and by 2020, most of the land in the master-planned city had already been developed. The irregularly shaped lot against the river at Harbor Boulevard measured just 1.95 acres and previously had been used for outdoor automotive storage, among other purposes. The city had been negotiating with another developer to transform the riverside site into affordable housing, but this first developer withdrew. Instead, the private owner and Related California approached the city, and an affordable project was able to move forward. Related California purchased the property for $6 million with an acquisition loan that the city provided from its Low and Moderate Income Housing Asset Fund. Following some delays because of the COVID-19 pandemic's impact on supply chains, Prado Family Homes opened in summer 2022.
The city contributed approximately $2 million more to the project after its initial assistance with the land acquisition cost from the same funding source, and it worked closely with Related California throughout to complete the necessary inspection and permitting processes swiftly. The $28.5 million project was funded primarily through equity from the Low-Income Housing Tax Credit (LIHTC) program, a first for the city.
Public support for the development was strong because of the significant need for affordable housing in Fountain Valley and Orange County. The project manager for Prado Family Homes, Collin Tateishi, pointed out that because it was a "redevelopment of an otherwise vacant and unused lot, adjacent to nonresidential uses, [that] is turning nothing into something," the development avoided the opposition to development common among communities experiencing growth.
Supporting Veterans and Families
Prado Family Homes' amenities center around the community building and the shared outdoor space. The community building has a multipurpose room with a kitchenette and space for the provision of services. Outside, drought-resistant landscaping winds among the buildings, and a playground shaded by colorful canopies sits near the rear of the property. A barbeque area and outdoor workout space flank the playground. There are also 94 off-street parking spaces. The development received Build It® Green GreenPoint Rated Silver Certification and has rooftop solar panels to help reduce electricity costs for residents.
Prado Family Homes has two service providers — one for each of the populations it serves. All residents have access to case management, crisis management, life skills and educational training, and referrals to other services as needed through the provider, LifeSTEPS. Veterans can receive more specialized services through the local branch of the VA.
Development in a Highly Challenging Environment
The completion of Prado Family Homes faced three significant challenges: the lack of suitable and affordable land in Fountain Valley, the very competitive landscape of LIHTC allocations in California, and the COVID-19 pandemic. Related California overcame these circumstances by working closely with the city, which provided financial assistance that allowed the developer to submit a competitive application for LIHTC. "[The city and county] were great partners to work with," recounted Colby Northridge, senior vice president of development for Related California. "In order to get these affordable housing deals to fruition, you need a very strong public-private partnership." Today, the city of Fountain Valley is pursuing an inclusionary zoning ordinance to help meet its need for affordable housing, according to housing coordinator Ashlyn Newman. The adoption of this ordinance is set to coincide with the implementation of an updated General Plan.
Interview with Colby Northridge, senior vice president of development, and Collin Tateishi, project manager, Related California, 19 January 2023. ×
Interview with Colby Northridge, senior vice president of development, and Collin Tateishi, project manager, Related California, 19 January 2023; Correspondence with Jil Blumberg Froman, communications coordinator, Related California, 22 February 2023. ×
City of Fountain Valley. 2021. "Future Ready Fountain Valley: 2045 General Plan – Housing Element," 49. Accessed 22 December 2022; Interview with Colby Northridge, senior vice president of development, and Collin Tateishi, project manager, Related California, 19 January 2023; City of Fountain Valley. n.d. "City History & Facts." Accessed 21 December 2022; City of Fountain Valley. n.d. "About Fountain Valley." Accessed 21 December 2022; City of Fountain Valley. n.d. "Local Points of Interest." Accessed 21 December 2022; City of Fountain Valley. 2017. "Harbor Boulevard South Island Specific Plan." Accessed 22 December 2022; Andrew Turner. 2022. "$28.3-million affordable housing development opens in Fountain Valley," Los Angeles Times, 20 July. Accessed 22 December 2022; Steven Sharp. 2021. "Fountain Valley's first affordable housing development in 16 years comes together," Urbanize Los Angeles, 26 July. Accessed 22 December 2022; Susan Christian Goulding. 2022. "Inside Prado, Fountain Valley's new affordable housing community," Orange County Register, 20 July. Accessed 8 February 2023. ×
Correspondence with Ashlyn Newman, housing coordinator, city of Fountain Valley, 9 February 2023; Interview with Colby Northridge, senior vice president of development, and Collin Tateishi, project manager, Related California, 19 January 2023. ×
Interview with Colby Northridge, senior vice president of development, and Collin Tateishi, Related California, 19 January 2023; Correspondence with Jil Blumberg Froman, communications coordinator, Related California, 22 February 2023. ×
Interview with Colby Northridge, senior vice president of development, and Collin Tateishi, Related California, 19 January 2023; Related California. n.d. "Prado Family Homes: Amenities." Accessed 19 January 2023. ×
Interview with Colby Northridge, senior vice president of development, and Collin Tateishi, Related California, 19 January 2023. ×
Correspondence with Jil Blumberg Froman, communications coordinator, Related California, 8 February 2023; Interview with Colby Northridge and Collin Tateishi, Related California, 19 January 2023; Correspondence with Ashlyn Newman, 9 February 2023; Correspondence with Jil Blumberg Froman, communications coordinator, Related California, 22 February 2023. ×