Permanent Supportive Housing Development Serves New York's North Country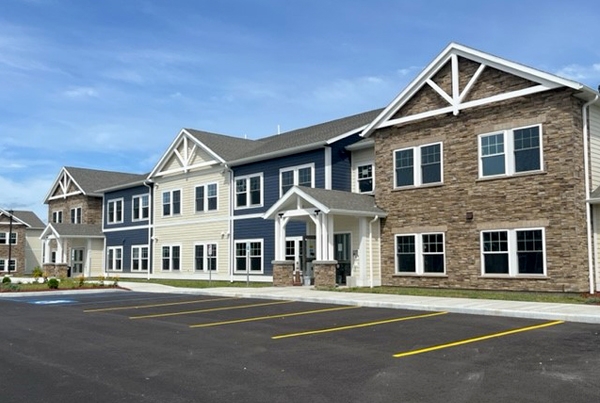 Northwoods has 80 one-, two-, and three-bedroom apartments, half of which are permanent supportive housing units for people transitioning out of homelessness. Photo credit: Housing Visions
Completed in December 2022, Northwoods is an 80-unit affordable housing development in Plattsburgh, New York, a small city in the state's North Country near the Canadian border. Half of the apartments are permanent supportive housing (PSH) units reserved for people transitioning out of homelessness. The developer, Housing Visions, partnered with Behavioral Health Services North (BHSN) to provide clinical support and social services for residents. Consistent with the state's goal of building and supporting PSH units throughout the state, New York State Homes and Community Renewal (HCR) provided some capital funding for the project and the Office of Mental Health funded the support services and rental vouchers for the PSH units through the state's Empire State Supportive Housing Initiative (ESSHI). Northwoods addresses a growing need for supportive housing in Plattsburgh and the broader need for affordable housing in this largely rural region.
Project Background
Housing in North Country has become increasingly expensive in recent years. The need for quality affordable housing was exacerbated further when flooding from Lake Champlain destroyed several naturally occurring affordable homes in the area. Most of the region's remaining unsubsidized affordable homes are in secluded areas far from jobs and services, and several are in substandard condition. According to Ben Lockwood, president and chief executive officer of Housing Visions, many North Country residents must commute 30 to 45 minutes to work or to retailers and service providers. Plattsburgh, one of the region's few centers of commerce, has a shortage of affordable housing. The city's Continuum of Care (CoC) has also noted a rising population of people experiencing homelessness in the area. After considering several locations for its supportive and affordable housing development, Housing Visions acquired a site less than 3 miles from downtown Plattsburgh. Constructing the development on this site offered the city the additional benefit of connecting two previously unconnected streets. After a long development process, including three applications for low-income housing tax credits (LIHTCs), Housing Visions completed Northwoods in December 2022.
Apartments
The 40 PSH units are for people referred by BHSN who had previously experienced or were at risk of experiencing homelessness. Many of these residents were living in hotels, shelters, or on the streets. An additional 40 apartments are open to households earning less than 80 percent of the area median income (AMI), although most of those are reserved for households earning less than 60 percent of AMI. Due to high demand, these residents were chosen by lottery. The development consists of 60 one-bedroom, 16 two-bedroom, and 4 three-bedroom units; of these, 8 are reserved for residents with physical disabilities and 4 are designed for residents with hearing or visual impairments. Northwoods has several common amenities, including a community room, a laundry room, a playground, and storage space.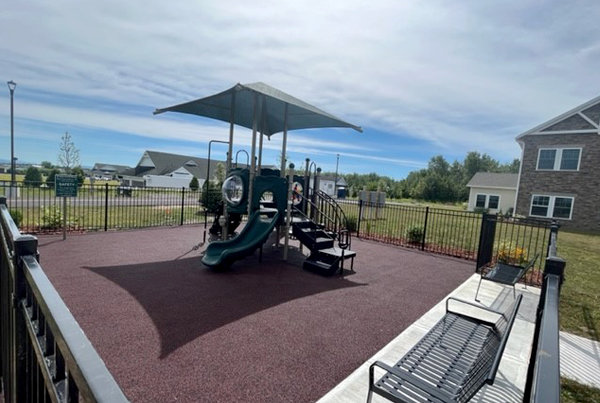 The 13-acre property includes a community room and an outdoor play area. Photo credit: Housing Visions
Housing Visions used green building practices to construct the four 2-story residential buildings, which have ENERGY STAR® certification. All units feature energy-efficient appliances and low-flow faucets and fixtures. The apartments are well insulated, and the building uses a highly efficient heat pump, both of which reduce energy costs.
Northwoods is located just outside of downtown Plattsburgh, within a half-mile of a full-service grocery store and 1 mile of a mall and several other stores and restaurants. Unlike many in North Country, Northwood's residents live near many job opportunities. The development is also served by a bus line.
Serving a Vulnerable Population
BHSN has an onsite office serving residents that is staffed 24 hours a day. Onsite staff provide mental and behavioral health counseling and treatment for alcoholism and drug addiction. Staff members also help residents with case management, budgeting, eviction protection, crisis intervention, and other lifestyle matters. The employees also can help residents apply for public benefits or obtain job training and counseling. BHSN works with other service providers in the area to provide residents with services beyond those that their staff can provide. Although these services are geared for residents of the PSH units, BHSN staff assist all Northwoods residents.
Funding Northwoods
Most of the funding for the $24 million development came from LIHTC equity. The state also provided $9 million in capital funding through HCR's Supportive Housing Opportunity Program, which provides gap financing for the ESSHI units, as well as the state's HOME program and tax credit program. The state provides $20,440 per unit annually towards both services and PSH rental subsidies through ESSHI. Created in 2016 to fund 20,000 supportive housing units by 2031, the ESSHI program funds services for New Yorkers who have experienced chronic homelessness or have another debilitating condition such as a substance use disorder or a serious mental illness. In the application for ESSHI, BHSN had to provide data and letters of recommendation from the CoC demonstrating the need. "I think it's a pretty remarkable program in how it can be utilized," Lockwood said of ESSHI.
Moving Forward
Despite a long and complex development process, the team is satisfied with Northwoods. "We had a very positive experience in Plattsburgh," Lockwood explained. Housing Visions' successful partnership with BHSN and the growing need for affordable and supportive housing in Plattsburgh and the surrounding region has encouraged the developer to consider partnering with BHSN on a similar supportive housing development nearby. Meanwhile, the state has been meeting its goal of supporting 1,200 new PSH units annually. According to Stephen Piasecki, the upstate coordinator of the Supportive Housing Network of New York, the state had funded 7,400 units by the 6th year. In December 2021, Governor Hochul announced a new target of 1,400 units annually. The state's commitment to provide ongoing services and operating subsidies drives other public and private investment in supportive housing.
Interview with Ben Lockwood, 17 February 2023. ×
New York State Office of Governor Kathy Hochul. 2022. "Governor Hochul Announces Completion of $24 Million Affordable and Supportive Housing Development in Plattsburgh," press release, 13 December. Accessed 23 February 2023; Interview with Ben Lockwood, 17 February 2023; Supportive Housing Network of New York. 2022. "NYS HCR Supportive Housing Opportunity Program (SHOP)." Accessed 6 March 2023; Correspondence with Ben Lockwood, 3 March 2023; New York State Homes and Community Renewal. 2021. "Governor Cuomo Announces $35 Million Available to Fund Operating Cost of at Least 1,400 Supportive Housing Units," news, 2 August. Accessed 6 March 2023; Interview with Stephen Piasecki, upstate coordinator, Supportive Housing Network of New York, 1 March 2023; Supportive Housing Network of New York. n.d. "NYS Empire State Supportive Housing Initiative (ESSHI)." Accessed 1 March 2023. ×
Interview with Ben Lockwood, 17 February 2023; Interview with Stephen Piasecki, 1 March 2023; Correspondence with Stephen Piasecki, 6 March 2023. ×